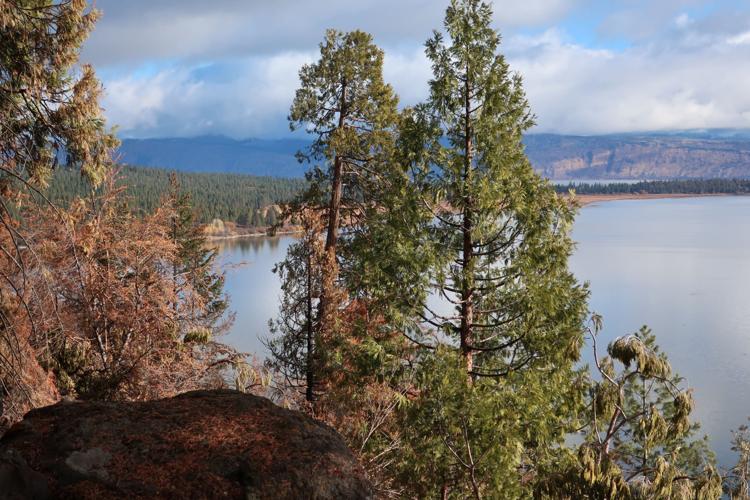 Biking and hiking trails are under repair at Spence Mountain, months after they were damaged both by July's wildfire and efforts to battle the blaze.
Although the Queen of the Lake Trail remains closed because of concerns that steep, unstable slopes above the trail may result in falling trees and rock slides, the South Ridge Trail is being reconstructed and plans are moving ahead to build more new trails in 2021.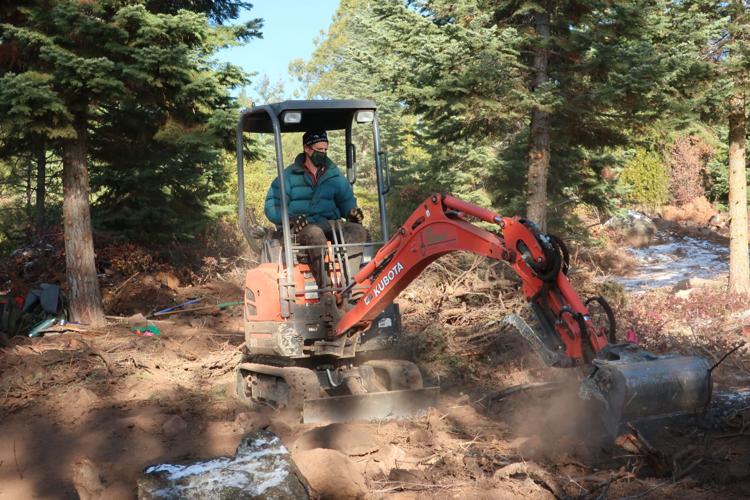 "It's been a solid week of work," said Paul Lissette, who is heading the three-person trail crew from Dirt Mechanics, during a break from work on Wednesday on the South Ridge Trail.
Lissette, along with crew members Elijah Sky and Rob Robertson, were wrapping up repairs on South Ridge, a popular hiking and biking trail that begins near the Spence Mountain Trailhead off Highway 140 and leads to Spence Mountain's summit.
The Dirt Mechanics crew will spend coming days doing other work, including preparing a new 3-plus mile trail, Speed King.
Speed King is described by Lissette and Drew Honzel, who coordinates Spence Mountain trails for the Klamath Trails Alliance, as a flow trail, a one-way downhill directional trail built for all skill levels of mountain bikers.
Comparing it to a "rollercoaster on a bike," Lissette said Speed King will offer mountain bikers choices, such as jumps for more advanced riders, with a wider than usual track, berms, rolling terrain and other optional features down Spence's southern slope. Its design will allow bikers to do it in sections and is intended as part of an ongoing effort of "trying to get the family and kids out here."
Speed King, which like other Spence Mountain trails is named for steam ships and other boats that historically traveled along Upper Klamath Lake between Klamath Falls and Rocky Point, is one of two new trails.
Red Rover, a new mile-long beginner bike and walking loop that connects to the Spence Mountain trailhead, is being designed for a casual hike or bike.
Other planned 2021 projects including re-routing lower Hooligan so that it ends at the Spence Mountain Trailhead and minimizes conflicts with other bikers. Under consideration are using fire lines created by dozers for new biking and hiking routes. Honzel and Lissette said the existing lines could be adapted to reduce trail construction costs in some of the corridors built by fire crews, create a more aggressive route up the ridge and provide better lake viewing opportunities.
"It's more open since the fire," Honzel said while hiking along and through some of the fire-charred areas. "We're still trying to figure out what to do."
Lissette said crews plan to get the Queen of the Lake Trail, which provide some of the trail network's best lake views, open next spring.
"We'll get a crew out early," he said.
He believes reopening the Queen and South Ridge trails will help bikers and hikers understand the short- and long-term impacts of forest fires.
"I like that this will be part of history … that's the story that will always stay here. A lot of people are going to get educated," he said.
Building trails has been a constant since the KTA began developing Spence Mountain in 2014. So far, 42 miles of trails have been completed with a goal of 65 total miles.
Honzel said the total cost is $628,000. Funding sources have included donations from various individuals and businesses along with grants from Klamath County Tourism, Travel Oregon, and private foundations. Honzel said a third of the money has come from public sources and two-thirds from private sources.
This year the KTA has received two major donations, $10,000 from KTA board member Mark Goodman and $4,000 from Zach Gilmour at Zack's Bikes. This year's goal is $28,000 or more. He said a recent $25,000 Klamath County Tourism grant will help fund Speed King's development.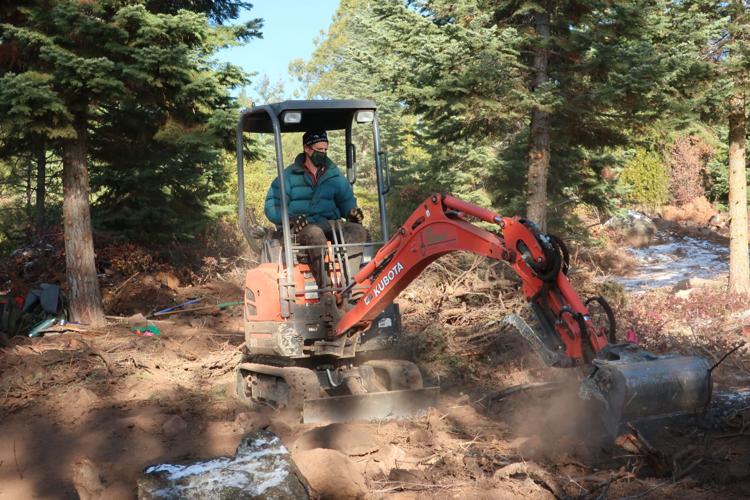 During the ongoing trail repairs, which Lissette said will probably last until shortly before Thanksgiving, he and crew members are again camping at Spence.
He also said the proximity provides for a short commute because "we like to ride bikes to and from work when we can."
Lissette, who has been involved in Spence Mountain trail construction since 2014, said he's especially pleased that newer trails, including those beginning from the Shoalwater Bay Trailhead, are designed for and attracting bikers and hikers of varying skill levels.
"I like providing easy trails so people can come and have a good time — and then come again," he said.