Local ranchers wanted to know more about fighting back against wolves and less about coexisting with them during a seminar Wednesday about wolves and livestock.
Hosted at the Klamath County Fairgrounds, the event was meant to educate residents about nonlethal wolf deterrents and how the predators impact the health and behavior of livestock.
The seminar was organized by OSU's Klamath Basin Research and Extension Center to highlight increasing wolf populations in and around Klamath County. Featured were speakers from Oregon Department of Fish and Wildlife, U.S. Fish and Wildlife Service and OSU Wallowa County Extension Service.
Livestock producers and their supporters from throughout the county attended and were given an overview of wolf behavior and their modern history in Oregon.
Current local gray wolf populations originate from packs captured in Canada in the 1990s and introduced to Yellowstone National Park as part of a repopulation program. From there the wolves migrated to other areas including Oregon, where sightings were first reported in 2006.
The highest wolf populations are in Northeastern Oregon, so much so wolves east of Pendleton have been delisted as endangered by federal regulators. In Southern Oregon, the only known wolves are the Rogue Pack and Silver Lake Wolves, which have much lower populations than needed for delisting.
When asked how many wolves it will take to delist the species in Southern Oregon, Elizabeth Willy, with U.S. Fish and Wildlife, said there is no specific number and rather the matter is left to the discretion of federal regulators. She said an attempt was made in 2013 to delist gray wolves after reevaluating their populations, however these attempts were challenged and subsequently defeated in court.
"We're trying to figure out — in headquarters they're trying to figure out what the next steps are to move forward with evaluating the population status of wolves," she said.
Tom Collom, with Oregon Fish and Wildlife, said federal delisting would not automatically mean ranchers could cull wolves. He said the state would still manage wolf populations and, in areas where wolf packs are currently numerous, Oregon is allowing kills only in instances of chronic depredations.
Collom said future wolf management policy could allowed limited takes but no such policy is being considered right now.
This news was frustrating for residents who believe they are being forced to live with wolves by policymakers who have no understanding of or investment in livestock production. Suzy Watkins, of Chiloquin, asked, if wolves will someday reach a population level where they can be culled, then why not start killing them now when wolves are already a threat?
Watkins posed this issue to Willy when she asked why wolves were reintroduced to the U.S. to begin with. Willy said it was the result of programs created through the Endangered Species Act allowing for repopulation programs.
"The point is to reintroduce those animals back into the landscape," said Willy.
When Watkins asked why specifically wolves were reintroduced, Willy said she had already answered the question.
Speakers were also asked about compensation for the nonlethal impacts of wolves, including stress and injury to livestock. During a presentation by John Williams, with Wallowa County Extension, he said they have documented physical and emotional stress wolves place on cattle, including miscarriages and lung damage to animals who try to outrun the predators.
Collom said the Oregon Department of Agriculture is currently offering only compensation for confirmed wolf kills equal to fair market value for the livestock. He said funding is available for missing livestock that could have been wolf kills but usually half of market value.
Williams said, in Wallowa County, their Wolf Depredation Advisory Council has granted more leeway and allows compensation to ranchers with livestock injuries that can be attributed to wolves. He said missing animals are usually the last to receive compensation and typically at far less than market value.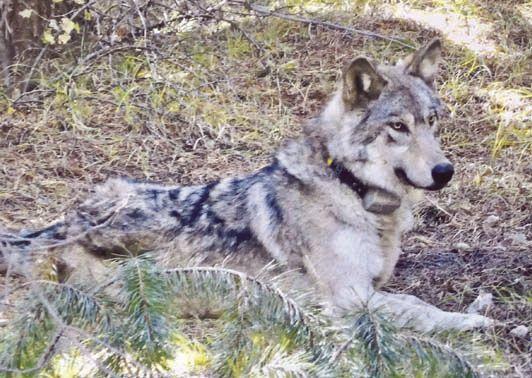 Despite frustration from ranchers who think it is time to start culling wolves, all three speakers said nonlethal deterrents are still effective and should be employed by livestock producers. Such methods include the proactive removal of attractants like carcasses and sick animals, the use of electrified fencing and fladry, or lines of rope with colored flags, livestock protection dogs, and devices that alarm or scare the wolves.
"All of these nonlethal measures can be used and are effective," said Willy.
"I don't think you can hear that enough," said Collom of nonlethal deterrents. "They can and do work."
Collom added there has not been a direct connection between rising wolf populations and the number of wolf kills and said this is a direct result of nonlethal deterrence.
Williams said it is important to alternate nonlethal deterrent methods after several months as wolves are intelligent and, after six or seven months, may learn to get around a particular barrier.
"Wolves are really, really, really smart," he said. "In my mind they're some of the smartest animals out there."
Following the seminar, Watkins said she is still frustrated local ranchers are being forced to live with wolves when the animal's population is thriving in other areas.
"There are enough wolves in other states to keep them going for a million years," she said.
Colleen Rambo-Garrett, who raises miniature donkeys on Harpold Road, said bringing wolves back has caused more damage than allowing them to remain extinct locally.
"It's foolhardy to be reintroducing the wolf to a place where they haven't been native for more than 100 years."
Despite continuing frustration among ranchers, Ian McGregor, livestock and irrigation agent for the Klamath Basin Research Extension Service, said he believed the information shared during the seminar was beneficial.
"I certainly learned a lot from these presentations and I think it was great," he said.
McGregor said he was astonished by the athleticism of wolves, particularly one example shared by Williams of a collared wolf that traveled 12 miles in one day. He also said he would encourage ranchers to act on the information shared about nonlethal deterrents.
"The nonlethal strategies have been debated but I think its 100 percent worth trying for producers so even if it does work at least you can say you tried it," he said.
McGregor said it is likely such seminars will be held in the future as wolf populations in Klamath County are expected to continue increasing.
"In the future handful of years, we will be accumulating some more wolves in the county so I think it's good to have events like these to know how we can legally manage the wolves and minimize the risk," said McGregor.