CRATER LAKE NATIONAL PARK – We're the lucky ones. Living in Southern Oregon means we can easily make a relatively quick, spontaneous trip to see Crater Lake.
Pity the poor tourists, people from all over the U.S. and world making their once-in-a-lifetime trip to see the cobalt blue waters of Crater Lake, one the clearest lakes in the world. But the ongoing rash of wildfires is sometimes making that dream a nightmare, with thick clouds of smoke obscuring or, sometimes, obliterating views of the lake.
Even the usually awe-inspiring views along Rim Drive have been hidden or restricted because smoke from forest fires throughout far Northern California and Southern Oregon is funneling into Crater Lake National Park, although rainfall earlier this week should help clear the skies.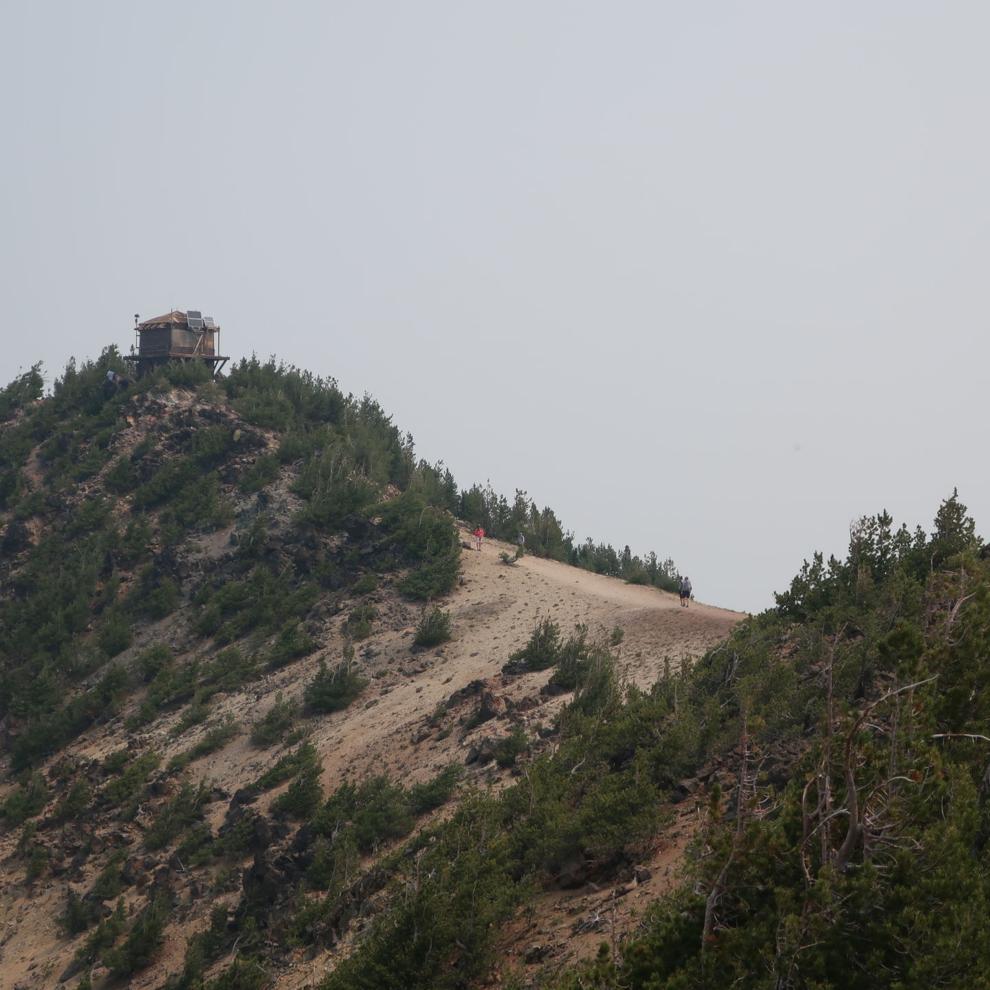 Last weekend, friends and I hoped sightings of Crater Lake might be better from atop Mount Scott. We were wrong. From the summit and viewpoints along the trail the lake seemingly didn't exist. Disappointing — you bet. Many of us have been spoiled, with previous hikes up Scott being rewarded with eye-popping views of the water-filled caldera.
The Mount Scott Trail, which begins from a trailhead off Rim Drive, climbs about 1,250-feet to Scott's 8,945-foot summit in 2.5 miles. Much of the trail winds alongside fir and pine forests before it mostly rises above the tree line and offers expansive, panoramic lake views, especially along the ridge that leads to the summit's barricaded two-story, stone and wood-framed fire lookout.
But the trail has other offerings, other rewards.
The trail moves through stands of lodgepole pine, mountain hemlock, Shasta red fir and five-needled whitebark pines, trees that grow only at elevations above 7,000-feet. Whitebarks are notable for their odd, often tormented shapes and forms, the result of decades of formidable winds and usually deep snowpack. In clumps of whitebarks were Clark's nutcrackers, noisy, cawing gray and black birds also known as "camp robbers," because they sometimes try to snatch food from unsuspecting hands.
As the trail gains elevation and switchbacks up pumice slopes, the landscape comes colorfully alive with pockets of lupines, daisies, red paintbrush, penstemon and other flowers, including western pasqueflowers.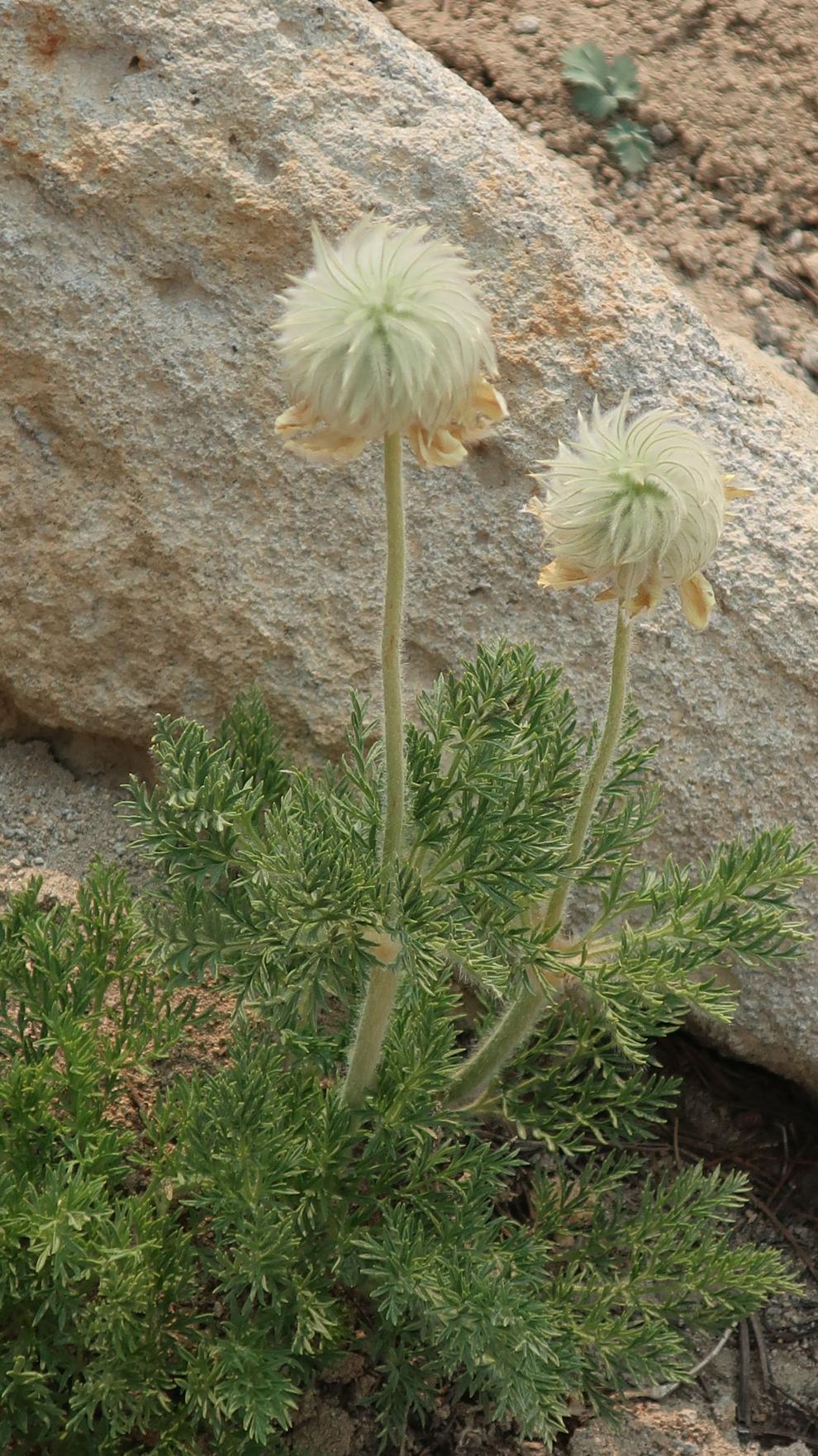 Pasqueflowers are especially enchanting. Members of the buttercup family, they undergo a startling transition. The appear in the spring in high elevation areas like Crater Lake after the snow melts as creamy white flowers with yellow buttercup centers. But then the transformation begins. By mid-summer their seedheads look like balls of white hair, which some described as looking like an upturned mop. Because of their villous, soft long hairs, pasqueflowers have earned several colorful monikers: Old Man of the Mountain, Mop Top, Tow-Headed Baby, Hippie-on-a-Stick, Muppets of the Mountains.
My favorite nickname for late-stage pasqueflowers, like those found along the Mount Scott Trail, is "The Dr. Seuss Flower." In the Dr. Seuss book, "The Lorax," the cartoonish Truffula trees strongly resemble pasqueflowers. It's believed that because Dr. Seuss, or Theodor Seuss Geisel, lived in mountainous areas where pasqueflowers grow, they served as the model for his Truffula trees in some of his books.
Pasqueflowers also figure in several cultures. According to Dictionary.com, the word pasque is "old French and is derived from Latin and Greek as pascha, while "the ultimate source is the Hebrew word for Passover, pesach. The word was applied to these flowers because the common pasqueflower found in Europe bloom in the spring around the time of Passover and Easter."
There's more. An ancient legend says pasqueflowers bloom "only in places where the blood of Roman and Danish warriors soaked deep into the soil. In Christian symbology." The pasque flower is "also associated with ideas of rebirth, dignity, nobility, and grace … In Greek mythology, it's said the flower came into being after Aphrodite, goddess of love, learnt of her partners death, and her tears became the pasque."
It wasn't until later that I learned about the pasqueflowers remarkable history. During the hike it was fascinating just gazing at the fuzzy-headed flowers.
There was little to gaze at from the summit. The usual wow-inducing views of Crater Lake and Wizard Island and of such distant peaks as Shasta, McLoughlin, Thiesen and Pelican Butte were nonexistent.
But for those of us living in proximity to Crater Lake there will be a next time, other opportunities to follow the Mount Scott Trail for breath-taking views of the lake — and, along the way, to appreciate sights like Dr. Seuss's mop-top pasqueflowers.