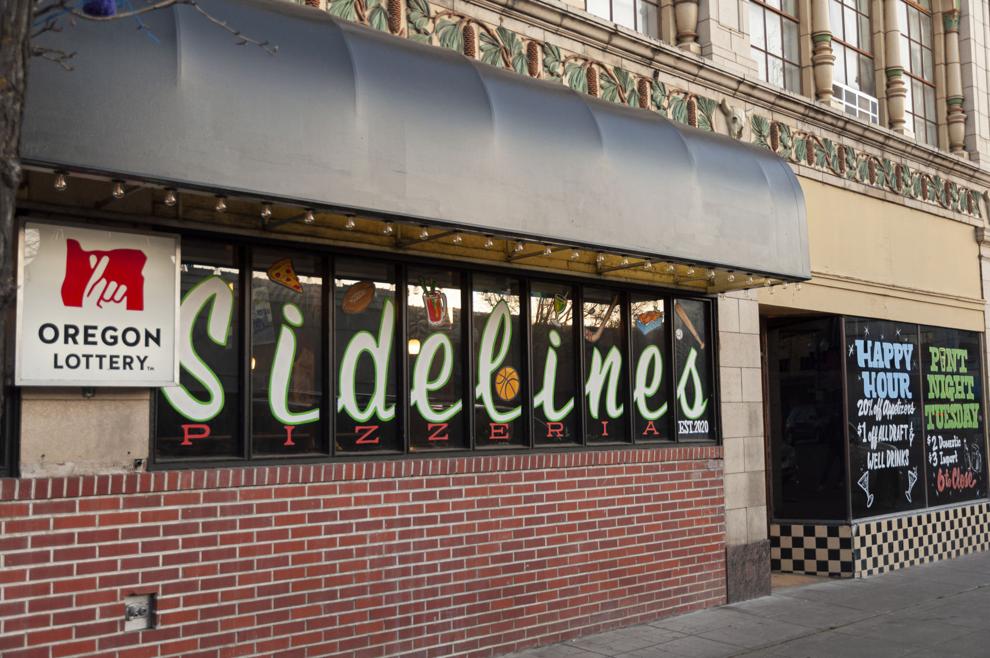 Walk into your average sports bar and you may see walls adorned with vintage jerseys and photos of professional athletes. Maybe there's a collectible game ball or a megaphone thrown in there too—something to make the games you're there to watch come alive.
At Sidelines Pizzeria, located at 722 Main St., much of the walls are bare—a symptom of a tough first year of existence amid the pandemic—but there are pockets of community pride: Klamath Union High School varsity team photos, a cheerleading outfit from Oregon Tech, vintage Mazama High School uniforms. Terrance Hunter, one of Sidelines' owners, said they're only interested in local memorabilia.
"Everything here is donated by a local resident," Hunter said. "They love coming into a place and seeing their high school jersey on the wall or their dad's letterman jacket on the wall. They feel nostalgic. It's a pillar of Klamath Falls."
Sidelines hopes to be a beacon for local sports in Klamath County as both school teams and restaurants make a slow but unpredictable comeback. Owner Mikie Piscitello said they hope to be a place where folks can watch a game, have a drink and enjoy some good food—while having pride in the Klamath Basin's own athletes. Even the pizzeria's window signage was painted by local artist Rob Tillberg, and its arcade games come from The Gameworks on South Sixth Street.
"It was something Klamath Falls needed," Piscitello said.
Sidelines is the brainchild of three California transplants — Hunter, Piscitello and Ty Miller — who have made Klamath Falls their home. None had ever run a pizzeria before, though Hunter owns Sammy's Parlor, a barbershop on Shasta Way, and Miller owns the Baskin Robbins on Washburn Way.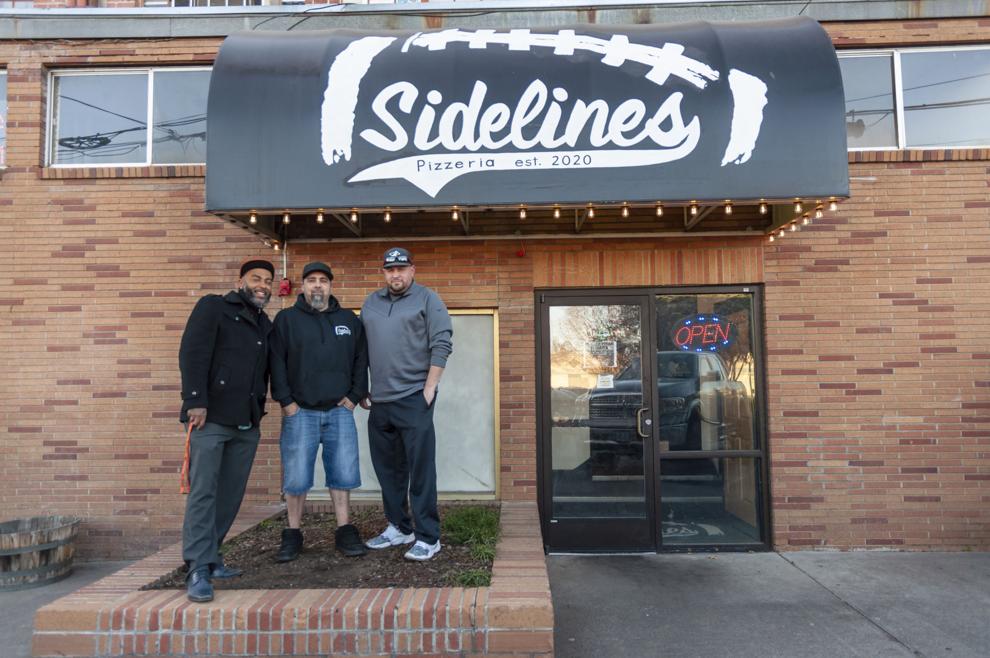 The idea came in early March of last year, when Hunter learned that Old Town Pizza, which formerly occupied the Sidelines space, was up for sale. He contacted Miller, a longtime friend, who brought in Piscitello.
"We all said, 'Let's see what we can do,'" Miller said.
The three owners wanted to keep it a pizzeria and use the equipment that was already in the kitchen, and they shrunk the menu to keep things simple—but deliciously consistent. Piscitello said he went through "a lot of making and tasting" to arrive at the perfect recipe for pizza and chicken wings.
Then the pandemic hit, when the partners were in the thick of transforming Old Town into Sidelines. Miller said by that point, the renovations had gone too far for them to back out, so they pushed ahead. The lockdown dragged on, and they were finally able to hold soft openings in June.
Piscitello said COVID-19's one gift to Sidelines was the extra time to keep testing out recipes. Aided by his Italian heritage, he eventually landed on a soft, tender crust with tangy sauce and lots of cheese—and wings some swear are the best in Klamath Falls.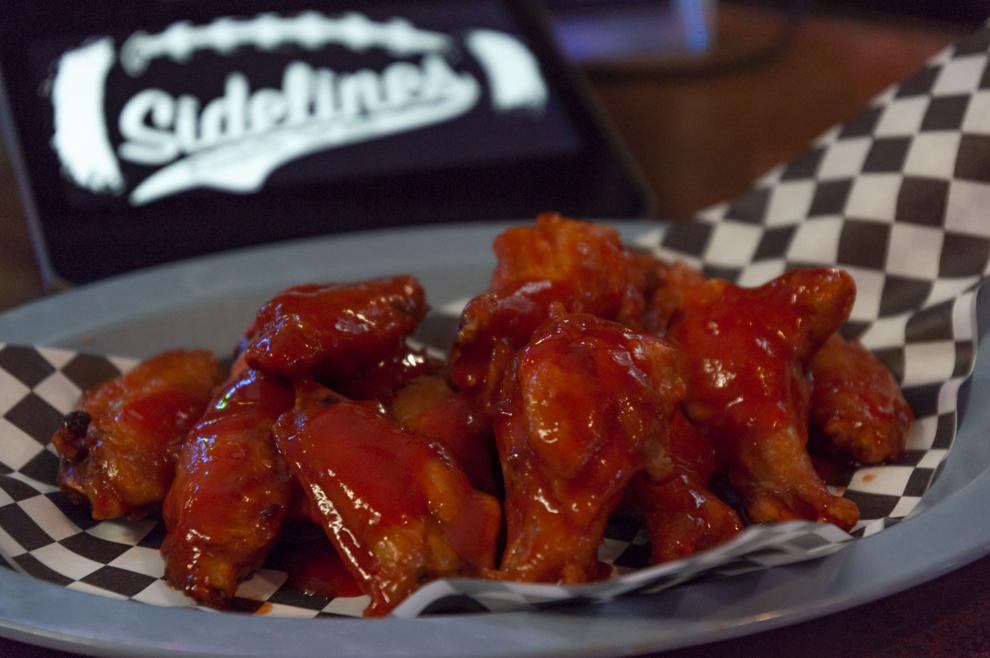 "They probably outsell the pizza," he said.
Sidelines officially opened on July 7, after indoor dining in Klamath County had resumed but before the pizzeria was able to install a beer tap. But still, people came.
"We were surprisingly busy for being new and selling pizza with no beer," Miller said.
Once the "freeze" on local businesses began in November, with restrictions on indoor dining continuing through the new year, things got even tougher. The owners made a commitment not to lay off any of their 18 employees, and they even hired two more. But because Sidelines didn't exist in 2019 and therefore had no sales reports from that year, they were unable to apply for federal relief funds available to other restaurants.
"Bills, rent, overhead is all still the same even during COVID," Hunter said. "None of that freezes."
Hunter said Sidelines got through the most recent shutdown with a lot of out-of-the-box thinking—and a wealth of community support. Access Taxi helped them deliver pizzas, neighboring businesses downtown and throughout Klamath Falls put in orders and newly loyal customers made sure to support the pizzeria.
"Whether it's ordering DoorDash and paying more money, they were still willing to pay to support us," Piscitello said.
Things have improved since business restrictions eased, but Sidelines' owners say the place doesn't quite feel whole yet. Tables are sparse to comply with capacity restrictions, and a banquet room in the back hosts only occasional meetings. Hunter envisions a lively sports bar packed with locals, once conditions allow.
"We haven't reached our full potential yet. We've never been given a fair shot," he said.
Miller said he's still surprised at how many people still haven't heard of Sidelines despite it being open for nine months. He hopes the name will become more recognizable in the future, especially as the pizzeria becomes more involved with local sports — they've already sponsored four little league teams this year.
"We are what we're about," Miller said.
For Hunter, who has also dealt with the stress of business restrictions at Sammy's Parlor, helping to run Sidelines has been a lesson in resilience. He believes surviving COVID-19 means the pizzeria can survive anything—with a little help from its friends.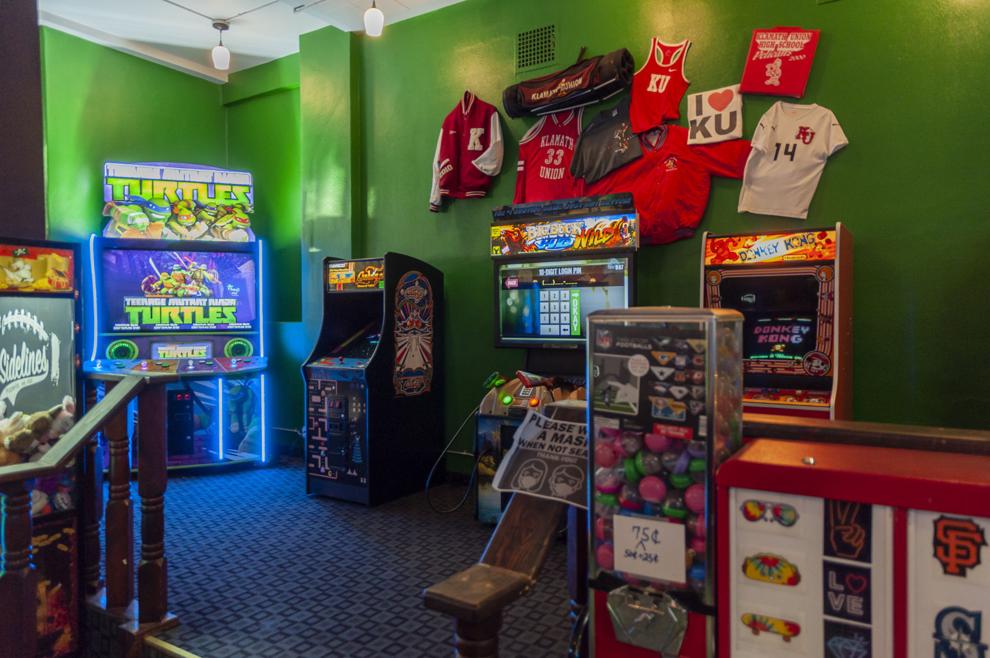 As Sidelines gets closer to the sports bar Hunter, Miller and Piscitello first imagined last March — kids having birthday parties in the back room, a little league team filling up a long table after a big game, jerseys and letterman jackets covering the empty wall space — the support it enjoys from the community won't just be a pandemic-era relic. For Hunter, it's why he makes this place his home.
"Klamath Falls takes care of Klamath Falls," he said.