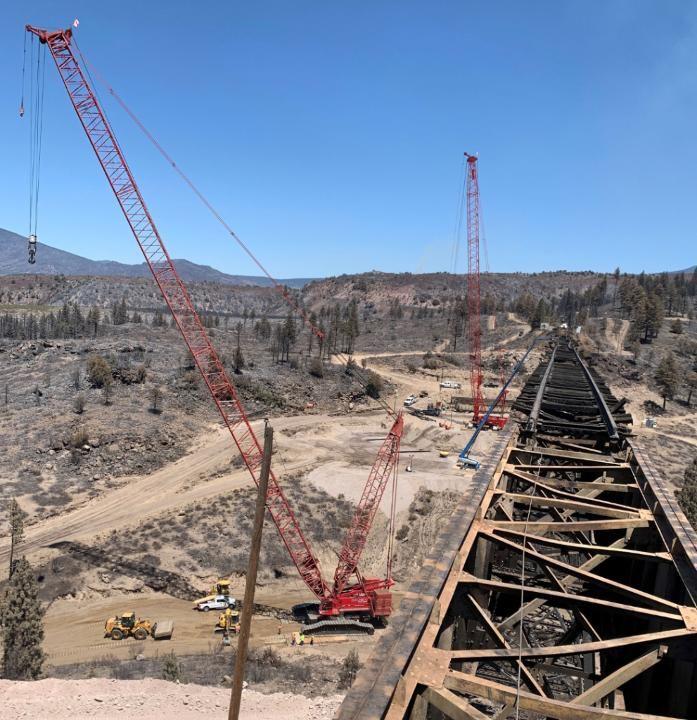 The section of the Union Pacific Railroad on the Shasta-Trinity National Forest that was severely damaged by the Lava Fire last month is currently being repaired, and Union Pacific estimates it will be usable by September.
"We have cranes down there and we are working on it," Robynn Tysver, a spokesperson for Union Pacific, told the Herald and News Friday.
There are currently three large cranes helping repair the 150-foot, steel-girded Dry Canyon Bridge. The bridge spans 1,200 feet across the canyon, and because of the fire, workers had to build a road into the site and build pads for the cranes, according to information provided on Union Pacific's website.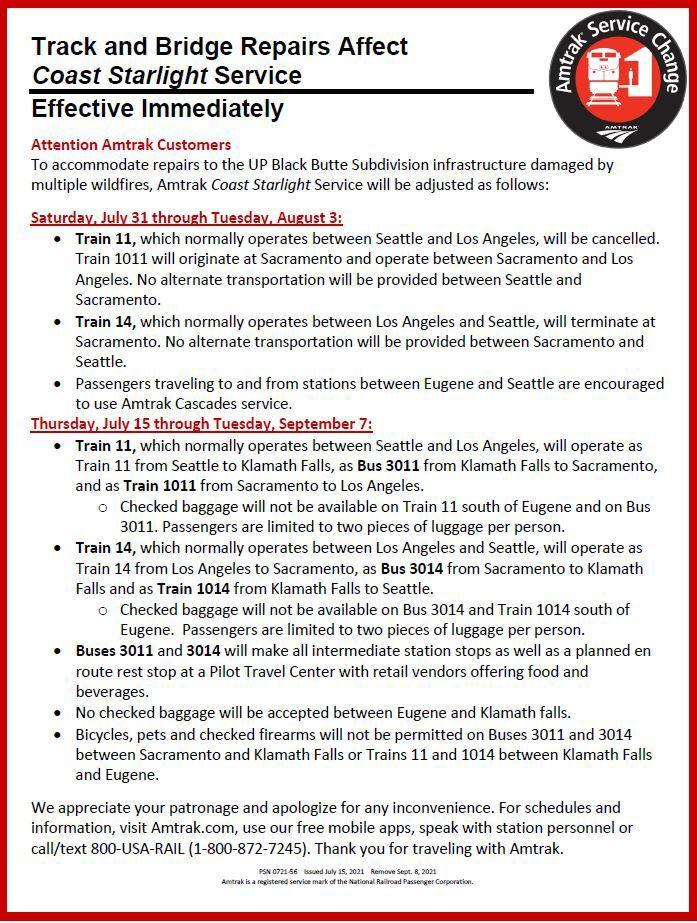 Amtrak's Coast Starlight service is expected to be affected by the track and bridge repairs, and according to an update from Amtrak on Thursday, Train 11 — which normally runs between Seattle and Los Angeles — will be canceled from Saturday, July 31 through Tuesday, August 3.
Train 14, normally traveling between Los Angeles and Seattle, will terminate at Sacramento, the update said. Passengers with reservations between Eugene and Seattle are still encouraged to use the Amtrak Cascades service.
From Thursday, July 15, through Tuesday, Sept. 7, there will be a bus bridge between Klamath Falls and Sacramento for passengers traveling both north and south.
Tom Imburgia lives in south Philadelphia, and had a train trip planned with his wife beginning next Wednesday, July 21st, he told the Herald and News in an email on Thursday.
"I have been following the progress of the wildfires that have been burning throughout the northwest, suspecting that they may impact our travel plans," Imburgia said.
He said that even after he confirmed the Coast Starlight would be suspended due to the track damage from the Lava Fire, Amtrak representatives seemed to be unaware of the disruption.
"Amtrak seems unaware of any service disruptions," Imburgia said.
Imburgia added that his wife had a conversation with the couple's travel agent, Paula D'Annunzio, a conversation that appears to reveal some confusion among Amtrak employees about the extent of the damage and the disruption it has caused.
"My Amtrak representative got back to me and he feels that you should be ok," Imburgia said his travel agent told him and his wife. "He (Amtrak representative) hadn't heard anything about the Starlight being suspended. Usually, they send us a notification if your trip would be affected."
"He is double checking with his travel support team and will let me know if he hears of anything but he feels that you should be okay," D'Annunzio added in her email to Imburgia.
"My wife and I have long agreed that we are taking this trip regardless of any changes that may be imposed, we are simply trying to manage our expectations and plan accordingly, as we have activities already secured to timelines in San Francisco," Imburgia added.
While Amtrak passengers work through the disruptions caused by the track repairs, Union Pacific continues its work.