In the half hour before it morphed into a storm of mangled metal, the pit area at the Tulelake-Butte Valley Fair demolition derby was relatively quiet.
Lance Smith, who has been driving in demolition derbies for three years, prepped for his 10th derby of 2021. He whittled away the minutes leading up to the event by chatting with the friends and family who surrounded his rainbow-painted, stitched-together 2000 Crown Victoria. Smith was hoping the car would deliver him another first-place finish in a sport that has an easy way of identifying a winner: Be the last vehicle running.
"It's the biggest adrenaline rush I personally have ever had," said Smith on Saturday. "I don't know if anything could top this."
At the stroke of 7 p.m., the pit area roared with rumbling engines, drowning out the music and crowd noise flowing from the near-full grandstand. Soon after, the metal matadors made their way to the concrete-barrier-lined arena to address the crowd and seek to destroy the Franken-cars that each competitor poured so much sweat, time and money into.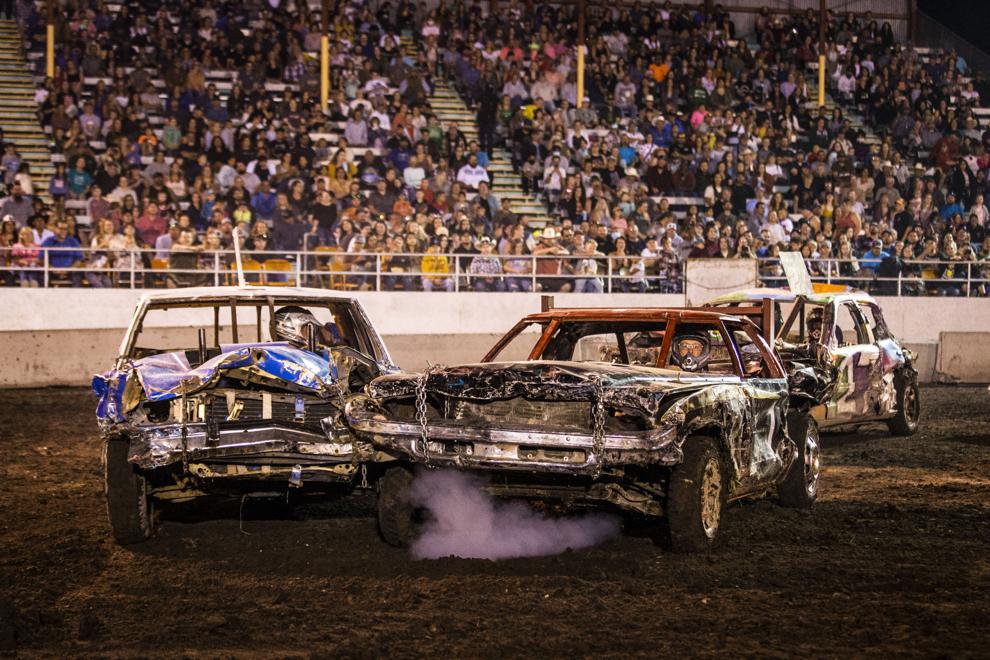 Reviving a troubled sport
Jesse Williams, the founder of JW Motorsports — the company that put on the Tulelake-Butte Valley Fair's demolition derby, knows about adrenaline. Williams drove in derbies for a quarter century, then got into the promotion business about five years ago when he saw the sport begin to struggle.
"We saw a lot of these Northern California shows dying," said Williams, who is from Susanville, California. "Car counts were dropping. Promoters were charging way too much money. It was kind of crooked. They were letting their friends in with cheated cars. Anyways, guys didn't want to build and come back the next years."
JW Motorsports doesn't take money from fairs to set up the derbies, Williams said. He counted annual derbies in McArthur, Yreka, Red Bluff and Susanville among those where the company has been able to markedly increase participation.
"We took over Yreka I think four years ago," Williams said. "They were down. They had nine cars show up the year before. We took it over. We got it up to 30-plus already."
Williams said they were scheduled to run the Tulelake derby last year, but the pandemic threw a wrench into those plans. Driver counts in California have continued to hover lower than normal with the pandemic and wildfires the likely culprits. Many fairs have only averaged around 15 cars, Williams said.
"Tonight, we have ... 12 cars for everybody that just came from five, six hours away with cars up here," Williams said. "That's a great car count, you know? So, we're here for this beautiful town and the crowd."
'Don't hit as hard as you can.'
Demolition derbies are both sport and spectacle. Drivers balance the whims of the crowd with their own desire to keep their wheels turning and claim the winner's purse.
"You got to pick and choose your hits," Smith said. "Certain hits are gonna hurt you and certain hits are gonna make the crowd go crazy. You might want to go out and junk your car in two hits ... we all say we don't do it for the money but I mean, we're here, we want to win a little bit."
That strategy was backed up by another driver with decades of experience.
"Don't hit as hard as you can," said Jeff Rogers, who has been driving in demolition derbies since 1977. "These young ones, they don't understand that. It hurts your own car when you do that."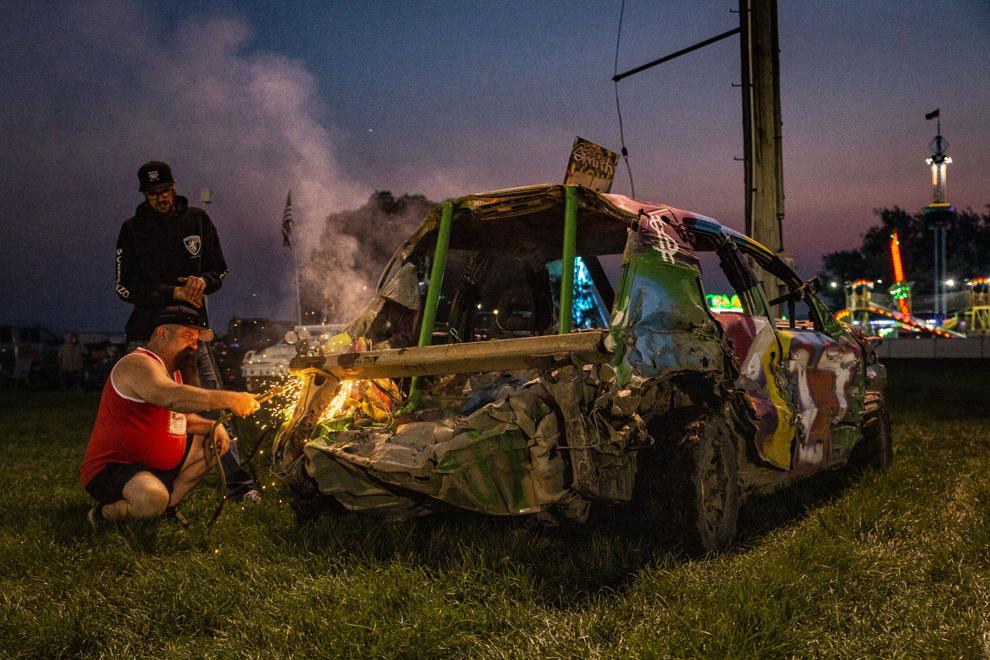 Outside of being the last car left, there are quite a few rules. Many listed online had specifications for an eligible car, while others are safety oriented — smashing into the driver's door isn't allowed and helmets and seatbelts are required.
Also important to note is the difference between the types of cars. The Tulelake derby had main event competitions for both "weld" and "stock" cars.
Stock cars are "chained up, bolted together," Rogers said, while weld cars are, well, welded together. Stock cars like the 1985 Lincoln that Rogers was driving "bend when you hit them," he said, while weld cars don't give quite as easily.
A family affair
Of course when the green flag flies and drivers begin to take aim, much of that isn't obvious to the casual observer who's just out to see smoke and twisted metal.
The Tulelake derby didn't disappoint. Mud flew as cars burned across the arena. In the main event for stock cars, Smith smashed a Richard Petty-lookalike into a concrete barrier, leaving it smoking and out of commission.
Both Smith and Rogers found themselves in the final three of the event, chasing each other around the arena, using every inch of what was left of their cars to try to knock out the competition.
Rogers was victorious Saturday and Smith finished second — his car had to be forklifted from the arena when all was said and done.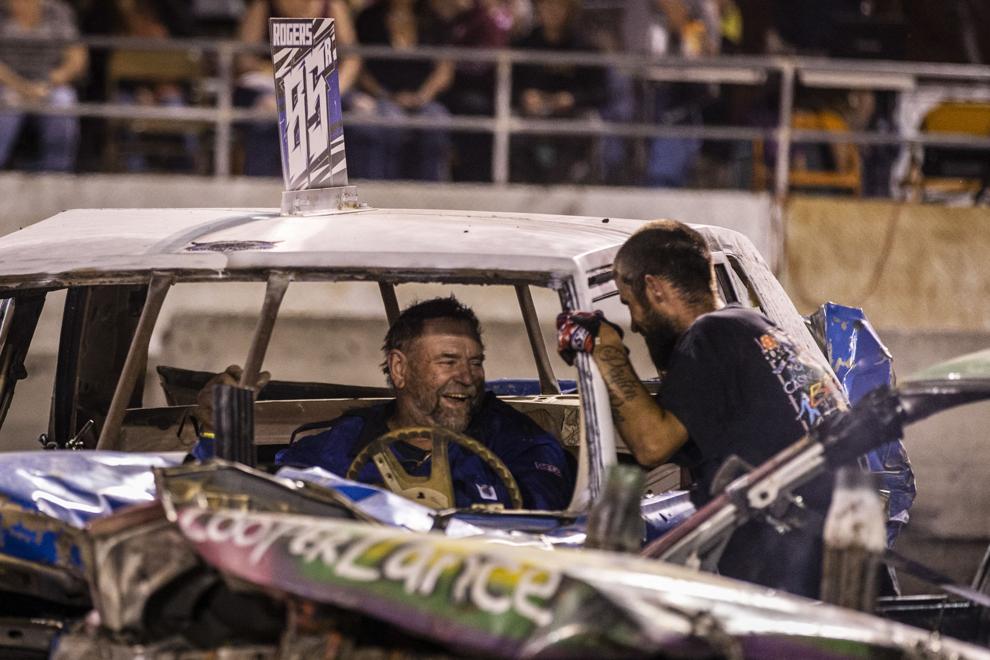 Like so many there, getting into demolition derbies was a family affair for both Smith — a fourth-generation demo driver — and Rogers.
"My dad had done it, my mom has done powder puff (demolition derbies). It just seemed right," said Rogers.
Family connections abounded Saturday. During an intermission, Chris Pasternak let Jace Gonzalez, his 7-year-old son, take some shots at his "51-50" car. Gonzalez was piloting a much smaller, electric version of the rig.
The final two drivers in the main event for welded cars featured brothers Dave and Doug Emery. In Tulelake, Dave came out on top.