Climbing Snowdon, the tallest mountain in Wales, was the literal high point of a recent three-plus weeks visit to Wales and England, but it wasn't the most wow-inducing hike. Much like Oregon, Wales is a country of contrasts, from mountainous-like Snowdon to valleys beautifully bisected with streams and waterfalls to a ravishingly rugged coast.
A sampling of Wales' coastal trails proved the most alluring, with paths that teeter along and atop overhangs that plummet suddenly to the frothy Atlantic Ocean. And just like Oregon, there's a cornucopia variety of possibilities. Here's a sampling.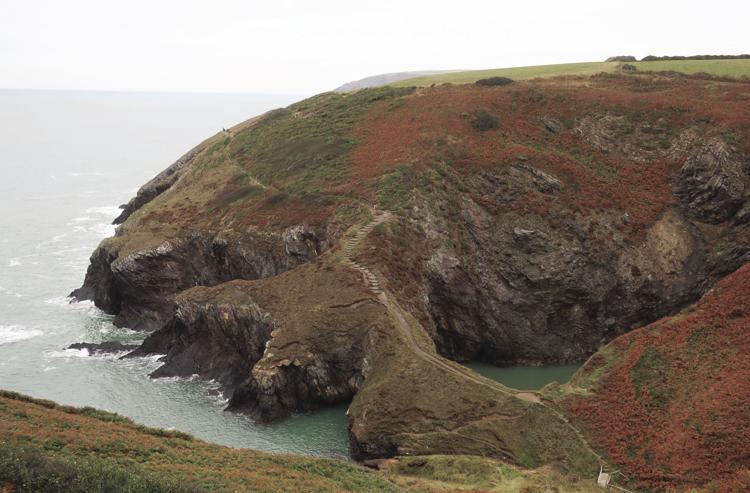 The Pembrokeshire Coast Path
Our first hike along the Pemrokeshire Coast began with a 20-minute walk through the woods from our cottage near the village of Moylegrove to Ceibwr Bay. From there we joined the Pembrokeshire trail, relishing sumptuous views of patterned cliffs hiking to Pen-yr-afr. Further south were more sightings of rugged, jagged rocks on and offshore and a coast subjected to the tumultuously pounding Atlantic Ocean. The sights changed overlooking Pwll-y-Wrach, or the Witches' Cauldron, where the roof of a cave long ago collapsed, creating a blow-hole. In the hole a grey seal was lounging on its back, seemingly savoring the view. Then a bubble and second seal appeared, this one doing acrobatic dips and dives. Fun.
The loop route eventually angled away from the coast, tracking inland past the ruins of Castell Trerfffith, an Iron Age (800 BC to 100 AD) fort, before returning to a narrow road through Moylegrove back to our cottage.
Days later the scenery along Pembrokeshire's St. David's Peninsula was even more pulsatingly dramatic. We followed the St. David's Head Coastal Trail, a 4-1/2-mile loop that we made longer by, unintentionally but not disappointedly, taking an extended route.
Much like sections of the Oregon Coast, the setting was windy wild and blustery. Along the ocean side, hidden cliffs dropped elevator shaft steep to beaches exposed by the low tide. In contrast, looking inland were several carns, or prominent rocky highpoints, and pastoral fields spotted with grazing cattle. As described in a brochure, the million-plus years ago hills, coastline and rocks were "contorted and folded by powerful earth movements and the tortured strata."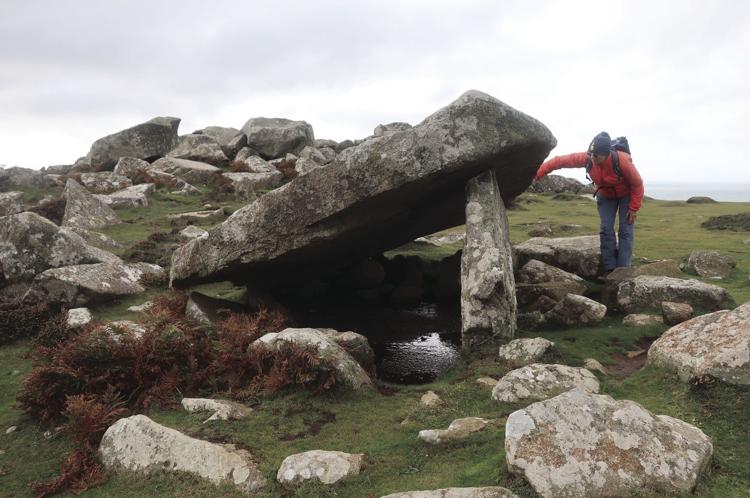 At St. David's Head, faint footpaths weaved to overlooks perched above the fractured coastal headlands. A search revealed Carrge Coetan Arthur, where a huge rock is improbably propped up. It's said the stone burial chamber dates back to 400 BC and is among the remains of an Iron Age coastal fort.
The Pembrokeshire Coast Path covers 186 miles from its south end near Amroth north to Cardigan and is known for clinging dangerously and precariously along an often exposed, cliffside route. It's part of the 870-mile Wales Coast Path.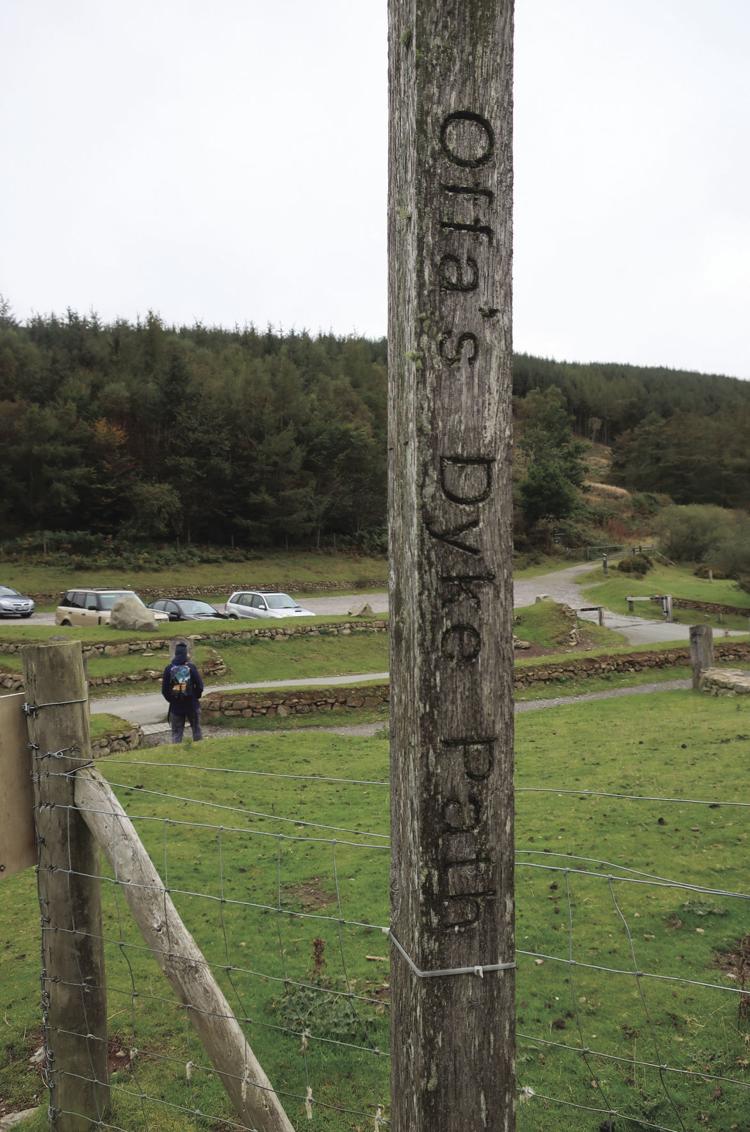 Moel Famau and Foel Fenlli
Many years ago I hiked 50 miles along the Offa's Dyke Path, a 177-mile trail that mostly follows the border country between Wales and England. From our cottage outside the village of Ruthin, a day hike provided an opportunity to visit another section of the path, one reached by walking through fields of grazing cows and watchful sheep separated walls of deliberately stacked stones.
Once on the Dyke Path we detoured for two easily gained summits. Foel Fenlli was a hillfort built along a Bronze Age (about 3200 to 600 BC) trading route. Archaeologists have unearthed 35 hut circles, with the height from some ditch bottoms reaching to 35 feet to bank tops. From Foel Fenlli we dropped to a car park and trekked steadily uphill to Moel Famau, or Mother's Mountain. In Welsh, moel means "bare mountain." Atop Moel Famau is the Jubilee Tower, built in 1810 to celebrate George III's 50-year reign. The planned 150-foot tall Egyptian-style pyramid was never completed. Ravaged by storms it was only partially rebuilt. Delightfully, fog that had obscured views on the hike up magically cleared, exposing the lush Vale of Clwyd and distant mountains, including Snowdon.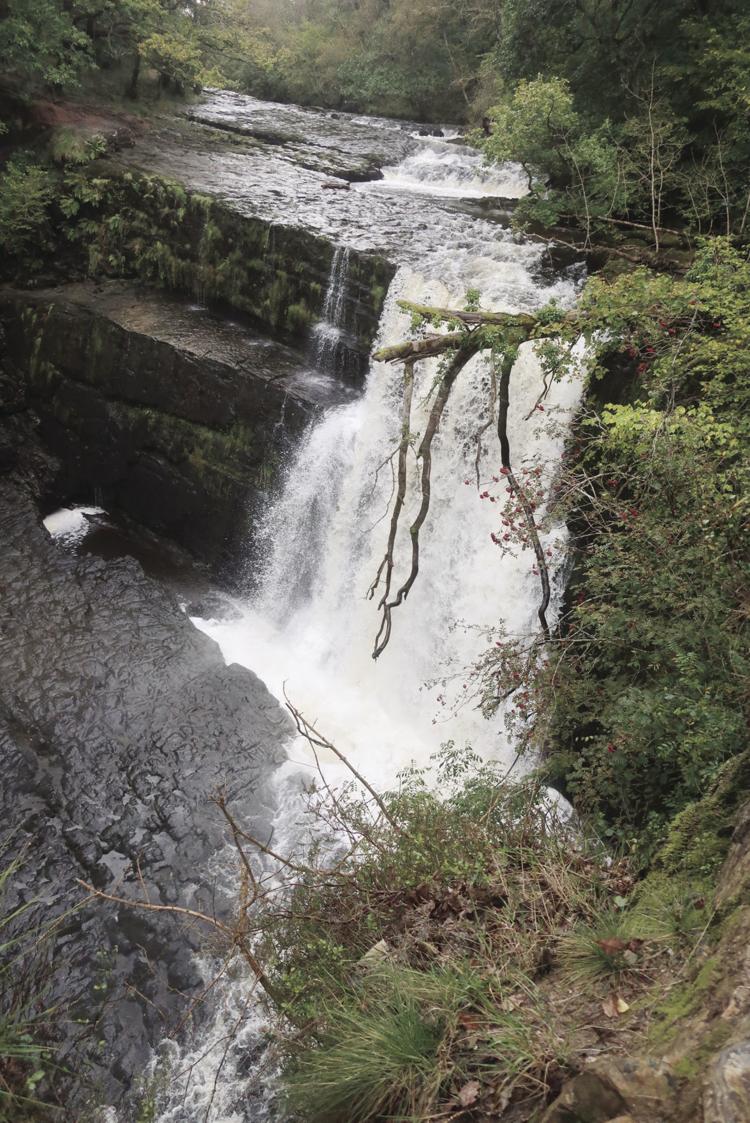 Coed-y-Rhaeadr (Wood of the Water)
Wales is a land of waterfalls, and we saw many. But, happily and improbably, we saved the best for last, Coed-y-Rhaedr, or Wood of the Water, in Brecon Beacons National Park. Our day hike began near the village of Pontneddfechan, where the trail parallels the rollicking Pyrddin River to a junction. Our first stop was Squid Gwladis, or Lady Falls. We doubled back, crossed a bridge and followed the banks above the river Nedd Fechan, first to Sgwd-y-Bedol, or Horseshoe Falls, so named because it's shaped in several semi-circular ledges. Continuing upstream the river cascaded over Sgwd Ddwli Isaf and Ddwli Uchaf, or the Lower and Upper Gushing Falls. Because it had rained earlier, they indeed gushed.
A few days earlier, from Ystradfellte, a tedious mile-long walk was rewarded with another section of Brecon Beacons' Waterfall Country. Sgwd Clun-Gwyn, or White Meadow falls, spilled downstream to Sgwd Isaf Clun-Gwyn, or Lower White Meadow Fall, and, further down, to Sgwd y Pannwr, Fall of the Fuller. But more dramatic was Beacons most popular falls, Sgwd yr Eira, the Fall of Snow. During lower water periods it's possible to walk behind the 20-foot curtain of water.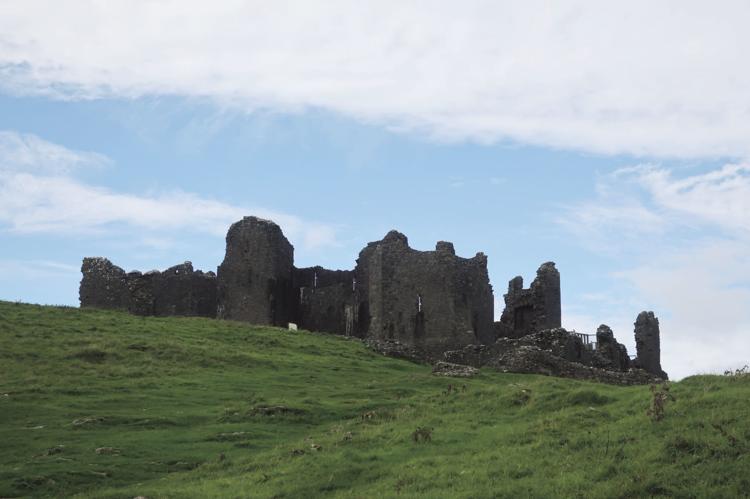 We visited castles, including the foreboding Carreg Cennen Castle perched overlooking the valley, the scattered remains of 13th Century Dolbadarn Castle and the still splendid Conwy Castle, with its eight massive towers and an inner court once connected by a drawbridge. Like other castles, Conwy has a rich, often turbulent history of kings and treason. Another day, a steady climb from the charming village of Crickhowell swept past deliberately stacked stone fences to Table Mountain and the crumbling remains of a 2,500 year old hillfort.
There was more. St. David's Cathedral, immaculately tended gardens, pubs where it took only a few days to toast mates, a distillery known for its award-winning whiskies, a slate museum where craftsmen displayed their skills. Even more that wasn't seen. And a reason to want to return again to appreciate the diversity and beauty for more tales of Wales.