The Klamath County Sheriff's Office is looking for a suspect who burglarized Howard's Meat Center around 11 p.m. Tuesday.
Deputies arrested Jon Loren Wilkinson Wednesday afternoon and are still searching for Bryan Allen Stewart.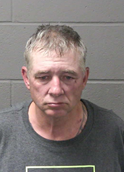 The suspects allegedly stole at least $4,500 worth of meat from Howard's, some retail product for the store and other meat hunters brought to Howard's to be processed. According to a press release from the KCSO, the stolen meat included hundreds of pounds of deer, elk and antelope meat.
Owner Mike Howard was inside the store when the burglars broke the lock on a freezer behind the shop and stole the meat, said Jordan Howard, manager of Howard's Meat Center.
The burglars put bags over the security cameras the business has near the freezers, and Howard said when the owner left, he noticed the bags over the cameras. That's when he looked around and realized the lock was busted on the freezer.
Other cameras, including those outside of neighboring Les Schwab, were able to pick up the suspects and their vehicle.
The stolen meat that Howard's was processing on behalf of hunters "will run many thousands of dollars," said the press release. "Some of the product was recovered at the time of Wilkinson's arrest but given the perishable nature of the products it was no longer usable."
According to a KCSO press release, "During an interview with deputies Wilkinson admitted he traded some of the stolen product for meth and marijuana."
In light of this, Howard said they plan to revamp their security system with new locks.
He said Mike Howard stayed overnight until someone came in to open in the morning and that he replaced the broken lock right away.
He said they've been lucky so far with their location on as busy of a street as South Sixth Street and next door to a bar.
"We've been fortunate over the years not to face too much," Howard said. "Unfortunately, I guess it was our turn."
Anyone with information about Stewart's whereabouts is asked to call KCSO Sergent Ryan Kaber at 541-883-5130.
Wilkinson is being held at the Klamath County Jail facing charges of aggravated theft, criminal mischief, criminal trespass and criminal conspiracy. His bail is set at $50,000.