Many homeowners, recreationalists and ranchers heeded warnings and fled the Bootleg Fire. But some defied evacuations orders, deciding to stay put and take their chances against the nation's largest wildfire.
Now those individuals are stuck — unable to reenter the evacuation zone if they leave, which some say is crucial to replenish dwindling supplies like water and food for themselves and their animals.
Joy Treadway, owner of Blackwing Ranch on Ivory Pine Rd., was one resident who stayed behind. Her ranch is under a level three evacuation order, which means residents must evacuate immediately and should not expect emergency assistance if they choose not to go.
"We are up here, we never left," Treadway said. "Us and probably about four or five other families, we never left. We stayed."
Now, she is worried about how she will keep her animals alive with a diminishing supply of feed and most of the surrounding vegetation burned to a crisp.
Treadway said she and her family loaded as many of their animals in the car as possible as the Bootleg Fire bore down on their property. She said the fire eventually skirted their ranch and they were all able to stay safely on site.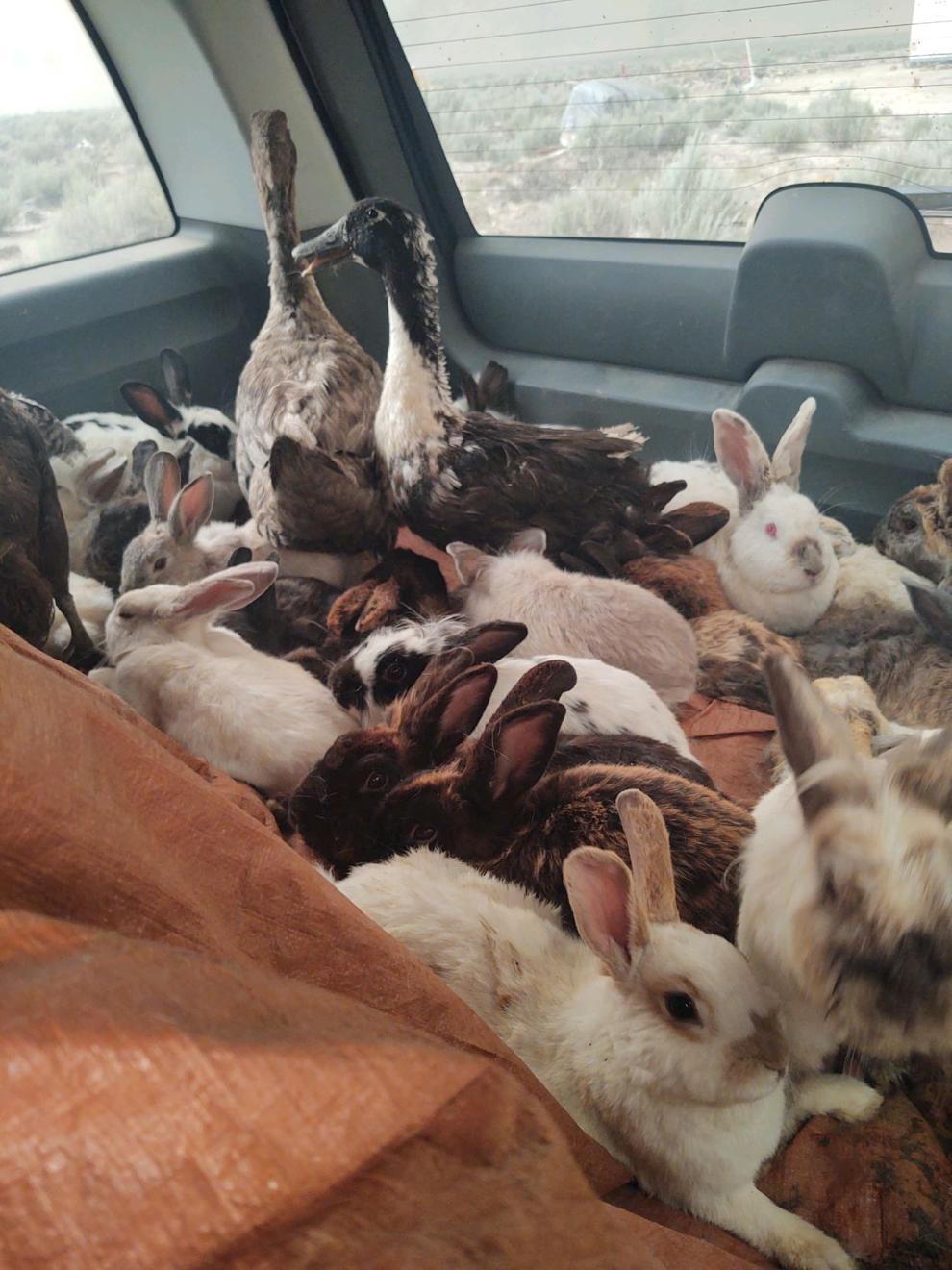 "The fire went blaring right around us," she said. "It was intense. It went right around us."
That was days ago, and their supplies are now running thin. Her family has about seven gallons of water left, as of Wednesday afternoon. Treadway said her family has about two weeks of food — mostly ramen noodles and canned goods — unless she can get out, resupply, and return to the property.
What's stopping her is the evacuation order. Residents are currently not allowed to return to the evacuation zone once they leave. Treadway says that if she leaves to get supplies, she won't be able to return — leaving her family and animals with little food and water.
Brandon Fowler, emergency manager for the Klamath County Sheriff's Office, confirmed via email that individuals who made the decision to remain in a Level 3 evacuation area will not be allowed back into the area if they leave now.
"We have advised people for several days that it is not safe to be in those areas and it was recommended they evacuate," Fowler said. "This is for their safety as well as the fire crews who need to freely move about these areas without encountering personal vehicle traffic on narrow forest roads."
Fowler added that while some areas will remain under a Level 3 evacuation order, other areas likely will soon be reduced to Level 2. An announcement is expected later on Wednesday.
Fowler also said that crews are working to save lives and property.
"If someone needs emergency assistance they can contact the Sheriff's Office or 911 and they will have a deputy reach out and make the best possible effort to assist them," Fowler said.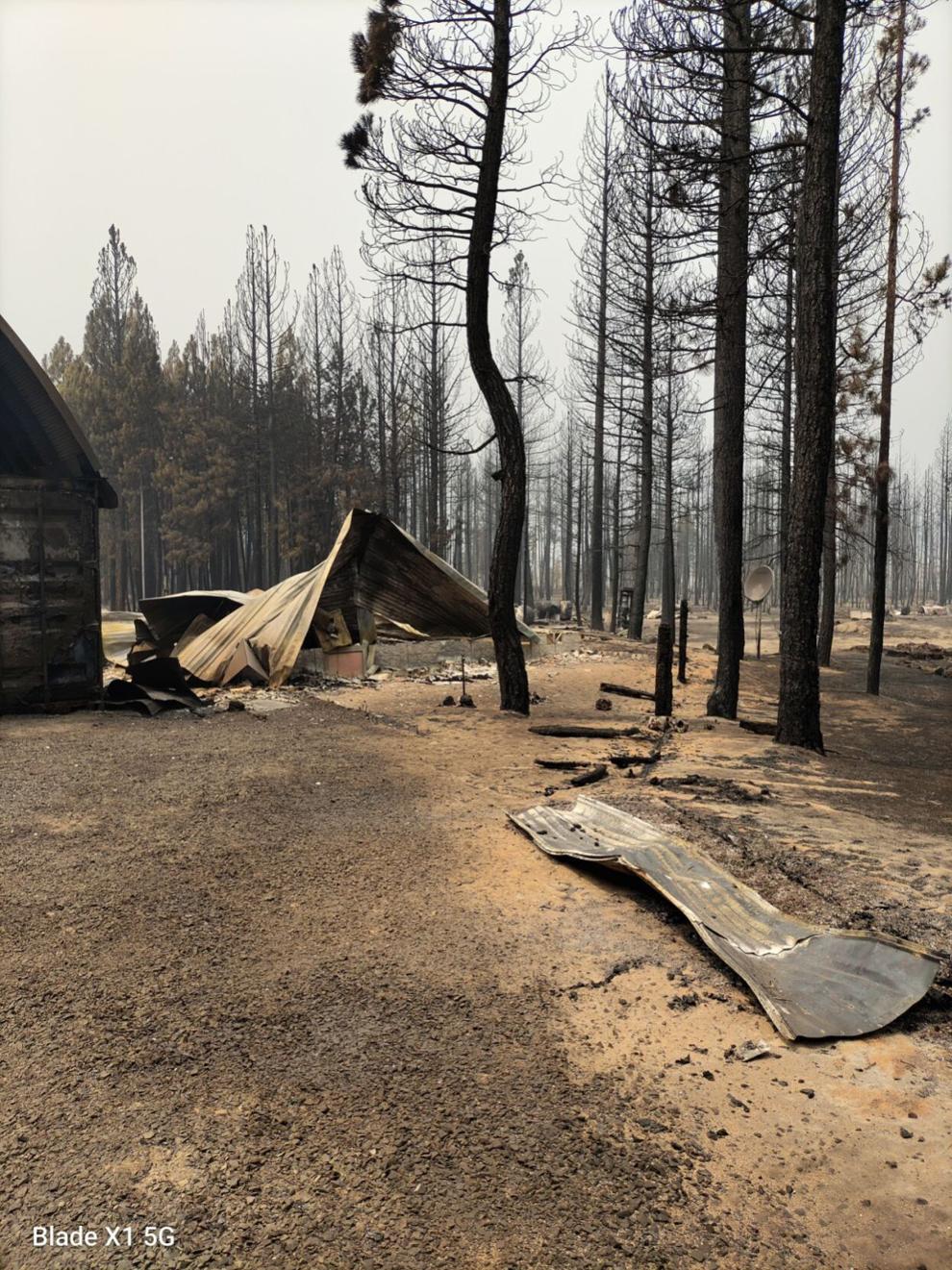 Cynthia Schmidt is Treadway's neighbor. Her house was completely surrounded by trees, so when she heard the fire roaring closer, she saw the writing on the wall and evacuated.
"You could feel the heat, you could hear the fire," Schmidt said. "So, I'm like, 'I'm leaving'."
Schmidt said her house was a total loss.
"I left and my place is incinerated," she said.
Schmidt estimates there are about a dozen people who decided to stay on their property, despite warnings from officials that they needed to evacuate
On July 10, Schmidt said emergency officials came around and told everyone to leave. But some stayed and attempted to do what they could to save their homes.
Schmidt said some residents used machinery to bulldoze around their homes for a fire break, watered their roof and yard, and picked up fuel in an effort to spare their property. Some succeeded in "playing fireman," she said.
Schmidt said she arrived at the Klamath Falls shelter about 2 a.m. Sunday morning. After she evacuated, her home — and others — burned down sometime Monday.
About 8:30 a.m. Wednesday, she tried to get back to her neighbors, who had stayed behind, to bring them some supplies, but she was stopped on Ivory Pine Road by a Sheriff's deputy.
She was told by the deputy that she would not be permitted to go back up the road due to the level 3 evacuation order.
Schmidt decided to go down to Bly to try to find another route back, she said.
Eventually, she ran into a member of the National Guard where the Williamson River Road turns to gravel. She was told that she was not permitted to go further, but that the guardsmen would not stop her.
She decided to go past the patrol and back into the evacuation zone, where she is staying with a neighbor.
Treadway said she heard people won't legally be allowed back into the evacuation zone until after July 28, but Fowler told the Herald and News that there is no set date for when evacuation orders will be lifted.
"It will be based on the fire conditions," he said.
Time is running out, according to Treadway.
"My animals will be dead by then," she said.
Treadway said she let her horses, donkeys and goats out to graze in a small, unburned patch of grass underneath the power lines because she has nothing else to feed them. She has also been foraging for weeds so her rabbits can eat.
"The fire went around us, but there are some portions that didn't burn," she said. "So there are some grasses out there where the horses are eating."
She said fire crews did good work, but they need to transition to a new phase of the operation.
"You saved our animals, but we are slowly going to die off in the next two weeks anyway," Treadway said of the situation. "At least have the National Guard bring some food from the Red Cross. They need to allow people who are safe and in safe areas to be able to resupply rather than try to starve us out."
On Thursday, deputies from the Sheriff's Office were inside the evacuation zone searching for Blackwing Ranch in an effort to bring Treadway supplies.
{span}— Reporter Joe Siess can be reached at (541) 885-4481 or {/span}jsiess@heraldandnews.com{span}. Follow him on Twitter @jomsiess{/span}