A group of roughly 30 Klamath County residents affiliated with People's Rights Oregon Area 6 gathered at Klamath Irrigation District headquarters Thursday to protest the Bureau of Reclamation's announcement that no water from Upper Klamath Lake would be available to Klamath Project irrigators this summer.
Demonstrators also engaged KID leadership regarding what could be done to respond to the situation, asking them to defy Reclamation and open the A Canal headgates and saying they would support them if they did.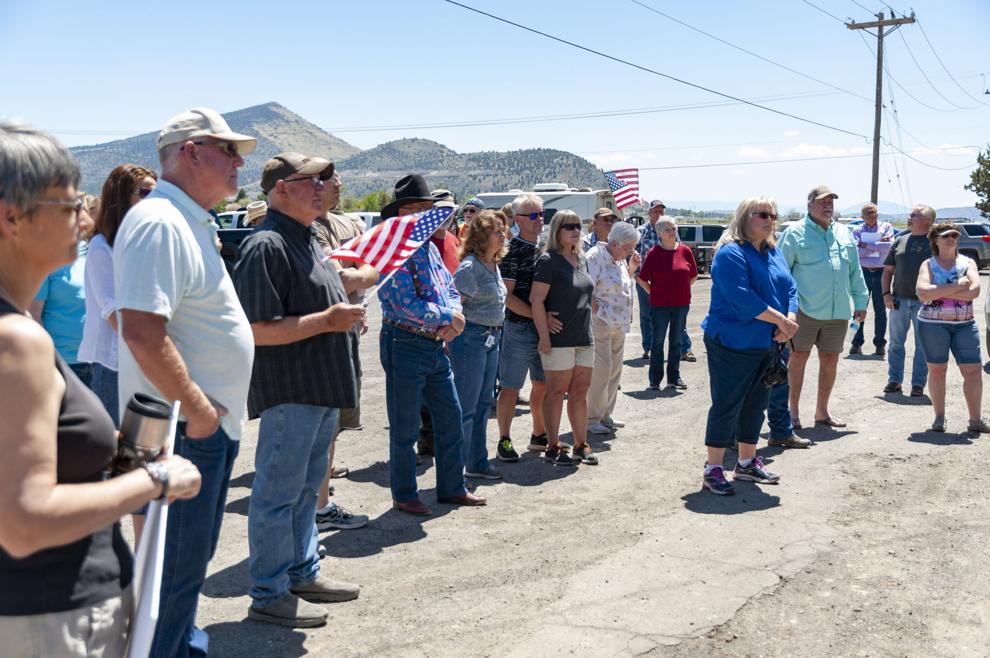 Due to historically low inflows to Upper Klamath Lake, Reclamation has said that biological opinions concerning habitats for endangered C'waam and Koptu (Lost River and shortnose suckers) in Upper Klamath Lake and threatened coho salmon on the Klamath River cannot be satisfied, leaving Klamath Project irrigators with no water.
People's Rights Oregon is the statewide piece of the People's Rights Network, a rightwing activist organization created in part by Ammon Bundy, who occupied the Malheur National Wildlife Refuge in 2016. BJ Soper, who leads most of People's Rights Oregon, was also involved with the takeover and recently made a YouTube video calling attention to the struggles facing Project irrigators.
Bundy spoke at a dinner in Klamath Falls called "Come Stand for Freedom" last summer. The People's Rights Oregon 6 website describes the group as a place "where like-minded people come together to find camaraderie and friendship as we build a thriving united community."
"This is not an angry protest," said Dawnn Brown, area assistant for People's Rights Oregon 6, which includes Klamath and Lake Counties. "We're here to support these board of directors to make the right decision for our community."
Brown said she felt the federal government should step back from the situation and direct stored water that court cases in Oregon have decided belongs to Project irrigators.
"It's our property," she said. "Let's not just let it go away until next year when we'll have this same problem."
Though KID President Ty Kliewer largely agreed with the group's sentiments, he said forcibly opening the A Canal would cause more harm than good, opening the district up to legal retaliation by Reclamation, which owns the headworks.
"I do think that we have a pathway to right the great, great evil that has happened here, but that is a long and arduous path," Kliewer said. "We have to believe that we are a nation of laws and that those laws are still good."
Kliewer said Reclamation's response to Klamath Drainage District's recent diversions from the Klamath River, which the district says are being done under a state water right supplemental to the Project, suggests they would immediately shut the A Canal back off if KID turned it on.
"Our water comes through a federal structure. That's kind of a complicating issue that we have," he said. "The water wouldn't get to (Klamath Union High School) before they closed it."
KID Manager Gene Souza said his staff removed concrete bulkheads from the canal's headworks on April 1 in preparation for charging Project canals once an expected, small amount of water from Upper Klamath Lake became available. At that point, Reclamation expected April 15 to be the first day diversions could occur.
"That resulted in calls from all the way from Washington D.C.," Souza said.
KID's counsel sent a letter to Reclamation and received a response from their solicitor on April 2, which Souza said contained "a ton of threats," namely that they would take the district's contract away from them. Souza worried that operation and maintenance costs for patrons would soar if KID were removed from the equation. Other irrigation districts in the Klamath Project also base their costs off of KID's.
"If we were to lose that contract and Reclamation were to take over again, my estimation with any federal bureaucracy is that your cost for that is going to be tripled," he said.
For Souza, the experience with Reclamation at the beginning of April suggested that removing the canal bulkheads now would not be smart for KID or its patrons. He also mentioned that allowing water to flood into the largely dry canal system would damage the infrastructure and, potentially, surrounding properties, and that Reclamation could easily close the canal and cut off non-federal access to it.
"They own all the infrastructure. It is very easy for them to go in, shut it down, remove my access and take my keys," he said. "So for me to violate Reclamation's directive would not produce a single drop of water for any farmer."
Nathan Rietmann, KID's counsel, told demonstrators that despite the fact that he believes the stored water in Upper Klamath Lake belongs to irrigators, the best and longest-lasting solution to the problem is to get a judge to order Reclamation to recognize that.
The district's litigation in Oregon has been successful in ordering the Oregon Water Resources Department not to allow stored water to leave Upper Klamath Lake. OWRD issued an order April 6 directing Reclamation to do just that, but stipulated that the agency was not relieved from any obligations required by "federal laws and federal agency regulations."
Kliewer said the best actions demonstrators could take are to pray KID prevails in court on May 20, when they'll be arguing that an emergency motion they filed to reduce flows released from the Link River Dam for salmon downstream on the Klamath River should be remanded back to Klamath County Circuit Court. The federal government removed the case to federal court in Eugene last month.
KID is also involved in a motion filed by Klamath Water Users Association to lift the stay in the Yurok Tribe's lawsuit against Reclamation concerning Klamath Project operations. Irrigators hope moving forward with the case will provide legal clarity on Reclamation's obligations under the Endangered Species Act.
"We didn't get into this mess overnight, and we're not going to solve it overnight," Rietmann said. "As we move forward, I think we've got to pursue the path that's most strategically advantageous and gives us the greatest probability of winning at the end of the day."