She's sung to manta rays. Nearly died in South Africa after a bull elephant charged her frightened horse, who ran off under a tree branch that whacked her in the head, knocking her out. And there was the wild zip line ride over Victoria Falls.
More? You bet. The time the lanterns went out while deep in Catacombs Cave at Lava Beds National Monument. Tantalizingly delightful hikes and kayak trips in New Zealand. Rumpy-bumpy landings in airplanes so violent that she almost had her insides out.
Micki Dwelley is no stranger to adventure. It's something she feasts on. In recent years her birthday outings have been especially memorable. At age 70 she went parachuting. A year later she tried paragliding. At 72 it was off to South Africa with her daughter, Joelle Wilson, for fun times and the unplanned elephant near disaster.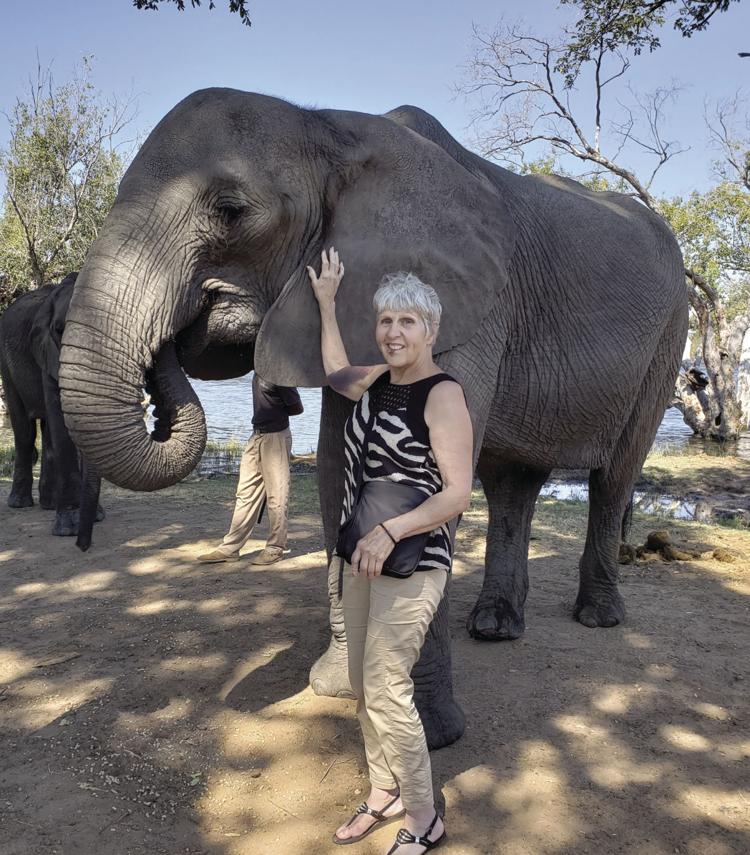 Gift of adrenaline
"I like to do something exciting for every birthday," she explains. "I'd rather have an adventure than receive a gift."
Dwelley's 73rd birthday was Sept. 30. Trying to save money for next year's outing, when she wants to participate in a program that will allow her to ride in a fighter jet, give her some time at the controls and be in a mock dogfight, she decided to stay closer to home this year.
So, after extensive planning and preparation, on Oct. 19 Dwelley climbed into her kayak at a launching point on Upper Klamath Lake near the place where Highway 140 begins its climb up Doak Mountain and paddled about 5 miles south along the shoreline to the boat docks at the Running Y Ranch.
No big deal? That was just the beginning of an eight-leg paddle that took Dwelley nearly 90 miles around Upper Klamath Lake's shore.
"We are so lucky to be living in the beautiful country," she says, reflecting on her mostly solo paddle. "I'd be out there and it was me and the lake and the mountains. Honestly, I love the solitude, just being me and the birds."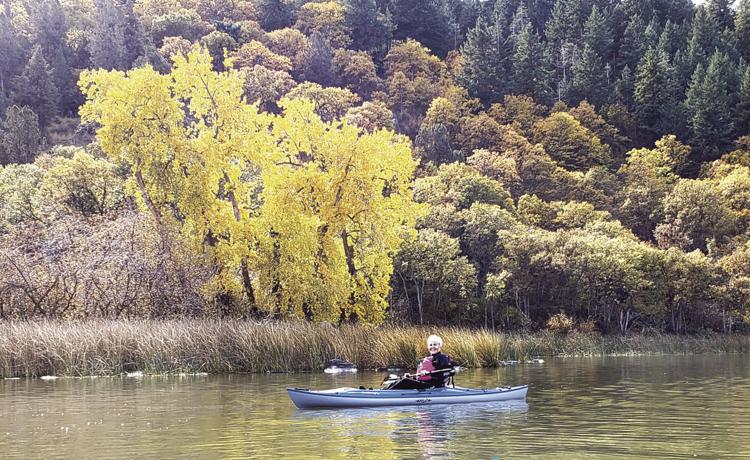 In the calm
Unusually warm temperatures and mostly calm winds aided Dwelley. The next day she kayaked from Shoalwater Bay north to Howard Bay, taking about five hours to cover the 14 miles. "That was a pretty long one," she admits, hastening to explain, "I don't do it for speed because I want to be out. So gorgeous."
October 21 found her paddling from the Running Y past the Stone House to a friend's marina off Lakeshore Drive. The next day she continued to the Klamath Yacht Club. An unexpected surprise extended her Oct. 23 trip from the Yacht Club along the lake's southeast shore. Her planned takeout at Hagelstein Park didn't happen because, damn, a beaver dam blocked the way.
"There was no way I could take the kayak out by myself," she tells, so she paddled another 5 miles to Modoc Point, a day's distance of about 20 miles over seven hours.
Gusty threat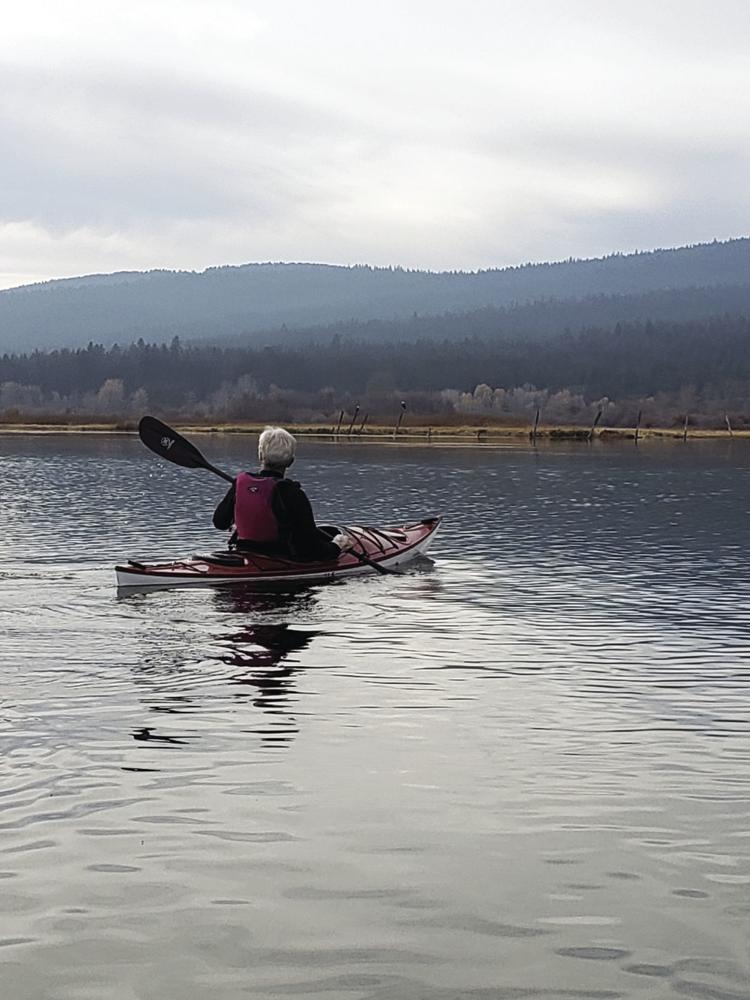 Dwelley's next leg, 17 miles from the Rocky Point Resort back to Modoc Point, had her, her husband, Dorman Treadway, and her daughter, Joelle Wilson, anxious because the route goes through tules and areas exposed to potentially gusty winds. When she told a friend, Scott MacLeod, a volunteer member of Klamath County Sheriff's Office small boat rescue unit, about her concerns, he offered to assist by periodically checking on her from his boat.
"I was apprehensive because it's all marsh. The wind can pick up quickly," explained Dwelley, who over the years has paddled many sections of the lake. "I knew I could go the distance. The problem was I didn't know that part of the lake."
Two-plus hours from her put-in, MacLeod and Mike Buhomo pulled alongside in their motorboat. They checked on Dwelley two other times before she finished the day's journey, who was very appreciative. "The weather cooperated," she recalls of the day. "It was beautiful."
She could have completed the last leg, Shoalwater Bay to the Harriman Springs Resort at Rocky Point, in a day. Instead he stopped at Odessa Creek so that Joelle, who had accompanied her on an earlier leg, could join her for the grand finale on Tuesday, Nov. 5. They left later in the day than usual so they reach the ending point at the Harriman Resort, where Dorman was waiting, for a celebratory dinner.
Oops. Surprise. The restaurant is open six days a week, but not on Tuesdays. The meal was delayed a night.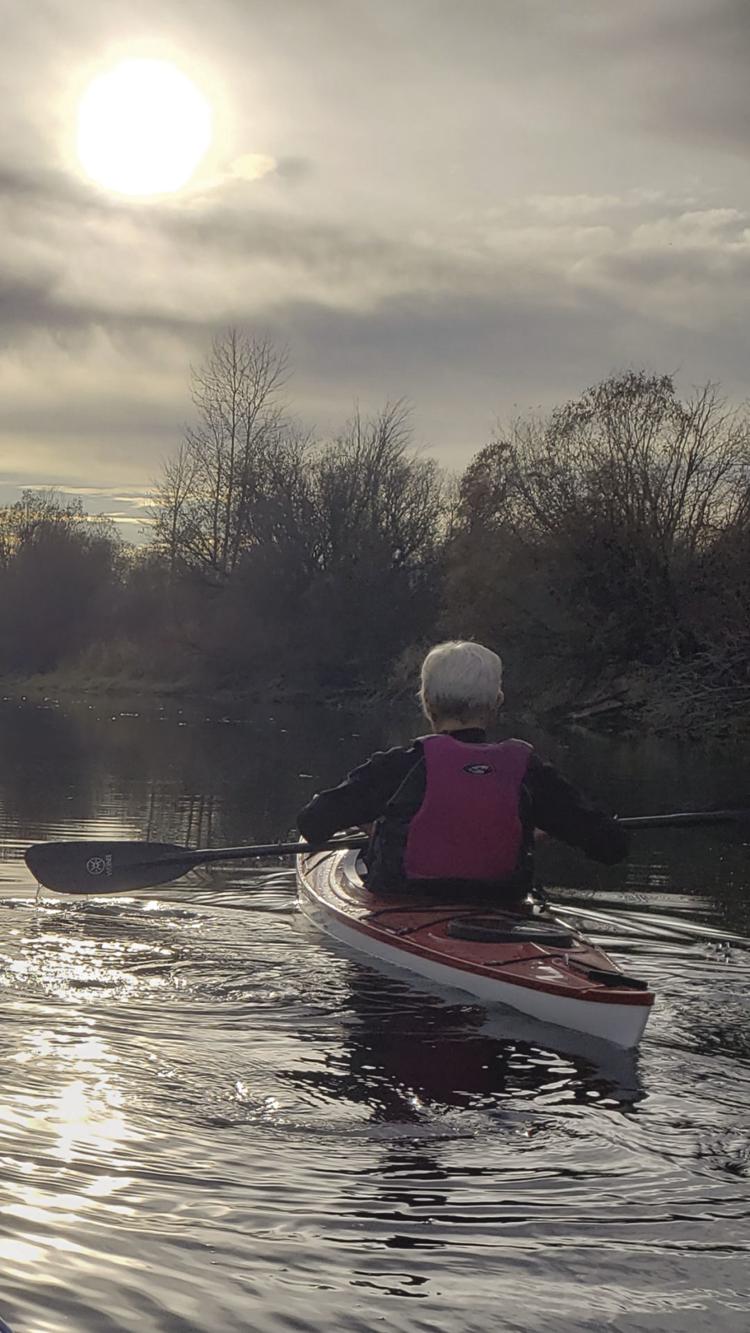 Partner in adventure
Although Dorman doesn't paddle, Dwelley credits him with helping make the lake circuit possible, explaining, "He would deliver me and pick me up. I couldn't have done it without him."
Dwelley is already planning for next year — and beyond. Along with a ride in a fighter jet, she's mentally inventorying possibilities, like going to the Galapagos Islands, hiking to Machu Picchu, making another multi-adventure outing in New Zealand, swimming with 15,000-pound whale sharks in Baja California. Closer to home, she wants to climb Mount McLoughlin and tackle who-knows-what other outdoor jaunts, like a loop kayak paddle around Agency Lake.
"We're always looking for new things," she says, explaining her husband and daughter help make her fantasies realities.
Dwelley regales in her memories of her trips, especially her Upper Klamath Lake tour, sometimes in not-to-be expected ways.
"I guess I became more aware. Aware that there's more opportunities for kayaking in the fall or early spring when it (the lake) isn't like pea soup." But Dwelley also chuckles while thinking aloud that Upper Klamath's notorious algae blooms aren't necessarily a bad thing. "I'm thankful for the algae because if it wasn't there it would be like Lake Tahoe. God has just blessed us with so much to do in this county."