A Klamath Falls man was seriously injured Thursday morning when he was mauled by pit bulls in his own front yard.
Troy Lashley was loading up his truck on his Marian Court, just southwest of Steen Sports Park, when three of his neighbors' dogs surrounded him, snarling. Lashley picked up a rock and threw it at one of the dogs, but it just got angrier, he said.
"They surrounded me," Lashley said. "And I thought, 'Oh, I'm in trouble.'"
Eventually, multiple dogs started closing in on him, and before he could turn around to get into his truck they were biting him. The dogs bit him on the shin clear down to the bone and they tore muscle on his arm that might be irreparably damaged.
He was able to get back to his front door, but was bleeding profusely. After the fact, Lashley's front yard, landscaped with white pebbles, was flecked with blood. The front door was also covered in blood.
When he tried to get into the house, he realized the door was locked and he had dropped his keys in the yard as he fought with the dogs.
"I was hitting them with my fists, hitting them with rocks," Lashley said. "I was trying to protect my face and my neck because I know they like to go for that."
The dogs eventually got a hold of him again and drug him back out onto the lawn, where the mauling continued.
"My arm was just pouring out blood," he said. "One was biting my arm and the other was biting my leg."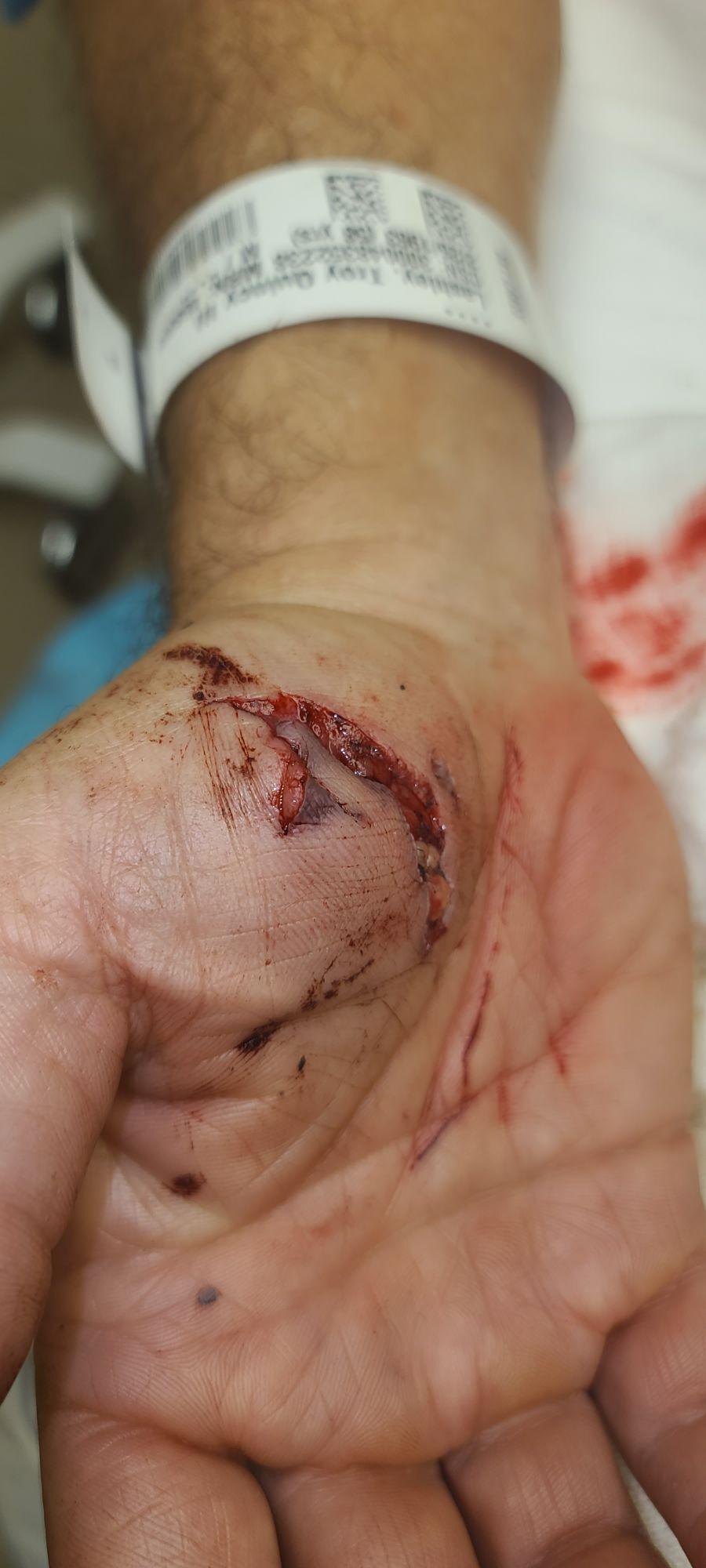 "I was about done and they were still chewing on me. It could have been a lot worse. I probably just had a few minutes left if they kept chewing on me," Lashley said.
The whole thing happened in a flash, he said, and if it weren't for his neighbor Darwin Bailey chasing off the dogs with a shovel, Lashley thinks he could have been killed.
Bailey lives right next door to Lashley. During the beginning of the attack, Lashley's truck had obscured his view of what was going on. Lashley eventually yelled loud enough to get Bailey's attention.
"Then I looked out and I saw that the three dogs were on him," he said. "That's when I got the shovel."
Bailey said he hit one of the dogs three times before it took off running.
"The other one (pit bull) had blood all over its mouth," he said. "I thought it was going to go after me, but it didn't."
Bailey said he's had problems in the past with the dogs and at one point was chased into his house, where he promptly called 911. His wife was also chased into the house by the dogs, barely escaping, he said. On both occasions the authorities were contacted, but nothing was done, Bailey said.
Lashley was in shock by the time the ambulance and the Klamath County Sheriff's Office arrived on the scene, he said. The ambulance showed up first, but the paramedics wouldn't get out of their vehicle until the Sheriff's Office arrived.
Lashley remained on the ground, bleeding for a few moments as they waited.
In retrospect, Lashley believes something should have been done about the dogs earlier on. He is worried about children who live in the neighborhood, as well as his own granddaughter who comes to visit.
Lashley also hopes he will be compensated for not only his medical bills, but also for the pain and suffering he had to endure.
"I want those dogs put down," Lashley said. "Because I don't want that to happen to anybody else."
The Klamath County Sheriff's Office said that deputies on Saturday — two days after the attack — got a search warrant to a home in the 1100 block of Summers Lane, near Lashley's home. Six dogs were seized from that address, according to police, but the alleged owner was not identified.
"The investigation is ongoing and additional evidence is being collected to help determine if possible charges will be field," said a release from the sheriff's office.
Cole Chase, the deputy district attorney for Klamath County, said no police reports have been filed on the incident as of Monday, but the DA's office did review the search warrant used to seize the dogs.
According to Klamath County animal control ordinances, if an animal is found to be "dangerous" the "court may order relief that it deems appropriate for the protection of the public, including that the dangerous dog be destroyed."
Lashley said he hopes something is done.
"They are just too aggressive," he said. "They've tasted blood now. It's ridiculous you walk outside your door and have to fear for your life because of somebody's pet."