Distracted driving can be fatal. That quick text or entering your destination in a navigation program while driving can turn something that can seem so innocuous into a tragic accident.
According to the U.S. Centers for Disease Control and Prevention, about nine people are killed every day and about 1,000 injured from crashes reported to involve distracted driving.
The CDC breaks down distracted driving into three categories: visual, or taking your eyes off the road; manual, or taking your hands off the wheel; and cognitive, or taking your mind off driving.
"Texting while driving is especially dangerous because it combines all three types of distraction. When you send or read a text message, you take your eyes off the road for about 5 seconds, long enough to cover the length a football field while driving at 55 mph," states the CDC's website.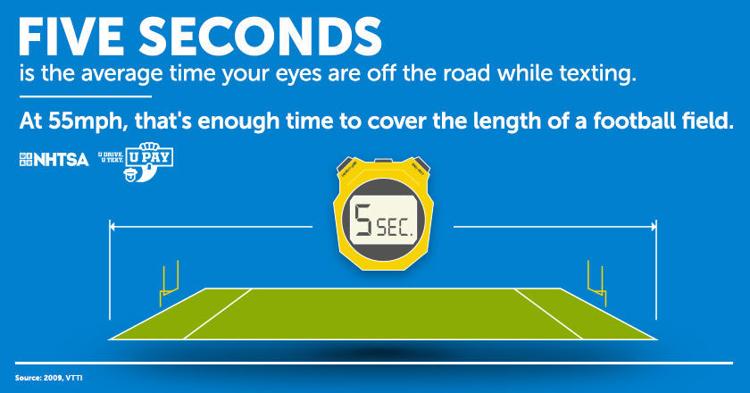 With cellphone and navigation systems becoming more and more a part of today's cars and driving experiences, states across the country have begun instituting laws and penalties for those caught using technology while behind the wheel.
Oregon tops list
A New York-based law firm took on the laws across the nation to see how each state stacks up in the way it's cracking down on distracted drivers. Claiming the top spot of the firm's list of most strict state on distracted driving: Oregon.
The $1,000 maximum fine for a first-time offense in Oregon caused Rosenblum Law to put the state as No. 1. That is the highest fine for first-time offenders across the country. The next highest fine is $750 in Utah. In contrast, California has the lowest fine across the country among states that have laws against distracted driving, fining drivers $20.
On the other side of the spectrum, the least strict state on distracted driving, according to the firm, is Montana due to the fact is lacks any statewide laws about texting and driving, the only state where this is the case.
Adam Rosenblum, the principal attorney with Rosenblum Law said the biggest question mark surrounding the penalties associated with these citations is whether a bigger fine or harsher punishment actually correlates with less distracted driving.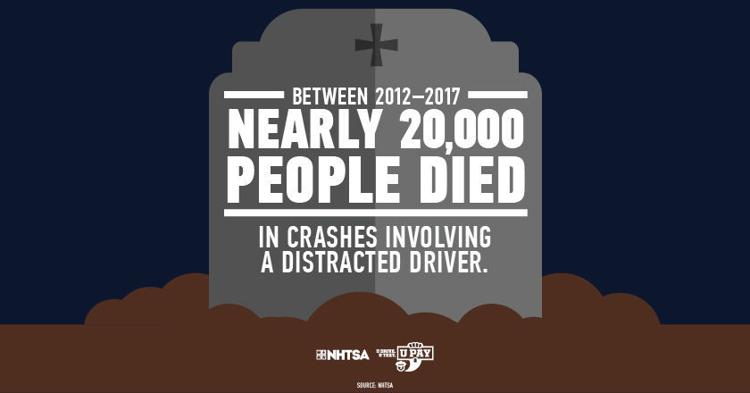 Shelley Snow from the Oregon Department of Transportation said the high fine is meant to be a deterrent to people considering texting while driving or taking their eyes off the road, as any law is meant to discourage the behavior it rules against.
Snow said it's worth it to have such a hefty fine hanging over people's heads if it gets them to put the phone down.
"The goal is that people would be scared about the concept of a $1,000 fine and that would be enough to get people to put the phone down," Snow said.
Testing ground
With Oregon having the highest maximum fine for the offense, Rosenblum said the state can be a sort of testing ground to see if higher fines leads to less of the behavior.
Locally, the fine is $265 for citations written by the Klamath County Sheriff's Office, Klamath Falls Police Department and Oregon State Police, but Snow said it's up to the courts to enforce the $1,000 maximum or not.
Although a large focus on distracted driving revolves around drivers using cell phones, OSP Lt. Donnie Miller said distracted driving can include anything that takes your attention from driving, from eating to messing with the radio, and can cause major crashes.
Miller emphasized OSP's fatal five that are the top five things the agency identifies as risk factors while driving. The department uses the abbreviation SOLID to represent those factors of speed, occupant safety, lane safety, impaired driving and distracted driving.
Although distracted driving is the last factor in the abbreviation, Miller said that doesn't mean it's the least dangerous of the five.
Regional citations
Since Jan. 1, 2016, OSP officers wrote 585 citations for distracted driving in Klamath County. In Jackson County they cited 1,170 distracted drivers in that time period. In Deschutes County that number was 1,273 citations.
Miller reminded people one of the safest things they can do to reduce the risk of distraction and crash are use a hands-free device like a Bluetooth system and to refrain from texting and driving.
As a police officer, Miller said it can be funny sometimes to see drivers appear to be talking to themselves, but that it's great for him to see that their hands are on the wheel and it becomes clear they're using a hands-free device.
He said he's seen much more of a push for awareness of the issue and more and more sees people using Bluetooth devices.
Miller noted, however, that it's impossible to know how many people do use a cell phone while driving or other distraction-causers as sometimes it's not so obvious and people might not report they were texting or messing with their phones. Often, he said, by the time he gets someone pulled over, the phone is put away.
In Miller's experience, however, distracted driving can be a problem that defies age categories.
The laws are fairly new, Miller said, and so it's too soon to tell if harsher penalties for distracted driving actually lower the incidents of doing so, but he's encouraged by the conversations he hears around the topic and the measures people are taking to be safer.
Finally, if the call of text just can't wait and a driver doesn't have a hands-free device to use, Miller said drivers should pull over in a safe spot to take the call or send the text.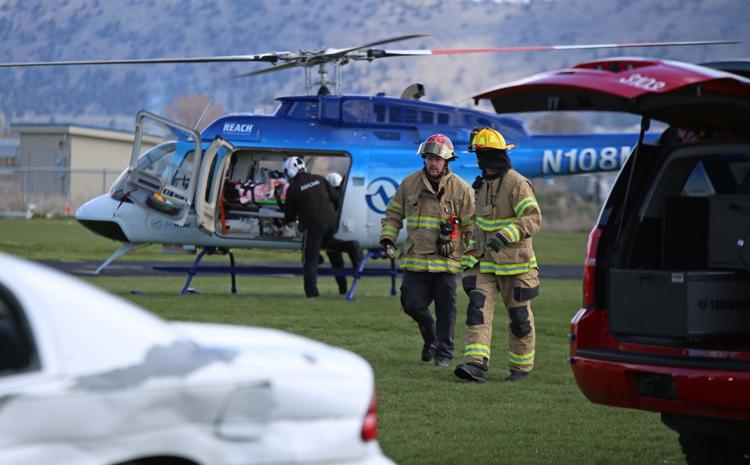 Clear message
Klamath County District Attorney Eve Costello said sending that quick text while driving is sending a clear message to others on the road with you.
"You're basically telling everybody else that your life is not important to me and this text is more important than you," she said.
It's going to take a societal shift, Costello said, in people's attitudes toward the behavior. She made the comparison to Americans' attitudes about drinking and driving in the 1970s and '80s, saying it was acceptable then with the practice of taking one for the road being commonplace. Nowadays, she said, people are much more averse to drinking and driving. This is the sort of shift in perception needed toward texting and driving she expects it will take to reduce the instances of people doing so.
An example of the increase in distracted driving, Costello noted, was that there's been an increase in single car crashes in which people go off the road. She said they hear "unbelievable" claims from people she suspects were actually using their cell phones.
Costello said last year there were four crashes in Klamath County in which the driver died and authorities were able to establish someone was texting and driving.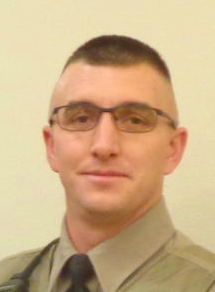 Most dangerous
Klamath County Sheriff's Office Sargent Ryan Kaber applies for grants for the department every year for increased enforcement around risky driving behavior like speeding, failing to use a seat belt and distracted driving.
Kaber said driving might be the most dangerous thing people do all day and that it deserves drivers' undivided attention.
A program the Sheriff's Office is involved in each year, along with other area law enforcement agencies, regarding the issue is the Operation Prom Night that takes up a football field at an area high school each spring to recreate a fatal scene in which a driver is driving while intoxicated, distracted or not wearing a seat belt. Kaber said they try to get student leaders from the school involved as well.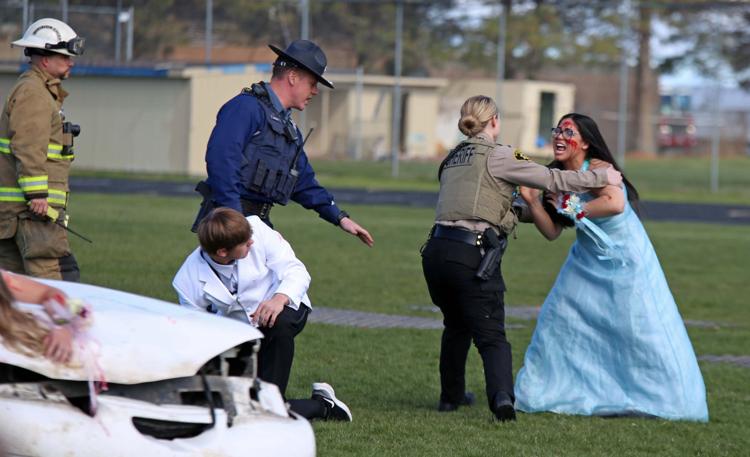 Each year, Kaber said he marvels at how quiet the bleachers get and he was surprised initially by the impact the program had on adults who attended as well.
"It's quieter than a church," he said.
In addition to Operation Prom Night, Costello gives presentations to schools about distracted driving, along with school resource officers.
Mirrored nationally
In terms of Klamath's distracted driving rates, Kaber said "our experience with distracted driving is on par with the per capita problem that's being defined nationally."
Agencies such as the NHTSA and OSP have initiated awareness campaigns about the dangers of distracted driving, often particularly aimed at getting teenagers to put the phone down. The education and awareness campaigns are factors Roseblum sees as important to supplement a harsh fine in order to see change on the issue.
Beyond the cost of a ticket, Rosenblum said one of the reasons his firm studied the consequences of texting and driving nationwide is because of the affect it can have on drivers' auto insurance prices, too.
Fatal crash
A local example of a crash allegedly involving several factors, including cell phone use, was the 2018 death of an Oregon Department of Transportation flagger, Daniel Wessel, who was hit and killed in a construction zone by Zahra Gonzales. The case against Gonzales, including charges of manslaughter, has yet to go to trial, but, according to court documents, officers found by conducting a search warrant on Gonzales' phone that she was on the phone around the time of the fatal crash.
Rosenblum said they found that in New York it isn't always teenagers who are texting and driving and speculates that could be because teenagers are growing up with the technology these days and hear from a young age about the dangers of texting and driving as opposed to older drivers who weren't taught about the risks during driver's ed.
Roseblum wasn't surprised to see Oregon so high on the rankings because of the state's progressive views and laws.
"They're leading the nation in their seriousness on this issue," he said. "Let's put it this way, they're sending a strong message."