The Klamath County Mounted Sheriff's Posse has served as a bridge between law enforcement and the community, according to first lieutenant in the posse Kelly Baker.
"Our goal is to get more into the community," Baker said. "We want to really represent law enforcement in a better manner, to the children of our community ... that's kind of what our strengths have been focused on."
Captain Judi Dunn said the horses can make the special deputies of the posse more approachable to the community while they do things like security for events, parking control and participate in parades.
Dunn and Baker said in a time when national tensions between citizens and police are high, a group like the mounted sheriff's posse can provide a level of policing that can be less intimidating and the posse can do meet and greets to help educate people about law enforcement.
People can see the Mounted Sheriff's Posse next at the fairgrounds for the Reels on Wheels drive-in movie nights Friday July 10, 17 and 24.
From parades to Third Thursdays to the fair, the posse can be seen frequenting events around Klamath County for a variety of purposes, including parking lot control, security and as a law enforcement presence.
One way Baker said they also make an impact is by attending events in all corners of Klamath County, particularly outside of Klamath Falls. She noted how they have a presence in communities such as Chiloquin and Bonanza that might not see as much police. Dunn said Chiloquin in particular loves having them out.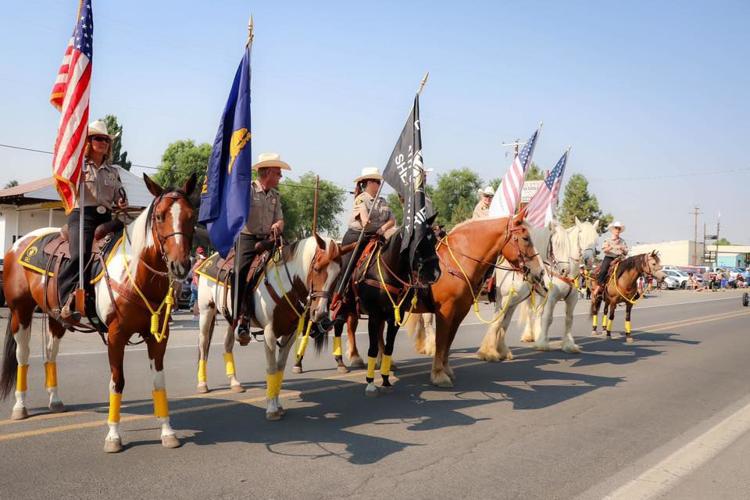 The posse stands at 17 volunteer members, who all participate when they can. Baker said they are always looking for more members, no matter how much time someone can commit or how much training they have. Many of the posse members are also a part of Search and Rescue through the sheriff's office, where they can help on horseback.
"Both are always looking for volunteers. You don't have to have any qualifications. We'll train you on everything. The only thing we don't do with the posse is supply the horse," Baker said. "A lot of people have a fear of joining something like this because it's a full-time obligation. It is not. It's come when you can, we appreciate everything. And they think they have to bring something to the table, and they don't. From ground help, all the way up to, you know, EMTs — all that — they can use the whole scope of it."
The group practices often, from bonding with the others in the posse to training their horses to be around distractions, comfortable in parade formations or in situations in which the horse may be standing still for a long time, such as at the Shut Down and Fed Up rally May 27 during which Dunn said those who attended stood for about 5 hours.
It can take a lot of training and dedication, on the horses' parts too, as a typical horse might spook at things such as kids running around, a car backfiring or a balloon flying past. Sheriff's posse horses, though, can't do that as they are constantly surrounded by those distractions and more at the events the posse attends.
"I think if I could encourage anybody to take the time to come see us it would be when we start doing Third Thursdays because that is where the horses and the riders are pushed to tested limits on their training, their abilities," she said. From balloons in horses' faces to strollers rolling underneath the horses to strangers walking up behind them to pet the horses, it can be challenging to ride at an event like that. "If you just want to see the abilities that we're putting into our horses and the training, that's an awesome display."
The posse also had three members become lifetime members, which means they've served on the posse for 15 years.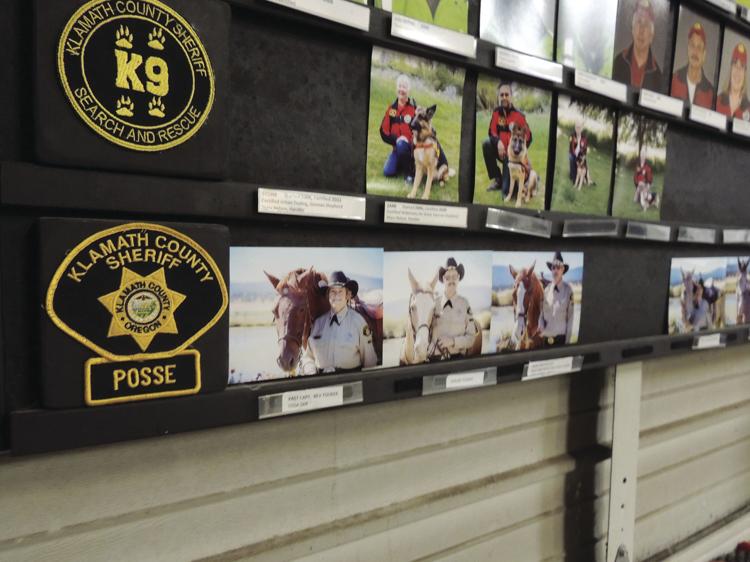 Dunn has been with the posse for about seven years now and hopes to one day make it to lifetime member status.
Dunn spent 15 years as a reserve deputy on horseback with the Los Angeles County Sheriff's Office and 10 years after that working at the jail. She said she joined the Mounted Sheriff's Posse here to help it grow and expand into more communities in the area.
"I just joined posse so I could make an improvement and cover more area because as far as I knew when I first started, all they did was a few parades," she said. "So I think we've come a long way."
Baker was motivated to join the posse, in part, by family.
"My grandfather was the world to me, and he passed away in 1976, and he rode in posse with [Red] Britton," she said referring to the late sheriff of Klamath County whom the posse awards a $500 scholarship in honor of every year. While she was attracted to many of the things the posse did for the community before she joined, Baker said she saw areas to improve the group while connecting with her grandfather. "I thought that, I want to represent my grandfather and the posse in a better way. So I went towards posse, and then I got into search and rescue."
The posse is a non-profit organization, and most of its funding comes from when they work the Klamath County Fair every year doing parking lot enforcement, which Dunn said is really the only event they're paid for. With the fair canceled this year, they are working to figure out alternative funding sources, and the pair hinted at implementing something new for this year's Snowflake Festival to raise money.
Baker has been with the mounted posse for five years now and is also a Search Manager for Search and Rescue.
Baker described the commitment it takes to join the posse, from the expense of traveling with a horse across the county for events, to the training and practice it takes to make a good showing. Baker said she figures she spends about $6,000 a year in expenses related to her membership with the Mounted Sheriff's Posse.
Although she recognized that it can be an expensive thing to be involved in, Baker hopes that won't discourage people, saying it's important and that "I'd rather have a handful of dedication than a sea of nothing."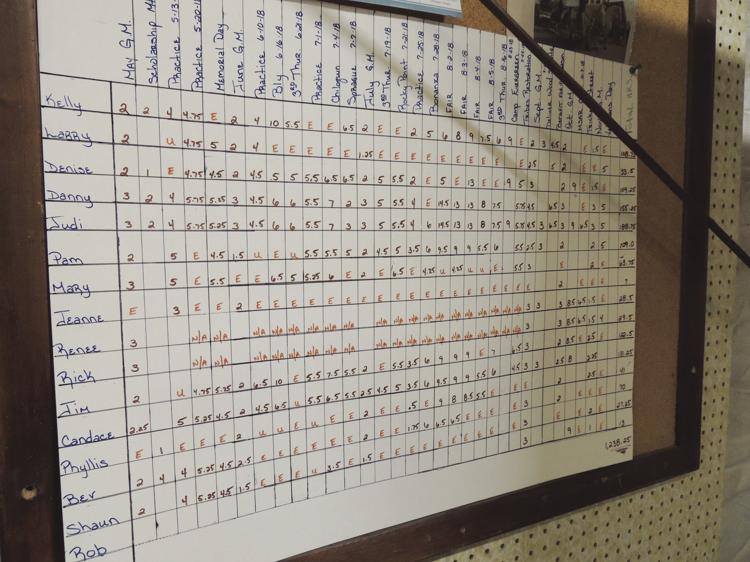 Dunn said the most rewarding part of being in posse is "making people smile."
Baker said from conversations she's had with other volunteer groups in the area, their numbers are down as well, and she encouraged more people to get involved.
"I just really encourage people to take whatever interests they think they may or may not have and volunteer," Baker said.
"And what better way than to be a good citizen and help out representing our law enforcement right now, in this time," she said.
Baker said that their mission boils down to community outreach.
"We just really want the community to understand law enforcement is there to help them," she said, "and we want to be that bridge to that gap between them."