Upward of 5,000 people are anticipated to pass through the Klamath County Cattlemen's Association's 60th Annual Bull and Horse Sale, with events starting Thursday and continuing through the weekend.
A schedule packed with activities for all, including stock dog trials, goat roping and a ticketed Ranch Rodeo event on Saturday night is in store, as well as the Bull Sale at noon Saturday.
"We are a cattle community," said Stan Gorden, president of the Klamath County Cattlemen's Association.
"It shows by the turnout at this event every year."
Gorden is anticipating a strong market and some of the best quality bulls and horses in years. Gorden said organizers keep the sale to between 100 to 120 bulls at the annual sales.
"We have about 125 bulls that are coming in from all over the Northwest and then we're right about nine horses for our horse sale this year, too," Gorden said.
Gorden said there are eight quality pens of five heifers this year, and mainly Black Angus and Angus Cross, Hereford, and some LimFlex, too.
"We do have some new consignors this year coming in with some of our bulls, and on the horse side, we have some real nice yearlings and some really, really well broke ranch horses, too," Gorden said.
Gorden said there are multiple return consignors to the sale – some who have come to the sale for at least 30 years.
"They're coming from – Idaho, Washington, Oregon, California, Nevada," Gorden said. "We have consignors from all over the Western states that are going to come here."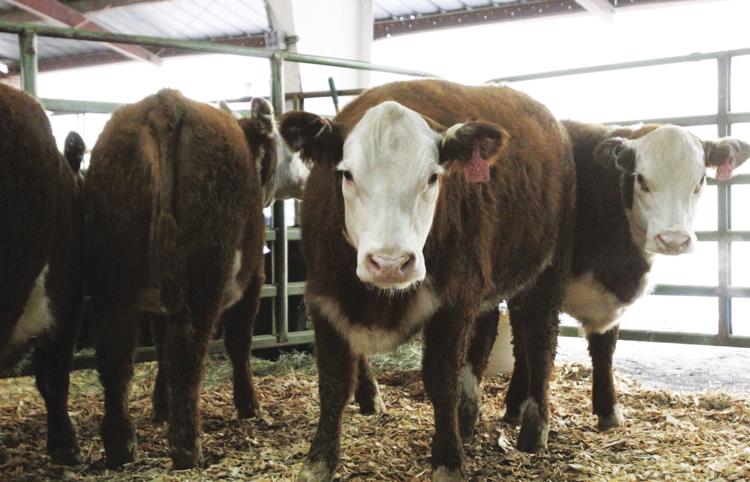 The sale is also the second largest event the Klamath County Fairgrounds hosts annually, according to Todd Hogarth, manager of the fairgrounds.
"The (economic) impact that this sale has on the community is tremendous," Gorden said.
Gorden also emphasized the wide attraction of the event for those from a variety of backgrounds.
"This is entertainment for anybody, not just people in the cattle industry," Gorden said.
About 70 vendors, including local and those from throughout the Northwest, will also be on hand today through the weekend to sell their wares.
"It's really a family affair," said Diana Wirth, president-elect of the Klamath County Cattlewomen's Association.
"Our ranching communities are focused on family. We focus on creating the heritage to pass down to our children and this event is an extension of that."
Part of continuing that heritage is ensuring students studying agriculture and related fields have support as they get started.
Gorden emphasized the Bull and Horse sales and heifer replacement sale as a benefit for scholarships for Basin students.
"It's a fundraiser and a large chunk of the proceeds go to scholarships for kids in our community," Gorden said. "A lot of us cattlemen, that's why we're wanting to be so involved in this event is because it benefits the young people in our community."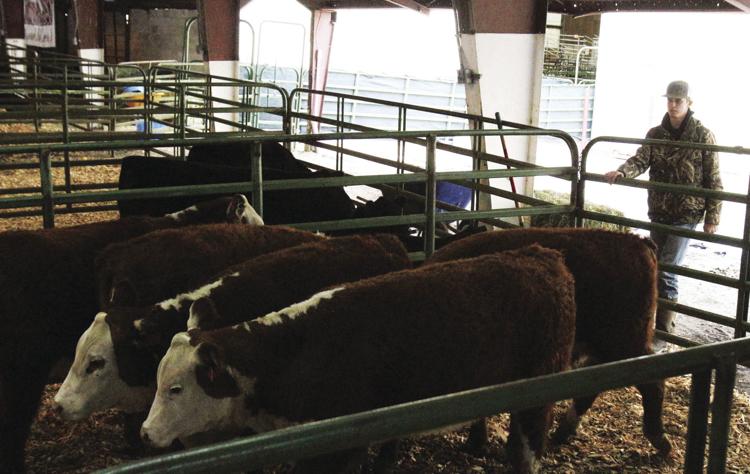 The fundraiser is a joint-venture organized also by the Klamath County Cattlewomen's Association.
The associations gave away eight scholarships to students last year, Gorden said.
Wirth said all of the funds raised by the cattlewomen's association also go toward the scholarship fund to educate Basin-area students who are sophomore or above in college, who have an agriculture-related focus.
"It really helps lay a foundation," Wirth said, of the scholarship. "We have some great kids in the Basin, some very intelligent students whose sole purpose is to come back to the Basin so we just want to encourage them in that endeavor."
The Klamath County Cattlewomen's Association, formerly an auxiliary for the Klamath County Cattleman's Association until the mid-1980s, has adapted as well over the years, but have remained an integral part of the Bull and Horse Sale as long as she can remember.
Wirth said the cattlewomen continue to bake pies for the annual bake sale, one of their traditional fundraisers, but have also expanded their focus.
"Now we're focused on how can we educate the consumer about our community and who we are as a people and also about our product and really how sustainable cattle are," Wirth said, of the cattlewomen's association.
"We have changed and adjusted our principles over the years to serve our community better and also serve the world. Now more than ever, there are women ranchers that are running their own outfits without a husband involved, and there are more and more women getting into agribusiness, whether it's agribusiness or it's farming … it's really a great and exciting time for women in agribusiness."
Both Wirth and Gorden also emphasized the growth of the bull and horse sale since its inception six decades ago.
Wirth, said the bull sale has grown over the years since it started with the Klamath County Cattlemen's Association six decades ago.
"The breeds were smaller and now you see a lot more framier, meatier breeds because ranchers all over the world are focused more on sustainability now," Wirth said. "How can we feed more people with less basically because land is becoming harder to come by. Back then, they had more cattle, smaller cattle, and now we have less cattle and larger cattle, so the breeds have changed over the years.
Wirth said the change in cattle at the sale over the years shows the adaptability of farmers and ranchers faced with changing conditions over the years, an attribute integral to being successful in the industry.
"It is just an indicator of our environment and the ranching industry," she said. "It's been really interesting to see the cattle change over the years."
Bull and Horse Sale events are free to attend, except the ranch rodeo, and all are family-friendly. To learn more, go online at www.klamathbullsale.com.