Deputies stumbled Wednesday into the most significant illegal marijuana operation in Klamath County history.
The 27,000-square-foot potato shed south of Klamath Falls was filled with marijuana in various stages of processing: drying in giant strands that stretched from the roof to the floor, buds pruned and stuffed into 40-pound bags, hundreds of those bags stacked against a wall, and years of discarded marijuana waste in piles ready for disposal.
Sheriff Chris Kaber said Friday he had never seen anything like it in 30 years of police work. And it wouldn't have been found if a single car hadn't thrown up enough dust that a neighbor mistook it for a wisp of smoke.
Klamath County Fire District crews and county deputies arrived at the location, west of Highway 39 not far from Klamath Community College, after a 911 call about possible smoke in the area was made about 5 p.m. Wednesday. Deputies noticed the back of a nearby building was open and they could clearly see marijuana inside. And there was more of it than any of them had ever seen before.
"Our deputies showed up and they saw what they saw and they couldn't unsee it," said Kaber. He estimated, judging by the huge piles of marijuana byproduct and refuse, that the operation had been operating in Klamath Falls for at least two years.
The scale of this operation was so massive, Kaber said it changed his perception of the extent of the problem locally.
"I've had to completely readjust my sense of where we are in fighting illegal marijuana production in Klamath," he said. "I didn't think we were this far behind."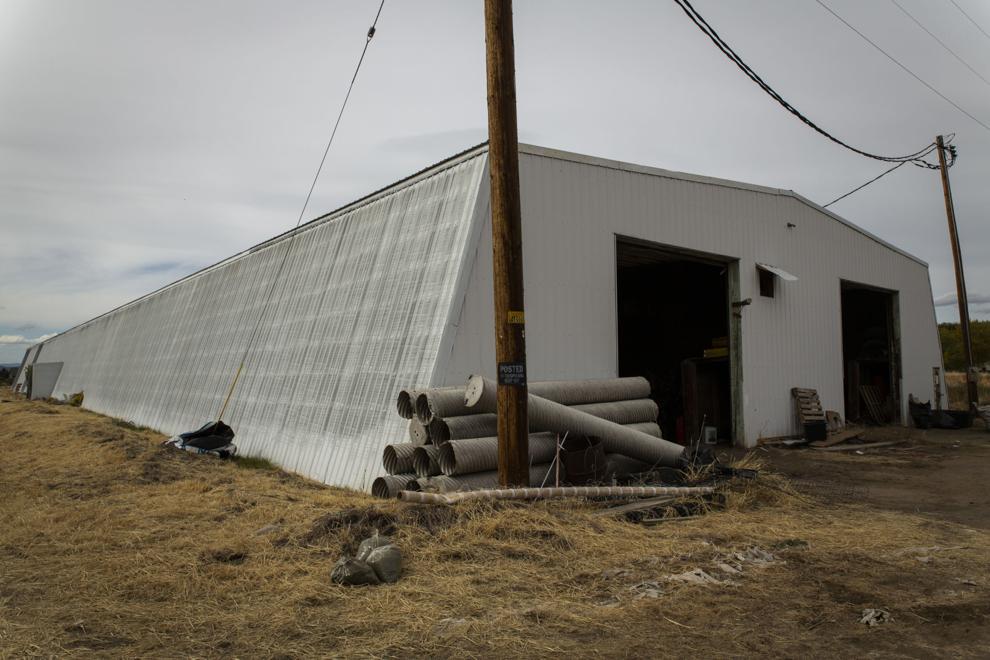 Securing the site 
The Sheriff's Office sat on the scene Wednesday night, then executed a search warrant Thursday morning.
People on site at the time, most of whom did not speak English, were interviewed but not arrested and many soon drifted from the scene. Inside the building, cots were set up where workers slept. A pair of rubber sandals were slid underneath one of the beds. Nearby, a makeshift kitchen appeared to have been quickly abandoned. A pan with the remnants of cold refried beans and other supplies sat on a wooden workbench.
After securing the area and identifying some of the people on the premises, officers documented the property and made sure everything stayed put. And then a number of county agencies got to work removing the incredible amount of marijuana, which will take days if not weeks.
The Sheriff's Office conservatively estimated the street value of the marijuana inside the shed to be worth in excess of $100 million.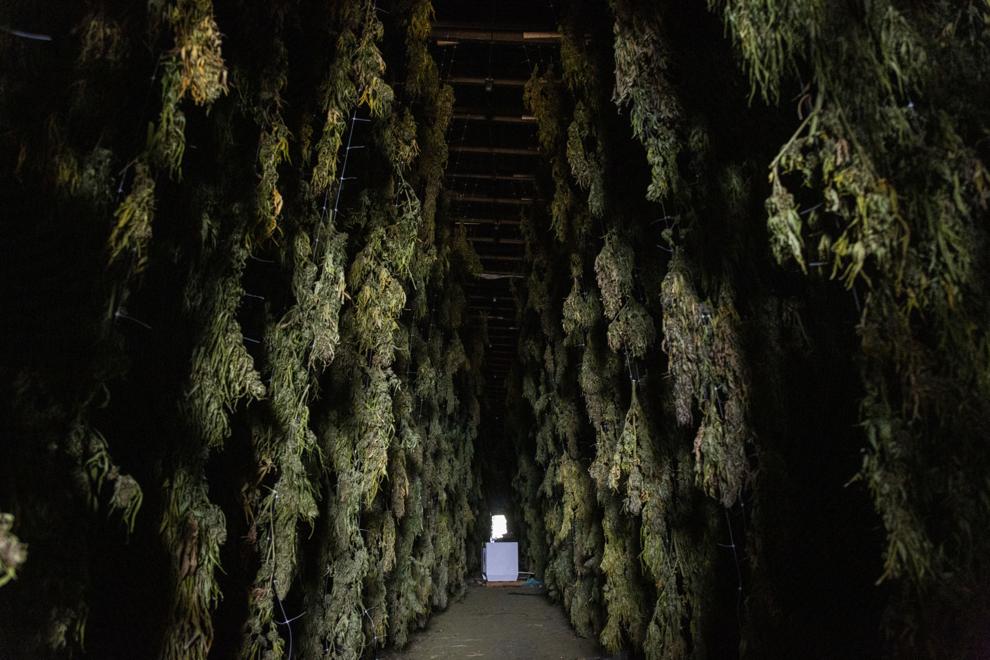 Following leads  
The giant black bags filled with processed marijuana, each weighing 40 pounds, had to be loaded into dump trucks by hand. The larger bags of refuse had to be removed using a forklift and other machinery provided by the county.
There were too many bags to count. Kaber estimated each one of the black bags could hold around $80,000 worth of product if it made it to an illegal market out of state.
The raid on the potato shed led detectives to two other grow operations that were linked to the processing facility, where they found more marijuana and processing equipment. The three sites were linked by land ownership, lease agreements and by heavy equipment rentals to multiple locations taken out under a single name, Kaber said. 
No weapons or cash were found at any of the locations.
Despite the stroke of good fortune, Kaber said the investigation could take months to complete, depending on how far up the food chain the trail leads. 
One of the Sheriff's Office's primary hopes is to establish a solid link between the operation in Klamath County and a broader network of organized crime. 
Kaber said he is certain there is a link, but unearthing it and proving it will be tough. 
"This really is — and I've said it before — organized criminal activity," Kaber said. "This definitely fits the definition in Oregon of what organized criminal activity is." 
Kaber pointed out the potato shed discovery could be the tip of a much larger and deeper network of crime operating throughout Southern Oregon and the Klamath Basin. 
He said his first instinct when officers realized what they had found was that the facility could be some kind of regional processing center where growers brought their crops to be processed. Still, he said most of the marijuana in the shop was likely grown in the Klamath area.
The bottom line, however, is the discovery resulted in many millions of dollars worth of illegal marijuana being taken off the market, a point of pride for Kaber and his office given how much of a struggle it is getting a handle on the situation. 
"I'm feeling really good about the fact that we were in a position to trip into something bigger than we initially thought," he said.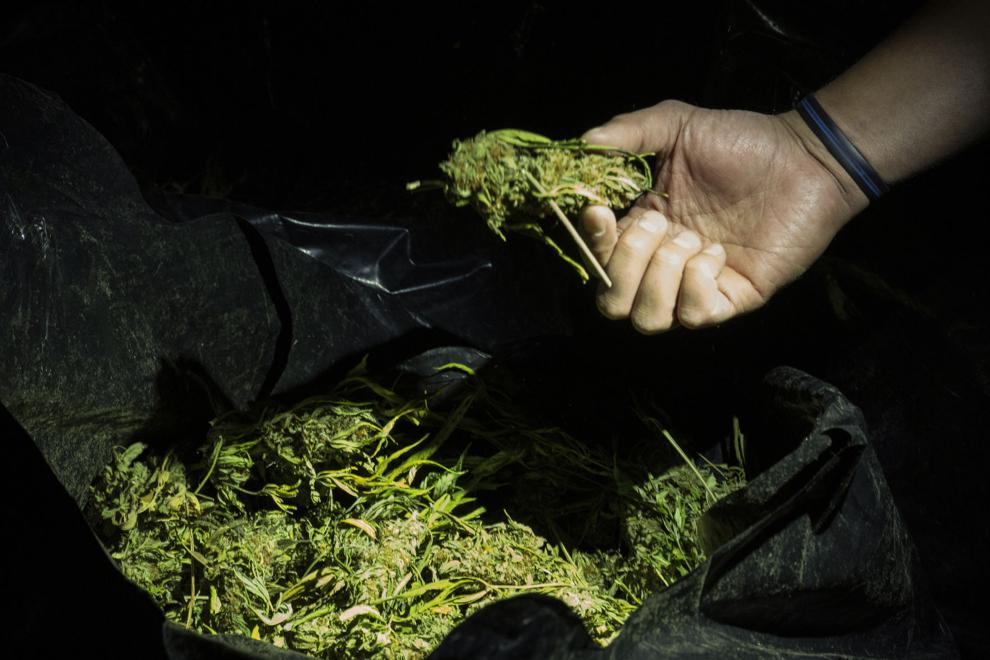 Enough to kill for 
The investigation remains in its infancy, and a major priority for the Sheriff's Office at this time is to keep the location secure. 
The amount of marijuana seized by the county was so vast that it could take quite a while for there to be any solid idea of how much it is all worth, said Brandon Fowler, public information officer for the Sheriff's Office. The $100 million initial estimate is on the conservative side.
The jaw-dropping amount is enough money for someone to potentially kill for, Fowler added. He said officers guarded the property and themselves over the last few days as the disposal effort and investigation ramp into high gear. 
Kaber pointed out Klamath County's problem with illegal marijuana grows is nothing new. What is new, however, is the brazenness in which organized criminal elements have been operating in the county.  
"I don't believe they believe law enforcement is much of a threat to their business in Klamath County," Kaber said. "Or they feel like it's the cost of doing business. If 10% of their illegal grows are busted but they've got multiple and they are still going to make a profit margin, then it's worth the risk."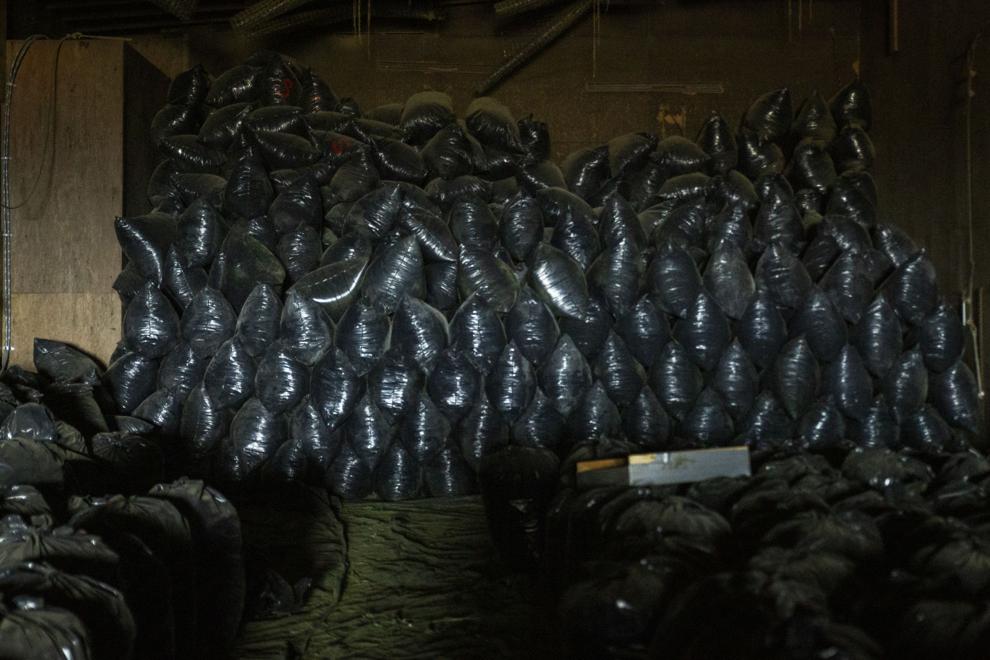 Time to get serious 
The Sheriff's Office plans to investigate a number of local people believed to be involved in the operation. Kaber said there is a high likelihood some of them — and others outside the area — will face charges.
Klamath County District Attorney Eve Costello visited the potato shed and is aware of the magnitude of the discovery. She has voiced her concern regarding Klamath County's struggle to contain the increasing number of illegal grow operations in the area. 
Many illegal grows in the county are operating on property owned by local landowners, who tend to lease their property to strangers who claim they want to grow legal hemp. In reality, these strangers are getting a good price for a place to grow at the expense of the landowner, who assumes most of the risk. 
Many of the grows require a staggering amount of water, stolen from local wells and rivers, in order to feed the illicit crops. That issue has plagued many Klamath County residents, in addition to the smell and even threats of violence from those operating and protecting the grows. 
When it comes to those who choose to lease their land to strangers, the risk is only getting higher as local authorities and the DA's office work to make it more difficult for illegal marijuana grow operations to continue. 
"Does leasing your property absolve you of all culpability?" Kaber said. "Yet to be determined... At some level a property owner would have to think that we think they are very stupid people for not knowing what is really going on."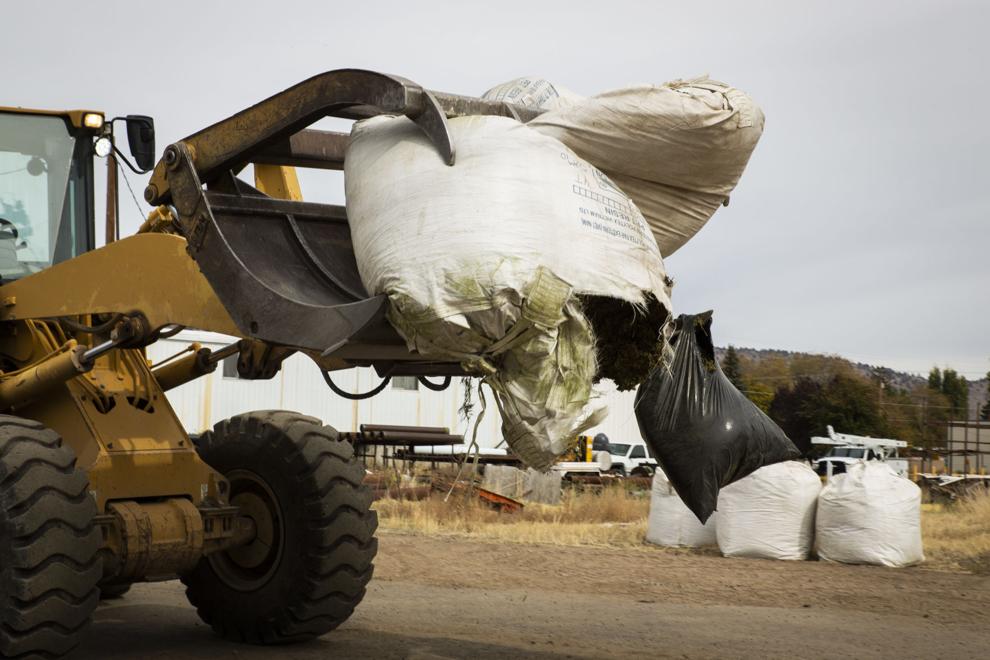 Clean up commences
Kaber made some initial calls to Klamath County Commissioner Donnie Boyd, who was able to help get the cleanup process moving. The effort is painstaking and expensive. It currently involves the Sheriff's Office, Klamath County Solid Waste Division and Klamath County Public Works. Dump trucks filled with garbage bags are being taken to transfer sites, where it is mixed with household waste and sent to dumps around Southern Oregon.
Boyd was at the potato shed Thursday as the cleanup commenced.
"It was an unbelievable amount of marijuana," he said. "It was unreal."
Boyd is among many who hope to see more resources devoted to stemming the tide of illegal marijuana grow operations in the county. However, he is well aware of the current limitations.
"The Klamath County general fund is not big enough to help pay for this kind of stuff," he said. "We just can't do it."
Boyd added that he and others have been working for months on ways to secure more funding for public safety. He believes part of the solution to the problem is to stop the illegal grows early in the season before they have a chance to get out of control.