As Lower Klamath National Wildlife Refuge's last remaining wetland reduces to a mud puddle, California Waterfowl Association's efforts to secure a meager supply of water for the refuge have cleared a regulatory hurdle.
On Thursday, the Oregon Water Resources Department accepted CWA's application to transfer several thousand acre-feet of water from a willing Wood River Valley rancher to the refuge's Unit 2. The rancher's water right is so senior that it's largely unimpacted by the Klamath Tribes' water calls, which are intended to leave as much water in Upper Klamath Lake's tributaries as possible to conserve aquatic habitat for the lake's endangered C'waam and Koptu.
CWA originally asked for 4,500 acre-feet of the rancher's water right per year over the next five years. The water would flow through the Wood River and into Upper Klamath Lake and be diverted to the refuge through the Ady Canal below Lake Ewauna. Though OWRD said 750 acre-feet was non-transferable when accepting the application, CWA said it's better than nothing.
"This year, more than ever, even that amount of water is crucial," the organization said in a news release.
CWA raised more than $750,000 for the temporary purchase, with the intention of lobbying the federal government to complete it, and purchase the full water right of 30,000 acre-feet from that rancher and other willing sellers in the Wood River Valley.
"Lower Klamath is a federal refuge and the federal government should pay for the water necessary to meet Theodore Roosevelt's objectives when he created our nation's first national wildlife refuge for waterfowl in 1908," the release said.
CWA director of water policy Jeff Volberg said the next hurdle is getting the Bureau of Reclamation, which owns the Ady Canal, to allow the water to move through the Klamath Project to the refuge.
Volberg said while Reclamation staff have communicated a desire to deliver water to Lower Klamath, the agency disagrees on how much of the OWRD permit CWA should be allowed to divert through the canal. Because there would be some runoff available to waterways after plants took up the water, Reclamation has said that the amount of water that would return back to the river is not available for transfer.
"We think that the numbers that they're using are arbitrary," Volberg said. "They don't have a good scientific basis for their claim that they can take that water."
Volberg said Reclamation has proposed keeping roughly a third of the transfer in the river to satisfy Endangered Species Act requirements, but he's hopeful that a significant amount of water will arrive to the refuge one way or another.
"I think when it comes down to it, when we have the water ready to go, they're going to know that they have to get that water on the refuge," he said.
February was the last time Lower Klamath Refuge received water. Biological opinions allow a small water delivery over the winter, and the refuge received approximately 2,100 acre-feet to get it through the summer (a fraction of what would have been historically available). Now, that water is quickly running out.
According to CWA, an estimated 1,000 duck families have been impacted by shrinking water levels in Sheepy Lake, an open water section of the Unit 2 wetland. The flightless birds must either seek shelter in irrigation ditches, which themselves are running dry, or make treacherous journeys to the nearest wetland habitats along the Klamath River or on Tule Lake Refuge.
Birds that don't leave Lower Klamath essentially offer themselves up as food to coyotes and raccoons, whose footprints can be seen in the mud leading out to the critically shallow water.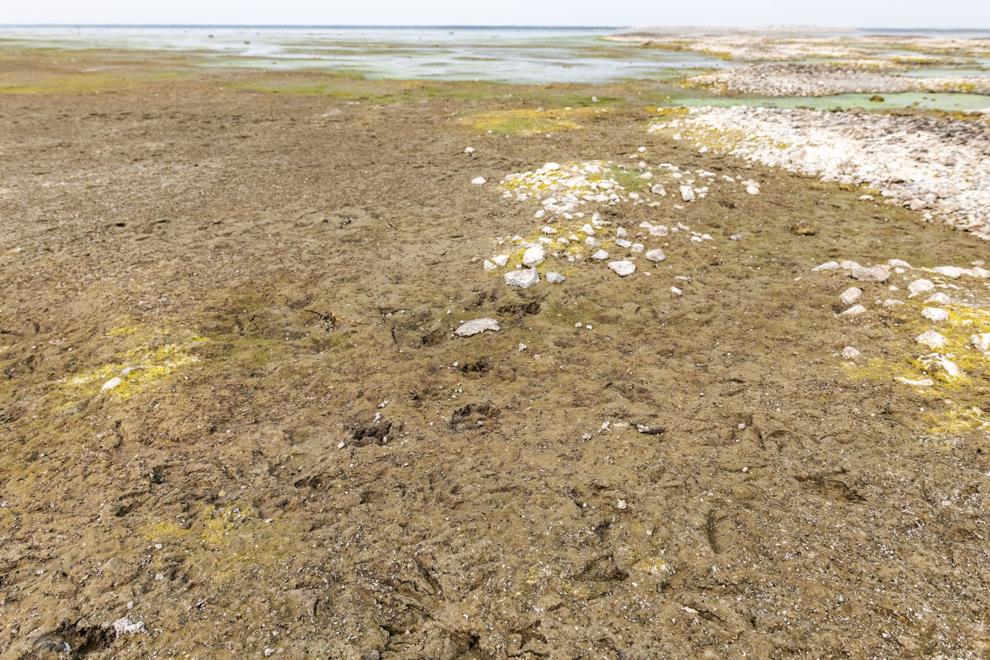 Tern Island, an important shorebird nesting area for pelicans, terns, gulls and cormorants, is turning into a peninsula, allowing predators access to the birds there as well.
"It's really making them more vulnerable to risks they already face in a regular year," said CWA Biologist Caroline Brady.
If the water arrives in time, CWA's release said it will provide crucial habitat for millions of birds during the Pacific Flyway's upcoming fall migration. Prior to colonization, the hundreds of thousands of acres of wetlands and lakes in the Klamath Basin were a premier rest stop for birds migrating thousands of miles between the Arctic and the tropics.
Brady said she expects the 3,750 acre-feet to quickly flood Unit 2, whose soils are still relatively moist despite a hot, dry summer. She looks back to last year, when an emergency water delivery from the Bureau of Reclamation allowed the wetland to become a convalescent home of sorts for recovering avian botulism patients rescued from Tule Lake.
"Last summer when it did get that water delivery, it was kind of shocking how quickly and efficiently it flooded up," Brady said.
While the transfer won't be enough to satisfy Lower Klamath's full needs — upwards of 90,000 acre-feet of water per year to provide the full extent of life cycle benefits for birds in all seasons — CWA hopes a successful transfer will be a proof of concept that persuades the federal government to secure a reliable water supply for the Klamath Basin refuges that doesn't rely on leftovers from the Klamath Project.
To that effect, CWA is asking those interested to send letters to the Department of Interior requesting that the federal government put up the money required to purchase the full 30,000 acre-feet for the refuge.
"Obviously, 3,750 acre-feet isn't going to be groundbreaking for the refuge," Brady said. "It's important in setting a precedent that this is a viable solution moving forward."