LAKEVIEW — A search warrant executed by local law enforcement Thursday morning on a house north of Lakeview near Highway 395 yielded what experts believe may be the largest illegal marijuana grow facility ever seized in Lake County.
Lake County Sheriff's Office, with assistance from Oregon State Police, acted on a search warrant issued the previous day at an undisclosed home a few miles north of Lakeview. Sheriff deputies discovered thousands of pounds of marijuana onsite as well as processing facilities and 17 greenhouses.
Six people were arrested on site, with four other suspects being pursued, according to Sheriff Deputy Mike Patterson, as of Thursday afternoon. Department of Homeland Security officials from Medford were expected to arrive in Lakeview Thursday afternoon to assist with the investigation.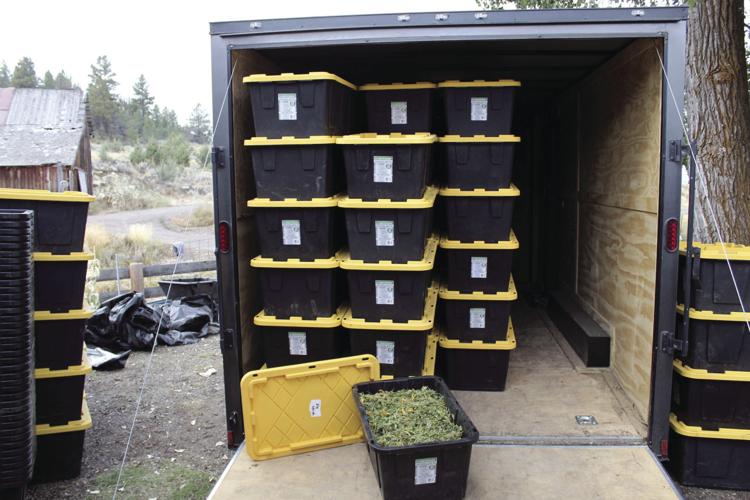 "They had already harvested and packed marijuana in totes for transport," explained Patterson. "An anonymous tip was provided in May about the site, and we have been investigating it ever since. We don't have a lot of grows here, little ones here and there, not big ones like this."
In addition to harvested marijuana onsite, facilities included a large barn used for storage, greenhouses and water tanks, a trailer filled with totes ready for transport, and a large semi-truck trailer filled with trimmings.
Oregon State Police Sergeant Scott Hill, assisting on scene with the investigation, anticipated the approximate street value to be around $1,000 per pound in Oregon, though in other states its value could be quadruple that amount. Hill declined to estimate a street value or total amount of marijuana seized, as officials were still analyzing the total amount seized at the site. Hill indicated that while it was not the largest illegal grow facility he had ever seen, it was in all likelihood the biggest operation ever discovered in Lake County.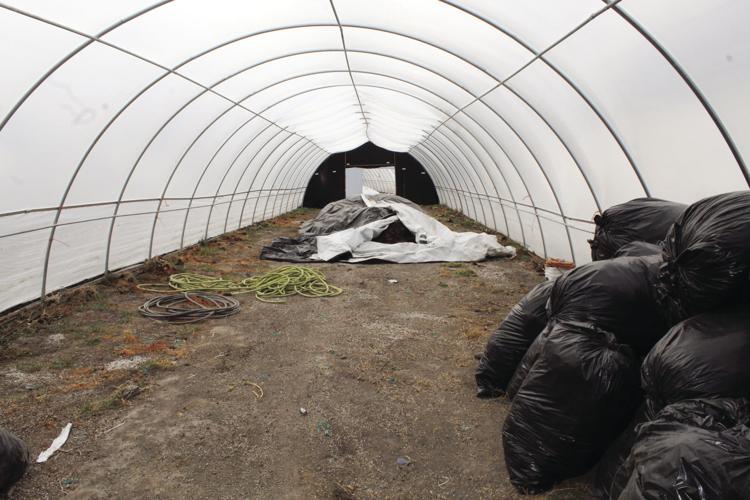 "It is a large scale operation, I hate to even guess at the size at this time," said Hill. "There is a lot of marijuana here, it is a decent-sized operation."
According to Patterson, a confidential informant provided a tip about the site in May. Law enforcement had conducted an investigation ever since, including several flyovers to monitor the suspected site.
While Measure 91's passage in Oregon has legalized limited growing and possession for medicinal and recreational use under regulation and tax, law enforcement indicated that the site was 100% illegal with no documentation, permits or dues paid for marijuana grown at the secret site.
Measure 91 rule implementation has been difficult on local law enforcement, as Lake County chose to opt-out of legalization rules, the Town of Lakeview opted in. Since Lakeview also has an urban growth boundary, it can cause difficulty in enforcement of marijuana laws based on current boundaries.
"Basically the law is where you can grow your marijuana as long as you call the program and pay fees and get permits, you can legally have up to four plants," said Patterson. "As long as you're within the legal realm of permits, if you're out of that that's when we step in and draw the line. This property didn't have any permits for any hemp or marijuana production, they weren't legal."
An approximation of the total amount of marijuana seized and estimated street value is expected to be announced by the Lake County Sheriffs Office in the coming days.