After a tough year full of lockdowns and cancelled plans, the Klamath Piano Project is back sprucing up downtown once again.
The goal of the Klamath Piano Project, now back for its third year, is to inspire people by bringing art and music to the community.
Laty Xayavong, who originally brought the idea to town, said he hopes the project will bring people joy and a sense of togetherness.
Xayavong, who is the general manager at the Thai Orchid Cafe downtown, is on the Klamath Falls Downtown Association board, and after pitching the idea for the project, he scored a grant from the county to put it on. Now three years later, the project is gaining a lot of support.
The idea was sparked, Xayavong said, when he saw pianos on the streets in Vancouver, B.C., Canada while traveling with friends, and was intrigued by how it brought people together.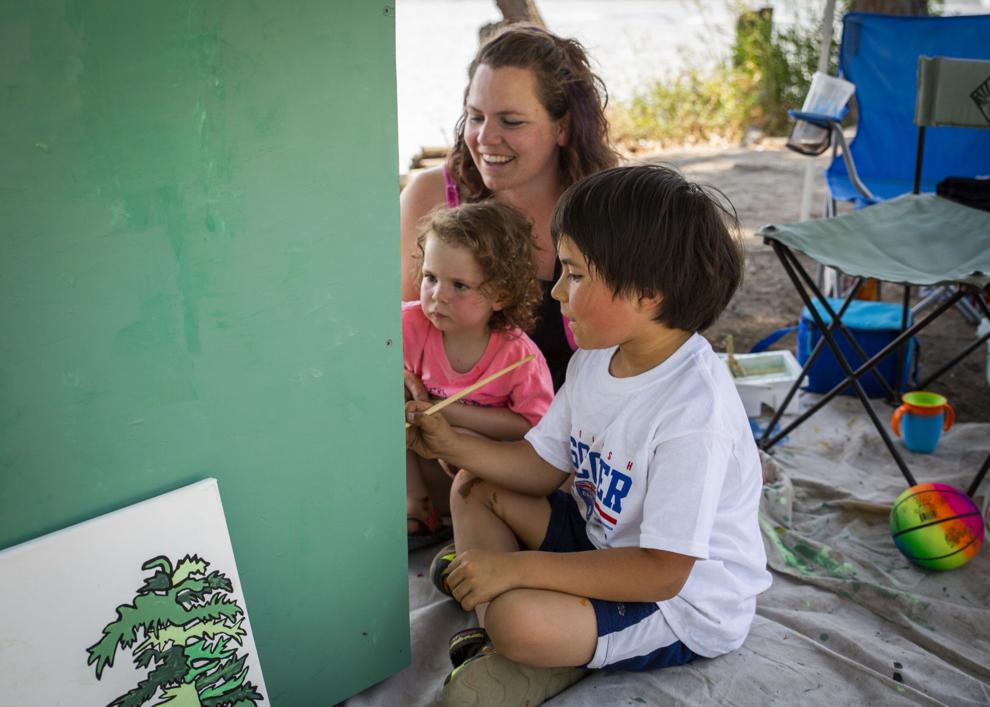 This year, the project brought in five new artists, who are stationed around town and will be painting until July 9.
Glory Nylander from Olympia, Wash., sat in front of her piano looking out at Lake Ewauna at Veterans Memorial Park with her husband Jordan Nylander, who is a classical pianist, and their two young daughters who sat watching in their strollers eating bananas.
Her project was inspired by a short story her mother Lorrie Markin wrote about a mother and two daughters.
Markin, who lives in Chiloquin and writes poetry and short stories, recently suffered a traumatic brain injury. So Glory wanted to dedicate her piano project to her mom. Glory invited her sister, Brittany Stewart, who is also from Chiloquin, and her mother to help with the project, capturing the theme of her mother's short story.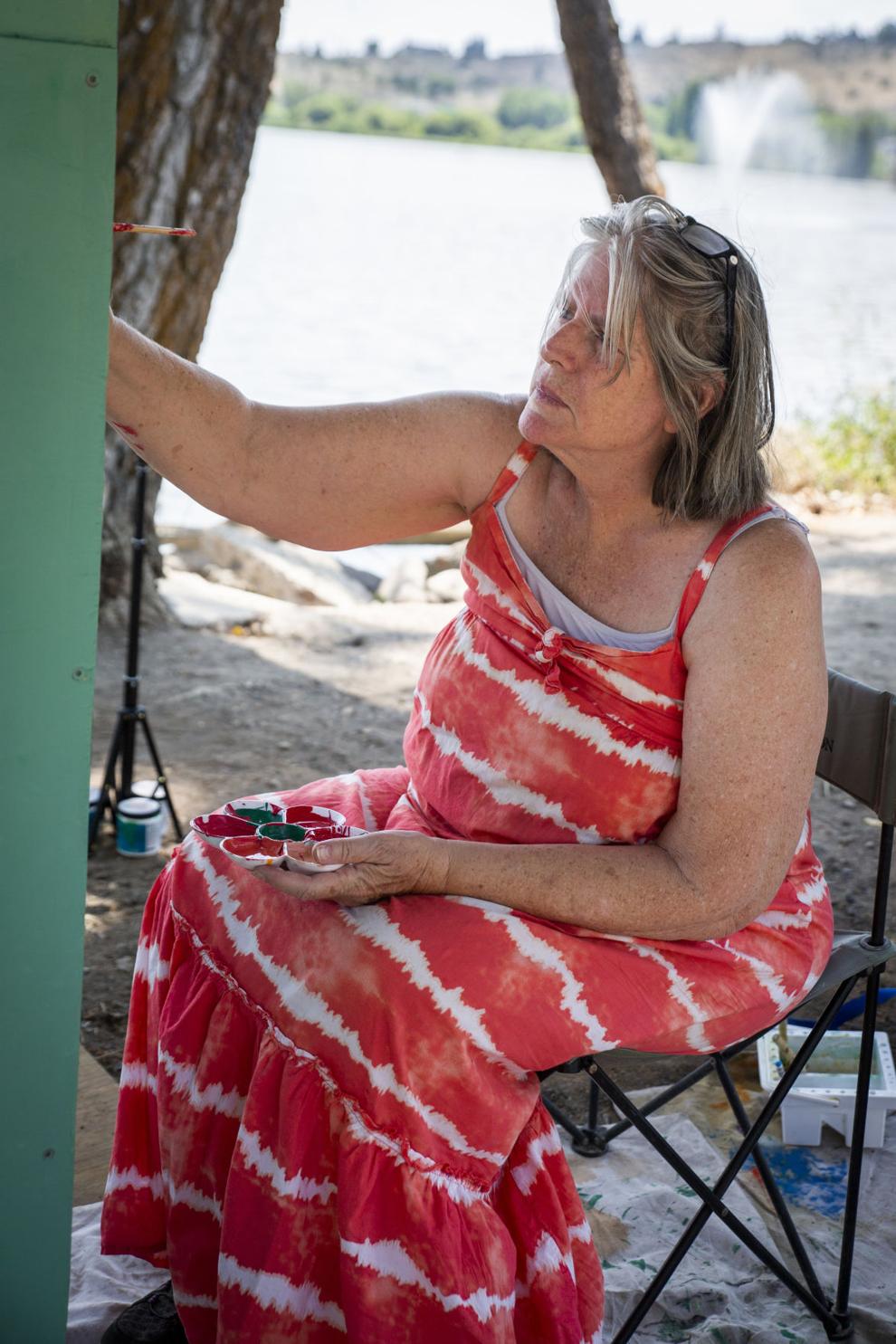 "Hopefully mom can come down to help," Nylander said. "It depends on her recovery."
Then, on Monday, Markin was down at Veterans Park despite her recent injury and a subsequent stroke, painting with her two daughters, Nylander and Stewart, along the shore of Lake Ewauna.
Stewart was accompanied by her son Lukas Stewart, who also helped paint.
Nylander's piano will feature the state flowers of Washington, Oregon and California, and is designed to give space for others to help. Nylander pointed out some of the spots where her daughter Emerald contributed.
"It's definitely a family project," Nylander said.
Markin said the theme of her short story, which motivated her to partake in her daughter's piano project, is that life like the spring season, is fleeting.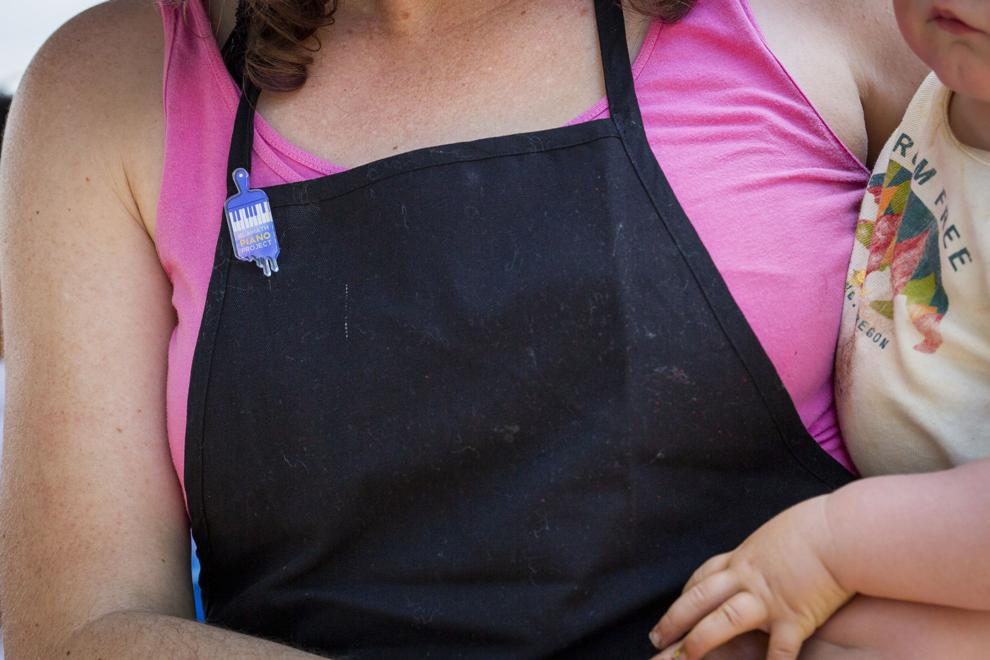 Avery Dumbeck, an occupational therapist at Sky Lakes Medical Center, was in the zone as she painted her piano and listened to music on Sugarman's Corner.
Dumbeck said her theme was inspired by the hardships of the past year, and features a darkened mountain and a lighter one side by side, meant to remind people to take life day by day.
"It is to remind people to do a little bit at a time, and eventually the bigger picture will come clear," Dumbeck said.
Hallie Maney and Anna Keppen worked on their pianos next to the patio at Leap of Taste, where many gathered to ask questions and check out the art.
Maney, a local portrait artist, said her project is called "Barnyard Jamboree," and features farm animals getting down playing musical instruments amid a whimsical, colorful backdrop.
Her inspiration, Maney said, came from her toddler who loved seeing the pianos in past years, so she decided to paint her piano to appeal to children.
Keppen, an OIT student who grew up in Klamath Falls and recently returned from time abroad in Peru, dedicated her piano project to the sense of revitalization and strong family and community culture she experienced in South America. So far, Keppen said about a dozen people have helped her paint, capturing the community spirit of her project.
Tillie Crowley, who works at Pelican Pointe Assisted Living, said she loves to do art for fun.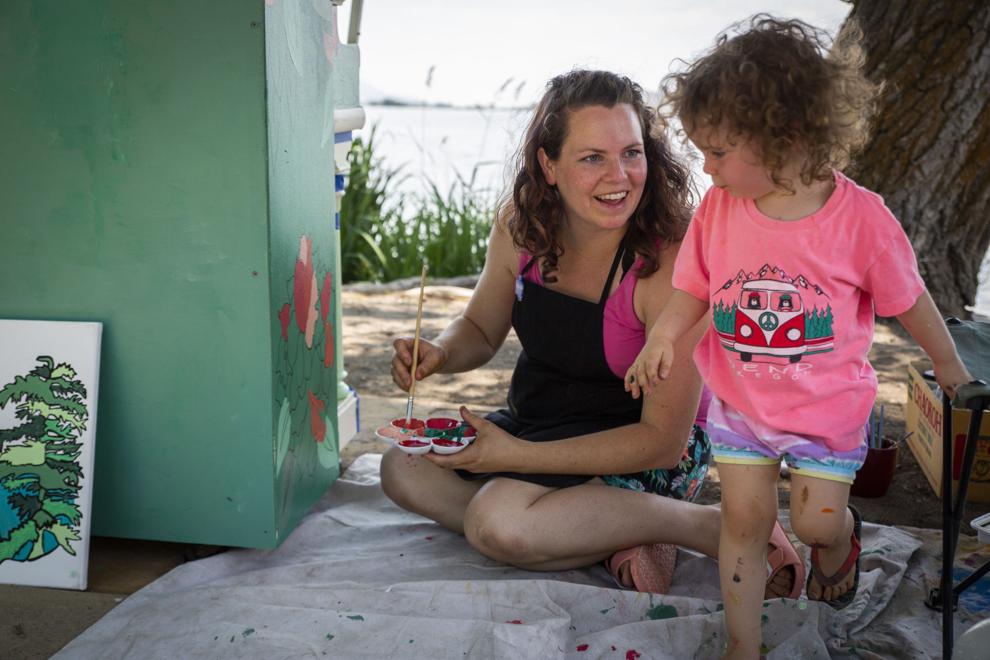 Crowley, who was set up on the north corner in front of the Klamath County District Attorney's Office, said her piano project is called "The Heartbeat of a Song," and features musical notes riding on a wave of color.
"I like art and music," Crowley said. "So I decided to put them together."
Xayavong said local businesses Nibbley's Cafe, Lighthouse Yogurt Company and Bell Hardware donated the pianos this year. He added the community has shown a lot of interest and support for the project.
"Now we have way too many people wanting to donate pianos, but we don't have enough space," Xayavong said.
Pianos from previous years will be on display at Terra Veg Vegan Eatery and Nibbley's Cafe.