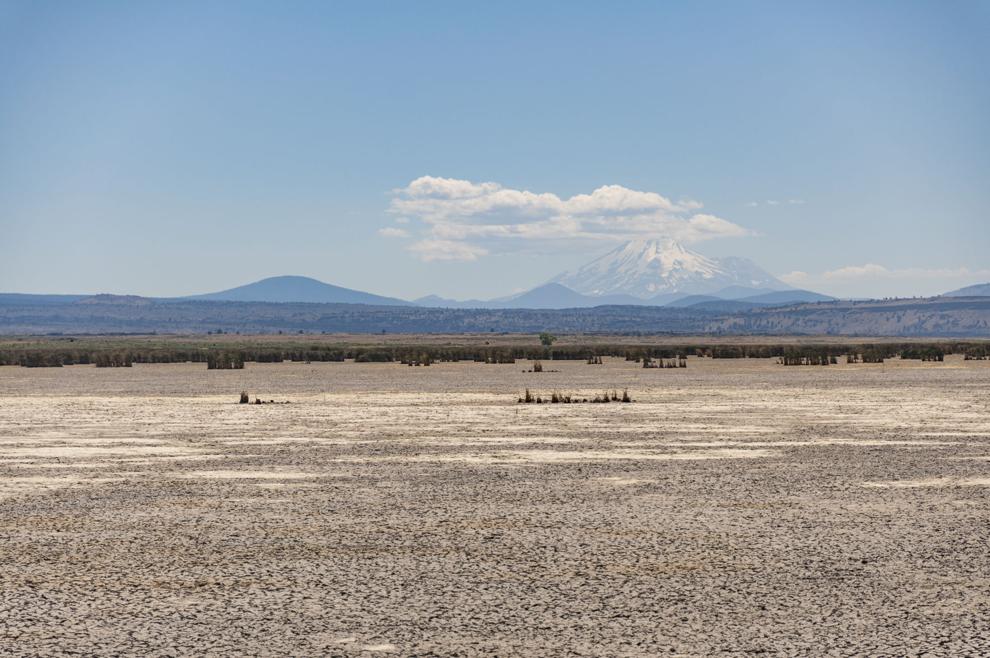 It wasn't much of a surprise when the Klamath Water Users Association announced the lowest allocation to the Klamath Project in its history. But that didn't make the words "33,000 acre-feet" sting any less for Basin irrigators.
"We're in a tough spot this year, and we all know that," KWUA President Ben DuVal said at a meeting Wednesday morning. "The simple fact is it just hasn't rained or snowed this year. Inflows to Upper Klamath Lake just haven't shown up. We all know how dry our fields are ... and the rest of the watershed is in the same boat."
The allotment is less than 10% of what the project would have typically used prior to the introduction of Endangered Species Act regulations in the early 2000s. In drought years, the project would use between 400,000 and 500,000 acre-feet of water when it needed to make up for dry soils.
Irrigators have been expecting an exceptionally low allocation for several weeks, following the Bureau of Reclamation's April 1 hydrology report. But irrigation district managers said they are still working on a plan to fairly divide up the pittance of water to satisfy those with priority water rights.
Gene Souza, manager of Klamath Irrigation District, said a significant portion of the 33,000 acre-feet will go to charging the dry canal infrastructure before actual deliveries can be made. And Reclamation's temporary operations procedure outlines that it will be monitoring diversions during that time in anticipation of sending a flushing flow down the Klamath River, limiting how quickly districts can recharge their canals.
"Don't anticipate what we have to last very long," Souza said.
Paul Simmons, KWUA's executive director, said there could also be between 20,000 and 24,000 acre-feet of water coming from Clear Lake and Gerber reservoirs. Additionally, Reclamation will attempt to store water whenever possible throughout the summer to provide more deliveries later on, capping the level of Upper Klamath Lake at a minimum of 4,138.3 feet.
That would require an improvement in hydrologic conditions, and it will take several months to know the exact amount of water.
"We've had miracle storms in the past. There's not one big enough to make enough of a difference this year. But if we do see some storms, that number could get bigger," said Brad Kirby, manager of Tulelake Irrigation District. He said TID has turned on wells to supplement irrigation canals, but the district's groundwater pumping won't be able to serve the "vast majority" of irrigators there.
The nearly two-month delay in water deliveries will mean that the few irrigators who receive water will be limited in terms of what they can grow with it. Some crops need to be planted and watered in early April.
"Many producers have long-term contractual obligations with food processing companies, dairies, shippers and grocery stores," a KWUA release said. "Those contracts may be lost permanently if the grower cannot deliver. With ESA-driven water shortages affecting the entire West Coast, supply issues are almost inevitable."
DuVal said he considered taking direct action in response to the crisis, but he emphasized that violence won't be productive and will hurt the community in the long run.
"My biggest fear is radical outsiders coming in and taking what we do here and using our crisis as a soapbox for them," he said. "That's why I think it's important that we maintain a sense of community this year."
KWUA leaders took questions after the meeting, which turned into a chance for irrigators to vent their frustration. Some brought up the fact that they're still expected to pay tens of thousands of dollars in water and power fees related to irrigation, despite receiving no water and making no income this year. Others mentioned the Bureau of Reclamation's plans to build a $10 million new office while the Klamath Project suffers.
Jeff Boyd, a farmer in Tulelake, said he was "extremely disappointed" that no one from the Bureau of Reclamation showed up to the meeting.
In past years, a representative from the agency addressed Klamath Project irrigators to announce the allocation.
"It's up to Ben DuVal to get up there and tell us there's no water? You shouldn't have to do that, Ben. The Bureau ought to take responsibility for some of their actions," Boyd said.
Scott White, Klamath Drainage District manager, described a feeling of déjà vu to be addressing irrigators again, 20 years after the 2001 water shutoffs triggered decades of debate and negotiations. Stakeholders have yet to formally enter into a comprehensive, long-term agreement that sustainably divides water in the Klamath Basin.
"My heart is bleeding for this community, for all of you," White said.