If getting into a hot car on a blazing afternoon has been a shock to the senses lately, rest assured it's about to get far worse this weekend, as a potentially record breaking heat wave settles into the Northwest.
The National Weather Service office in Medford is forecasting dangerously hot temperatures for Klamath Falls from Saturday through Wednesday, a phenomenon that some are calling a "heat dome." Current predictions estimate that the Klamath Falls airport could reach 100 degrees Fahrenheit on Sunday and climb to 104 degrees Fahrenheit on Monday, with excessive heat remaining through the bulk of next week.
If the temperature exceeds 100 degrees before next Thursday, it'll set a new record for June in Klamath Falls. The city set the existing 100-degree record on June 30, 1918. The NWS tweeted that the heat wave will almost certainly shatter daily records on Saturday, Sunday and Monday, with a 74% chance of setting a June record and a 36% chance of breaking the all-time record. 
NWS meteorologist Brett Lutz said residents can expect a large mass of hot air, or a "heat bubble," to settle into the basin, causing sweltering temperatures for the next few days until a low-pressure system dislodges it. Lutz said the heat dome took shape when a strong low-pressure system came out of the Gulf of Alaska, causing a significant amount of subtropical air to move northward into southeast Alaska and up into British Columbia, forming a high-pressure system.
That mass of subtropical air that got sucked into the continental regions of Alaska and British Columbia warmed up and is now sinking down into the Pacific Northwest, where it will get consistently warmer and drier.
Luckily, Klamath Falls is no stranger to heat. This area's Mediterranean climate means that summer temperatures regularly peak in the 90s, and local electrical grids and air conditioning infrastructure are usually adequate to respond. Conversely, cities like Portland and Seattle, whose historical climates rarely included hot temperatures, are preparing for serious impacts.
Lutz said this type of heat cycle is normal for the region, and is typically followed by a far cooler, wetter oceanic air mass from the Pacific that will most likely bring scattered thunderstorms to the basin. But climatologists are concerned with this heat event's timing, duration and magnitude.
"Heat waves are becoming more frequent, longer and more intense," said Erica Fleishman, director of the Oregon Climate Change Research Institute at Oregon State University. "What's occurring this weekend is quite consistent with what's been increasingly observed across the Pacific Northwest and across the West as a whole — and what's projected as the climate continues to change."
Of course, it's summer; it's supposed to be hot: To the average Klamath County resident, a 50-degree day in June would likely feel more abnormal than a 100-degree day. But research suggests that extreme heat waves like the one currently settling in over the Northwest are increasingly common symptoms of a warmed — and warming — planet.
For starters, the timing is off. Temperatures of this magnitude usually occur later in the summer (if at all) in the Upper Klamath Basin, several weeks into July. Through the summer solstice, the day of the year the northern hemisphere receives the most sunlight, summer temperatures don't typically peak until a few weeks after as more sunlight and heat accumulates.
Klamath Falls' record high temperature of 105 degrees, for example, was recorded on July 27, 1911. Though the NWS considers the all-time record 104 degrees, set in August of 1972. Either way, we'll be approaching temperatures early next week that are all-time highs for late summer, let alone June.
So far, high temperatures recorded in 17 of 24 days this June have exceeded that normal range, save for about a week of highs in the mid-60s that occurred during the first half of the month.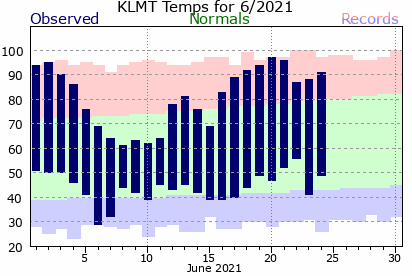 "It's hot regardless for this region. This is going to be breaking heat records regardless of the timing," Fleishman said. "But generally speaking, when there's a heat wave in this region, it generally comes later in the summer."
Oregon State Climatologist Larry O'Neill told the Washington Post that the early onset of this atmospheric activity may be related to the early start of tropical cyclone season in the western Pacific, driven in part by warmer ocean temperatures. The activity there creates disturbances in the jet stream that have ripple effects over North America.
In addition to forming earlier in the summer, analysis of recent weather patterns has shown that intense, high-pressure heat domes are becoming more frequent and sticking around for longer due to atmospheric blocking events, where the jet stream gets overloaded with activity. During these events, the jet stream slows down, causing the dome of high pressure to languish in place. An analysis of data since 1958 found that almost all heat waves of this nature occurred after 1983.
We're also starting at a warmer baseline than during historical heatwaves. The National Oceanic and Atmospheric Administration uses 30-year reference periods to determine weather data that's considered "normal" for a region, updating the values every 10 years. Compared to the climate normal period between 1981 and 2021, the period between 1991 and 2020 saw average temperatures in the Klamath Basin increase between 0.5 and 0.75 degrees Fahrenheit.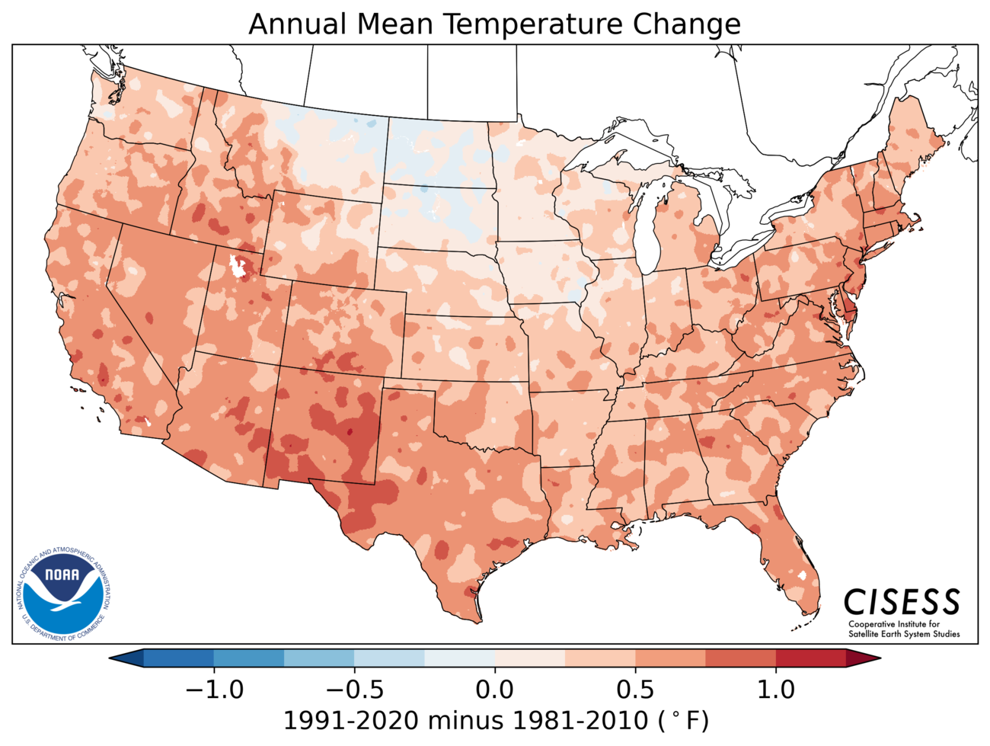 Fleishman said that, for the Northwest, that increase is disproportionately felt during the summer as opposed to other seasons. East of the Cascades, research has shown that heat wave temperatures have increased by an average of 3 to 5 degrees Fahrenheit. Add a dome of high pressure to an already warmer atmosphere, and you're looking at an event that's likely to be more extreme today than it may have been several decades ago.
"There's always going to be heat waves, but the heat waves are becoming hotter," Fleishman said. "What we've considered anomalies are becoming more common."
The Oregon Health Authority warned people to take the extreme heat seriously in a statement published Tuesday.
"It's critical that people do what they can to avoid the heat as temperatures get to the level where they can cause serious health problems," said Richard Leman, public health physician at the Oregon Health Authority. "Temperatures that get above 100 are nothing to take casually. These conditions can be extremely dangerous if we don't take care of ourselves."
Pacific Power is reminding residents to do their part to use less energy while staying cool during the heat wave.
Keeping the thermostat set to 78 degrees will cut down on energy costs by 8%, the utility said in a news release. Closing the blinds, or drapes, and opening windows to create more circulation is also helpful, as is keeping heat-generating devices off during the hottest part of the day.
Despite concerns that increased energy demand during the heat wave could overwhelm the electrical grid, Pacific Power said it plans to draw on a mix of energy sources to avoid blackouts. If a localized issue does occur, the utility said it will be closely monitoring the system to respond.
"From a power supply perspective, we do not anticipate heat-related service interruptions during this current heat wave," the release read.