The Bureau of Reclamation has officially released temporary operating procedures for this spring and summer, acknowledging that there's not enough water in the Klamath Basin to fulfill the agency's obligations under the Endangered Species Act, let alone provide meaningful irrigation diversions to the Klamath Project.
"There is no question that this will be one of the most challenging years in decades, but we are devoted to supporting a community-driven approach that directly address the needs of irrigators, Klamath Tribes, and stakeholders in the Basin," said deputy commissioner of Reclamation Camille Calimlim Touton.
Per the most recent biological opinions from the U.S. Fish and Wildlife Service and the National Marine Fisheries Service, Reclamation must keep Upper Klamath Lake's level above 4,142 feet during April and May and produce a spring flushing flow to scour the bed of the Klamath River below Iron Gate Dam, respectively.
"As a result of the extraordinary hydrologic conditions and the requirements necessary to protect endangered suckers in UKL and threatened coho salmon and Chinook salmon in the Klamath River, some of the thresholds within both BiOps are unlikely to be met during the 2021 spring/summer operating season," the agency's plan read.
The procedures announced Wednesday will be applicable through the end of September, after which Reclamation will revert to its 2020 Interim Operations Plan through the end of Water Year 2022.
It appears that the current plans prioritize lake levels for endangered C'waam and Koptu (Lost River and shortnose suckers), which are in the midst of their spring spawning season.
Though a greater portion of fish spawn in tributaries to Upper Klamath Lake, some lay eggs in the gravel of its cold, stable shoreline springs. Research has shown that lake levels below 4,142 feet reduce the water level over these springs, making it difficult or impossible for fish to enter them to spawn.
As of Wednesday morning, the lake was at 4,140 feet — more than a foot lower than it was this time last year. That means those suckers are currently restricted from directly accessing their preferred spawning habitat.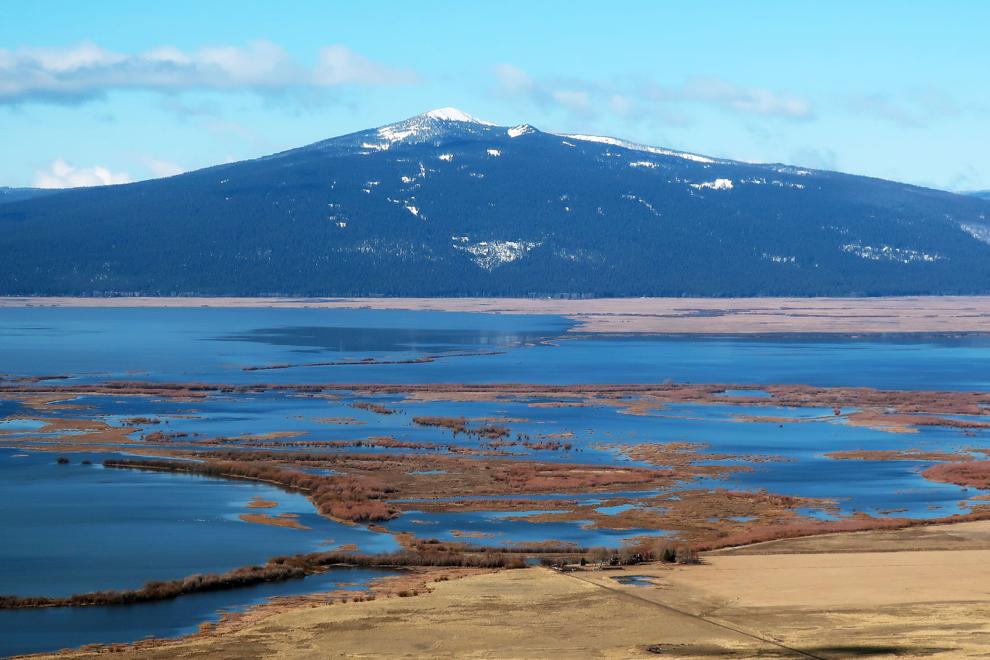 The Karuk, Yurok and Hoopa Valley Tribes on the Lower Klamath River are bracing for a potential fish kill this summer, as stable warm waters created by the Klamath River Dams begin to exacerbate a deadly salmon disease.
Reclamation will attempt to produce a Surface Flushing Flow (SFF) prior to June 1, either to rid the riverbed of annelid worms that release spores of the salmonid parasite C. shasta or to dilute the existing spore concentrations in the water column. However, the conditions of the flow event will depend on Upper Klamath Lake's level.
If the lake level is greater or equal to 4,141.8 feet, the release will not reduce the lake's elevation by more than 0.4 feet. That will be done through a variety of factors, including 'borrowing' water from the PacifiCorp hydroelectric reservoirs downstream, coinciding the release with a potential storm or flood, reducing the volume or duration of the flow and increasing the amount of time spent ramping it back down to the baseline.
If Upper Klamath Lake's level is between 4,141.6 and 4,141.8 feet, Reclamation will ensure a decline no greater than 0.2 feet using any of the above methods. If the level is below 4,141.6 feet, the Bureau will use monitoring data from the Services to determine if conditions are dire enough to warrant a flushing flow. Those include C. shasta spore concentrations at 10 spores per liter following a seven-day increasing trend and a projected salmon mortality risk greater than 30%. Reclamation will also aim to release a flushing flow after sucker spawning peaks.
Based on Reclamation's most recent hydrology update last week, conditions at the Beaver Creek index site have already jumped to almost 10 spores per liter during the week of April 5. At monitoring sites further downriver, spore concentrations are approaching 20 per liter.
"Real-time monitoring of salmon disease in the Klamath River and sucker spawning in UKL will inform modification of the water management criteria," the Bureau's plan read.
On Tuesday, the Klamath Tribes filed a lawsuit against the Bureau of Reclamation in federal district court asserting that Reclamation violated the Endangered Species Act by allowing Upper Klamath Lake to dip below 4,142 feet during sucker spawning season in two consecutive years.
"The Tribes have always believed the BiOp itself didn't provide the C'waam and Koptu with enough protection to ensure they survive and ultimately to recover to a level where the Tribes can begin to harvest them again, as we have a treaty right to do," said Tribal Chairman Don Gentry. "But its protections are at least better than what Reclamation is doing now."
In a statement, the Tribes said they are also seeking an emergency restraining order to immediately require Reclamation to reduce releases from Upper Klamath Lake while the case is being heard. The order would reduce maximum flows at Link River Dam by roughly half to 400 cubic feet per second to allow flows of 650 CFS out of Iron Gate Dam.
The Tribes said salmon have been able to reproduce under these conditions in the past and that there would be little chance of Reclamation being able to release a flushing flow adequate enough to prevent a salmon disease outbreak under current conditions.
Frankie Myers, Vice Chairman of the Yurok Tribe, said a catastrophic loss of salmon is likely this year even if Reclamation's plan is followed. The Yurok have already introduced strict conservation regulations for the 2021 spring-run Chinook salmon fishery, only allowing people to fish three days a week and throw drift nets one day per week at the mouth of the Klamath River, among other rules. The tribe has not had a viable commercial fishery for years.
"Combined with recent calamitous years including low returns, the salmon of the Klamath River are now facing extinction in the near-term," Myers said. "The Yurok Tribe is suffering significant economic damage on top of the extreme cultural and social impacts of failing fish runs."
The way Biological Opinions are structured, not having enough water to satisfy requirements for both salmon and suckers means that irrigators in the Klamath Project are getting the lowest allocation on record this year: 33,000 acre-feet. That's nearly 50,000 acre-feet less than 2001 and less than a tenth of what the Project would have typically used in a drought year.
Deliveries will also be delayed significantly, with canal charging beginning on May 15 instead of early April. The few irrigators whose water rights allow them to use this surface water can expect to begin watering fields on June 1. However, because that's still within the window of a flushing flow, Reclamation said it will closely monitor releases from Upper Klamath Lake during the second half of May.
"Project Supply may be made available prior to May 15 to begin charging Project canals and provide for limited deliveries if a SFF has already been implemented. Reclamation will track deliveries of Project Supply to ensure they do not interfere with the potential implementation of a SFF between May 15 and June 1," the agency wrote.
At a meeting Wednesday morning, Klamath Water Users Association leadership informed Project irrigators of the catastrophically low allocation, along with their efforts to secure drought relief through the state and the federal government.
"Our biggest fear with this Biological Opinion was a year like this," said KWUA President Ben DuVal. "We all know what this can mean to our farms, our families and our community as a whole. For some of us, it may mean we're not in business next year. The ESA unfortunately doesn't take into account paying a mortgage or providing for your family."
Reclamation's plan does account for the potential of additional water deliveries beyond 33,000 acre-feet later in the summer, saying that all water in the lake above 4,138.3 feet will be fair game for irrigators after sucker spawning season ends. That elevation is still likely to allow suckers to access areas of the lake with better water quality once it declines later in the summer, the Bureau said.
When the Klamath Project gets no water, Lower Klamath and Tule Lake National Wildlife Refuges dry up and experience massive avian botulism outbreaks in late summer. Luckily, a nearly finalized water right transfer from a rancher in the Upper Basin is expected to provide a small amount of water to Lower Klamath to help prevent that.
In their statement, the Klamath Tribes said the current situation underscores the need for long-term solutions, and that dry years pitting suckers, salmon, farmers and birds against each other are no longer aberrations.
"The Klamath Basin is living far beyond what its water budget can tolerate. We cannot keep pretending to be surprised by poor water years and conflicts among agriculture and endangered species," said Klamath Tribal Council Secretary Roberta Frost. "Nor can people hope to keep relying on single year quick-fix bailouts to paper over our systemic problems. The catastrophe of this year throws into stark relief how desperately the Basin needs to move to a more sustainable footing."