Smoke from record-breaking wildfires in northern California had just started to clear out of the Klamath Basin on Labor Day, encouraging residents to get outside and enjoy the improved air quality.
Meteorologists believe it started thousands of miles away in the western Pacific, where energetic typhoons caused an extreme bend in the Pacific jet stream over the western U.S. Severe warps in the jet stream usually cause extreme weather to occur around them.
Mindy Firmin, a meteorologist at the National Weather Service's Medford office, said a low-pressure system from Canada squeezed down into that bend of high-pressure air, causing a dramatic and unusual east-to-west windstorm. That same interaction of high-pressure and low-pressure systems caused rare summer snowfall in Colorado the same day.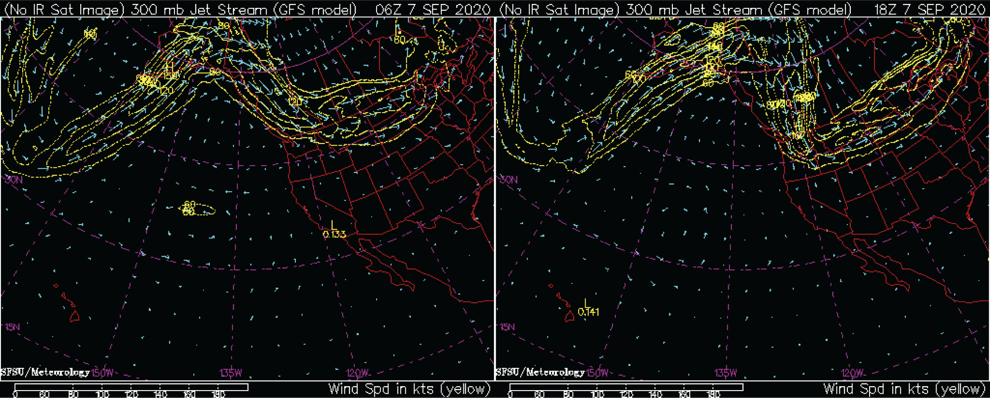 Though such a change in wind direction isn't unheard of, Firmin said, "it was just the strengths of the systems that were kind of unusual."
Warm, dry gusts ripped across Oregon, Washington and northern California, downing trees and power lines and kicking up dust. Areas in northwest Oregon experienced near-hurricane-force winds. A wall of smoke from fires already burning enveloped the basin. Greg Jones, a climatologist at Linfield University, told the Associated Press it was "likely a once in a generation event."
It was a perfect storm: The winds arrived in the evening on Labor Day, during a heat wave, as many Oregonians left their campsites to return home from the holiday weekend. Forest vegetation had gone months without any measurable precipitation. A single spark or ember was ready to light an inferno.
Since September 7, a record 1 million acres have burned throughout the Oregon, 14,473 of which are northwest of Chiloquin in the footprint of the Two Four Two Fire. Fully lined and at 49 percent containment, the fire is one of the more controlled major blazes in the state, but it still forced hundreds of families from their homes, damaging 33 structures and destroying 48.
"This is a straight-up, true urban interface fire," said Randall Baley, protection unit forester for the Oregon Department of Forestry's Klamath-Lake District. Because of the fire's complex spread through inhabited, built-up areas on both sides of Highway 97, it was a challenging fire to contain — to say nothing of the environmental conditions that had created it.
Around 6:45 p.m. that evening, Klamath County's 911 center received a call reporting a fire east of Highway 97 at milepost 242. At the same time, a camera on Steiger Butte detected smoke coming from that area. Baley said crews were already responding to a separate fire start near Hagelstein Park off Highway 97, and were on red alert the entire day in preparation for the wind event.
Crews rushed to an area north of Collier State Park, where the fire roared, burning southwest, pushed by the wind. Within an hour, it jumped the highway and burned westward up a ridge into a heavily forested area.
"The wind was the number one factor," Baley said. And it wouldn't let up for three days.
Normally, crews would make the most progress against a fire at night, when fire weather is less dangerous. But the relentless dry wind continued fanning the flames and keeping humidity low even after the sun went down.
"Usually your winds will calm down at night," Baley said. "But this was totally reverse."
Baley described the burn area as a mosaic of sorts: In some places, wind whipped the flames through the tops of trees, while in others the strong gusts kept them moving along the ground. The fire experienced the most growth in its first 72 hours, moving southwest past Highway 422 and engulfing Steiger Butte. Winds soon shifted to the northwest and scorched more Forest Service land, creeping toward Fort Klamath.
Once a Type 2 incident command team took over on day three, winds began to subside. On day five, crews more or less got control of the blaze.
Though the thick smoke that blanketed the basin (and much of the west coast) over the weekend wreaked havoc on lungs and throats everywhere, Baley said it partially kept the fire at bay by blocking much of the solar radiation that would've helped fuel it. Though the haze was too thick to send in air support, crews could get in and attack hotspots more safely.
The fire has since held steady at just under 14,500 acres. Crews continue to mop up hotspots and monitor for further fire activity. Baley said the everyone from firefighters to landowners to the local community did "amazing work" to keep Two Four Two — already a large fire by Klamath County standards — from getting worse.
"That's what gets the fire out: the boots on the ground. Those folks out there that are working their tails out to get things cleaned up," he said.
Social media rumors have spread locally and throughout Oregon that coordinated arsonists started the Labor Day fires throughout the state, despite the fact that the windstorm — which in some places downed power lines that then sparked fires themselves — was the reason so many major blazes began simultaneously. In the case of the Two Four Two Fire, Klamath County Sherriff Chris Kaber said the Forest Service's investigation (which is still ongoing) has ruled out the possibility of arson.
"There's been no evidence that it's been any sort of deliberately set fire," Kaber said.
Intense fires often draw criticism of forest management practices, which for the last century have tended to suppress all fire and let vegetation grow. For a landscape that has adapted to fire for millennia, that's not always the best move. Indigenous peoples throughout the west traditionally burned small areas of forest at low intensities in order to thin out vegetation, but those practices were stopped following colonization. Now, many forest lands are crowded with flammable brush, making blazes more intense and difficult to control.
Baley said foresters and community members have been working on projects to clear vegetation and reduce fire fuels, particularly around residential areas. But the land is so vast, and environmental regulations can make thinning projects difficult. Once the Two Four Two Fire is mopped up, he said crews will go in and assess whether the thinned areas affected by the flames fared better than others. But in cases like this, when wind was the main driving factor in the fire's growth, responsible forest management isn't a cure-all.
"When you're playing with Mother Nature and a wind event like this, there's no guarantee that it could stop a fire," Baley said.
It could take years and possibly billions of dollars to bring the west up to snuff on fuel reduction. But until then, scientists say rising global temperatures are ensuring that intense, widespread fire seasons like this year's will become more and more common. Oregon Governor Kate Brown called the fires devastating Oregon "a bellwether of the future."
Climate change certainly isn't the only factor when it comes to wildfire, and it's hard to link a global phenomenon to a specific local event—ask a scientist if climate change caused the Two Four Two Fire, and they probably wouldn't be able to give you a definitive answer.
Instead, they'll point to the fact that climate change exacerbates the environmental conditions that contributed to the fire's spread—namely weather and fuel. In essence, it makes fires (whether naturally occurring or human-caused) more likely to mutate into the massive, scorching infernos we're currently seeing.
By changing the behavior of air and ocean currents, warmer global temperatures throw the very elements that make up our planet out of balance. While stronger hurricanes dump feet of water on the Gulf Coast, the west starves for moisture. Erratic bends in the jet stream draw Arctic air down to the Midwest during the winter and create intense windstorms that scour the west during the summer. This is an era of "weather weirding," and its connections to global warming are not always intuitive.
Temperatures have already warmed by several degrees in areas throughout the west, pushing arid climates to the extreme. Vapor pressure deficit (VPD), a measure of the atmosphere's ability to extract water from the Earth's surface, particularly from vegetation, is viewed by some scientists as a slightly more accurate measurement of fire danger than relative humidity.
As temperatures have increased and droughts have worsened, water has been able to evaporate from plants more easily, and the atmosphere can absorb more of that water. This has resulted in higher VPD measurements—a 2014 paper from Columbia University found that VPD has "increased notably across the western U.S." since 1961.
Higher VPD means drier forest vegetation, which turn forests into a tinder boxes. Bone-dry shrubs and brush burn almost instantly and can spread a blaze higher up into the trees, allowing the fire to spread between their branches.
According to a 2010 report led by the National Center for Conservation Science and Policy, climate models predict that annual temperatures in the Klamath Basin will increase between 2.1°F and 3.6°F by the middle of this century. That warming is expected to be greater in the summer than during other seasons, when VPD's link to fire conditions is most critical.
Even the Labor Day windstorm, which meteorologists considered unusual, is a product of more energy in the atmosphere. It's impossible to quantify how much of that energy was trapped by greenhouse gas emissions released since the Industrial Revolution, but scientists warn that continuing to send those emissions into the atmosphere will make such "unusual" weather not so unusual at all.
"With a changing environment, we do have stronger systems and more extreme weather events," Firmin from the National Weather Service said. "It kind of tilts the odds to increase the chances of those occurring."