Thursday's announcement of 30 positive COVID-19 cases brought the largest single-day increase in Klamath County not tied to a specific outbreak, along with the county's fourth death.
But differences in the state's reporting system for testing may mean the county's test positivity rate may be inaccurate.
So far, 4.2% of all COVID-19 tests administered in Klamath County have returned positive. Klamath County Public Health spokesperson Valeree Lane said the recent spike has brought a discrepancy in reported testing numbers via the state.
According to the Oregon Health Authority, the county's weekly test positivity rate was 13.1% last week, with 472 people testing negative and 71 people testing positive for the virus. But Lane said as of Wednesday morning, more than 200 negative tests from the past several weeks had not been entered into the state's system.
"I am assuming that as we go on, we will find even more," Lane said. "We have been running case positivity below 5%, then all of a sudden we had a spike."
That doesn't mean that the actual number of positive cases in Klamath County is being distorted, however.
New positive cases can be put into context by incorporating the constantly changing number of daily or weekly tests administered in the county. In essence, the positivity rate helps counties avoid being penalized for testing their citizens.
Clinics in Klamath County send all test results directly to the state and send only the positive cases to county health departments, requiring local health officials to pull testing-related information from the state's database. Lane said that's because state epidemiologists are trying to understand how the disease is spreading statewide rather stitching together reports from every county.
Recent reporting has shown that the state's system for counting tests and determining test positivity assigns a maximum of one negative and one positive test per person. That's done to prevent individuals who receive multiple tests from skewing the data, but it has also led to undercounts of new individuals tested in multiple counties and the state as a whole.
Lane said the state has created a specific database for COVID-19 separate from the other communicable diseases it tracks, but the sheer amount of laboratory results coming in are delaying the full picture of testing data for Klamath County.
"The more information you have out there, the longer it takes for it to process," Lane said.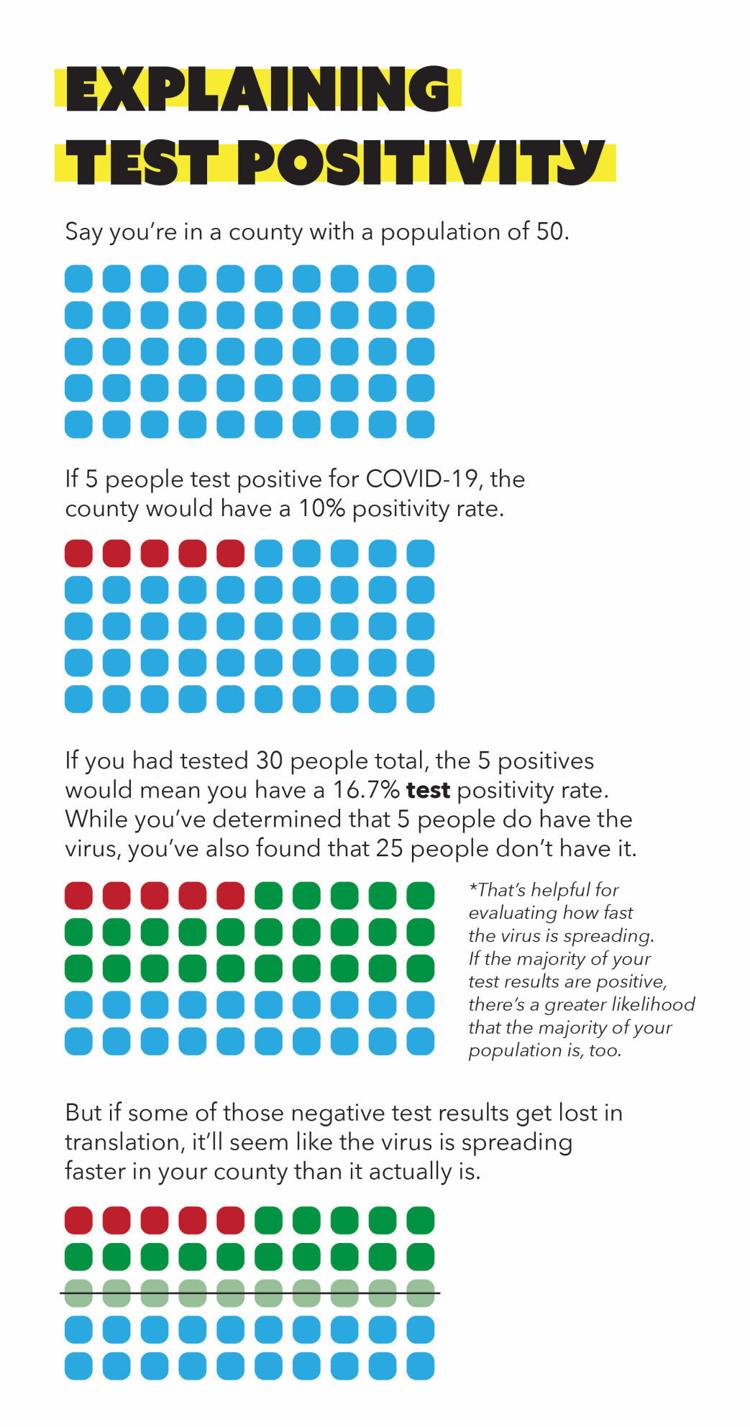 Lane said KCPH brought the county's testing discrepancy issue to the attention of the state earlier this week, which led to the subsequent stay in school operations that take cue, in part, from the county's test positivity rate. The state would not re-close schools based on faulty data.
KCPH staff is working through the uncounted tests by contacting local testing sites and obtaining their paper records. They plan to reconcile this data with the state in the coming days.