For many of those fighting the Two Four Two Fire, it was personal. The fire was in their own backyards.
With resources spread thin fighting countless other blazes across the region, local agencies working on their fire were on their own on Monday as it grew from a spark to an inferno in just a few hours.
Chiloquin and Klamath County agencies did receive some local help, however, as volunteer crews, businesses and ranches offered up equipment and manpower.
"It went down to when you see the best in people ... it was neighborhoods coming together," said Evan Wright with the Chiloquin Ranger District.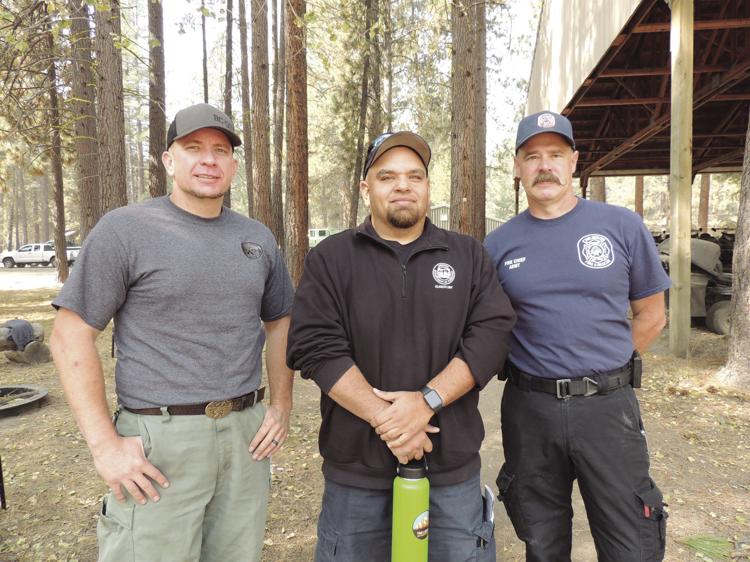 Fire officials were holding their breaths Monday afternoon, well aware of the dry forests and extreme weather forecast for later in the day.
"We were all a little bit on edge — at least I know I was — knowing that if we got a start in certain areas, we'd probably be in for a pretty good fire fight," said Jake Barnett with the Oregon Department of Forestry. "And unfortunately, that's what we saw."
Barnett had just finished working on a fire near Hagelstein Park when he got the call about the Two Four Two.
Initial calls reported two black columns visible from Highway 97. When Barnett saw the smoke, he realized it wouldn't be an easy fire to fight.
"Just by the characteristics: the column, the color. I knew right away that this fire was burning extremely intense and we were going to be in for a pretty long night," Barnett said.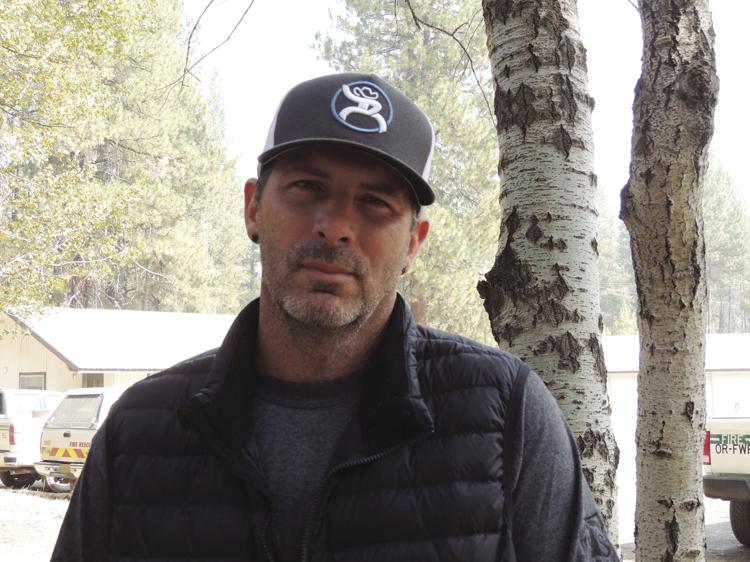 Garrett Souza had planned for how a fire might behave in the area. However, the powerful winds were something he never expected.
"I mean to be honest I fought this firefight 100 times in my head. I think we all have," Souza said. "I've never fought it north to south or east to west, always south to north in that area. And I think we've all done that."
On the heels of Labor Day weekend, campgrounds in the area were full. With the fire starting so close to Williamson Campground, the first priority was to evacuate campers.
Crews immediately went to work at both Williamson Campground and Collier State Park. At Collier, officials said some people abandoned their trailers in the hustle to escape the fire.
Crews received a roster from the campsite of people onsite, which helped them track how many had evacuated.
Wright described that first night of firefighting as one he's never seen before. For a long time after the fire sparked, crews couldn't find a foothold to even start battling. They were simply on defense, evacuating people and trying to protect homes and property.
"We like to set the pace, and the fire was setting the pace," he said.
The personal impact of the fire allowed for partnerships and trust among the crews, because they were fighting the fire alongside their neighbors.
"A lot of us have done fire for a long time, and a lot of us fought these large fires in other communities. And it's just very different when it's home," Wright said. "That adrenaline that's usually there and keeps you going was replaced with — for me personally — just a sick, sick feeling in my stomach mostly. Which I wasn't expecting. I haven't experienced a fire of this scale in our own backyard before."
While Wright was out on the fire, he called people he knew and told them to get the essentials ready and prepare to evacuate. He'd never done that before.
Calls for additional resources for the Two Four Two fire often went unanswered, which baffled Barnett. It wasn't until he got a text from someone in his office that he heard about all of the other fires across the state that required the very same resources.
"It was like, 'Hey, just FYI, this is what's happening across the state right now. You're not the only show right now. Your fire is happening everywhere,'" Barnett said.
As teams went door to door, they left markers on fences to signal that someone had already talked to the residents at that house.
Crews got creative as the fire continued its erratic, wind-driven behavior. Souza described the way embers blew across the Williamson River for hours, sparking small new fires. With fire both upstream and downstream, crews borrowed residents' canoes and paddled across to the other bank to try to put out each one before they spread further.
In another rare decision, crews began referring to the fire's movement in terms of mile markers along Highway 97 instead of acreage. That's how fast it was moving. Wright said the spread had the speed of a brush fire, though it was burning through heavy timber.
"I had a couple of times that night where my jaw just kind of like dropped, it's like, you're kidding me," Wright said. "It's already across — not only is it to that highway, but it's across the highway. We're used to making stands on places like highways, and this fire was moving across them like they weren't even there."
Although the fire put up a tough fight and challenged firefighters, Wright celebrated the fact that crews were able to save so much.
The quick work of those evacuating people in the fire's path meant there were no injuries and no deaths.
"There were fires in this state the same day where they're counting bodies, not structures," he said. "And we didn't have that."
Of the 1,532 homes that have been threatened by this fire, only eight have been lost.
To Wright, you have to look to the positive.
"It doesn't feel like success when I pulled up to the houses that had burned," he said. "But when you turn around, it's like, 'Oh, look at all those that didn't. Okay, we're doing good here. We've got to keep going.'"
While Souza was evacuating Woodland Park, he had to trust others to save his own home in Oregon Shores.
"It hits harder when it's home," he said.
Listening to the radio, Wright heard places he recognized all night. It was hard to hear what was in danger next.
"You hear names, you hear places, you hear addresses you recognize, you hear things like Collier Park," he said. "Just those gut check moments all night long."
Wright recalled how firefighters draw on their experience with other fires, which he called slides, to inform their decisions. With the Two Four Two, however, experience went out the window.
"This fire handed us some things I didn't have slides for," he said.
Officials praised the partnerships and communication in place between the various agencies prior to the fire's start.
"It doesn't matter if it's a blue truck, white truck, red truck, whatever, you know, we have the same mission and we're here to accomplish that," Barnett said.
Barnett finally got back into his truck after fighting the fire the first time. The sun was already coming up on Tuesday morning, and he took a couple of deep breaths and tried to hold onto the memories of the houses they saved.
"It's the first chance I had to just sit in my truck for a second and just take that big deep breath and just be like, 'Did that really just happen for the last 12 hours?'" he said. "We did everything we could, and I just feel like we just got beat up."
Wright also questioned where the time had gone.
"I looked at my watch and it was about 12:30, and then next thing I know it was 5:30. It was daylight, and I'm like where did that time go? You're just working so hard trying to focus in," Wright said. "And then when it was all done, and daylight came, somehow, it's kind of like a bad dream. It seems so ominous in the dark and now it's like, okay, it's daylight. The sun's coming up again. Where are we?"
Now, more than a week after the initial attack, Wright recalled the way this fire took a particular toll on him. In his down time, he picked up the phone and called his dad.
"A 40-year-old man called his dad," he said. "I just said — and I try not to use harsh language too often — but I said 'I just feel like I had my ass handed to me all night long.' And I said 'I hope we did some good.'"
The fight is far from over. Officials warned that it only takes an ember catching a porch, or settling into a crack in a gutter, to burn down a house that crews fought so hard to save. Crews will continue to man lookouts over the burn area, be ready for potential sparks, and work to mop up all hot spots.
Wright told his team that after they get some rest, they should go see the areas the fire burned and take a look at their success.