Fire officials in Klamath and Lake counties declared May 15 the official start of fire season for 2021.
According to the National Weather Service's Medford Office, the average date of the first Red Flag Warning over the past decade is June 11. It was issued for the first time in 2021 on Friday, May 14. That suggests this year's fire conditions are roughly a month ahead of schedule, though it's not quite the earliest a warning has been issued.
Randall Baley, protection unit forester for the Oregon Department of Forestry, said the South Central Oregon Fire Management Partnership made the early declaration based on "fuel conditions, lack of spring rains, extreme and exceptional drought and continuous fire activity in Klamath County, Lake County and around the state."
It's no secret that the Klamath Basin is enduring a serious drought.
Total precipitation in Klamath Falls since the beginning of the water year on October 1 has been a little more than half of normal. Since January 1, only 2.48 inches have fallen in comparison with the typical 5.17 inches, according to data from NWS Medford. Very little of that came during the spring.
"It's been a much drier spring," said Brian Nieuwenhuis, meteorologist with NWS Medford. "We're up to a month ahead of where we should be in terms of fuels."
Some portions of the Fremont-Winema National Forest are reporting between 25 and 50% of normal precipitation since January 1. The dryness means that less moisture is available for uptake by vegetation, making it quicker and easier to burn if a fire starts.
Nieuwenhuis also said the entire NWS Medford forecast region has been a little more than 2 degrees warmer than normal since the beginning of May. He said Thursday's high temperature in Klamath Falls, which reached into the upper 70s, was 7 degrees warmer than normal for that day. That, along with frequent wind events, has caused vegetation to lose moisture more quickly than it can be replaced.
SCOFMP's central region, which includes most of Klamath and western Lake counties, is reporting exceptionally dry fuels for this time of year. The energy release component — essentially a measure of how little moisture is present in forest and grassland fuels and, by consequence, how much energy they would provide to a fire — has exceeded the maximum level reported between 2010 and 2020.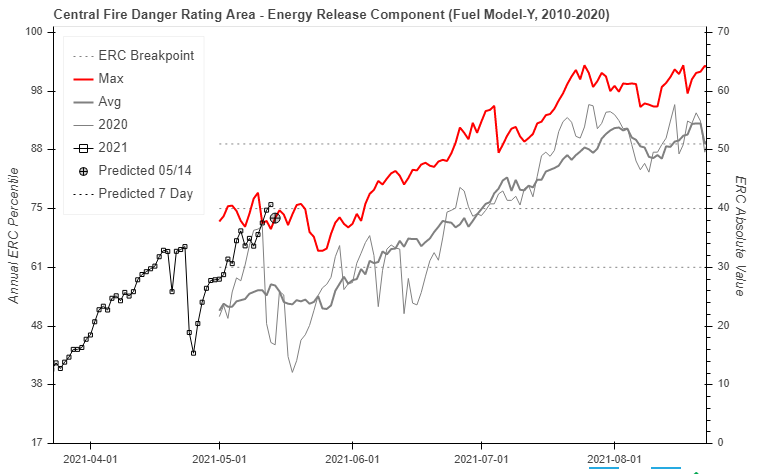 May 13, 2021's ERC was 41, almost 15 points higher than the average for that calendar date. Last year around this time, a spring storm had plunged the ERC below 20.
This doesn't mean that a fire start this weekend would become an out-of-control inferno — the ERC could climb as high as 70 during the height of summer — but it demonstrates how the lack of precipitation this spring has begun to dry out plants earlier than normal.
Fire season also means the return of danger and precaution levels displayed on public lands throughout the region. SCOFMP is currently designating fire danger as "moderate" and instituting an Industrial Fire Precaution Level I.
Moderate fire danger means the risk of accidental human-caused fire starts is real but "generally low."
"Fires are not likely to become serious, and control is relatively easy," a SCOFMP news release read. Still, all outdoor debris burning will be prohibited through the end of fire season.
IFPL Level I requires several precautionary activities surrounding the use of power saws by individual and commercial loggers on public land. Specific requirements can be found on the Fremont-Winema National Forest website.
The Bureau of Land Management is also issuing a fire prevention order on all lands within a half a mile of the Klamath River between Keno Dam and the Oregon/California border, except in designated campgrounds. All fires, including camp stoves, smoking and welding torches are prohibited, as is chainsaw operation. Fireworks, sky lanterns, metal targets and exploding targets are also prohibited on all BLM land in Oregon and Washington.
Nieuwenhuis said NWS Medford is forecasting a cooler, more moist weather pattern arriving by the middle of next week. It's unclear if it will bring any measurable rain.
"It's going to feel like April again. There is a little bit of a relief down the road," he said. "But if the fuels remain dry, it doesn't really change much in terms of fire danger."