It only took a few swift kicks for Justin Grant to prove the obvious.
"Even a few inches down, there's no moisture," said Grant, his boot dusty from stirring up the parched earth of one of the Klamath County fields he farms.
Like other Klamath Project irrigators, Grant received no water this year from Upper Klamath Lake. In a better year, he would use water diverted from the lake to hydrate his crops through hot summer days. Without it, he has only been able to reach about 40 percent of his approximately 300 acres with well water. But that water is much more expensive and difficult to work with.
Primarily growing grass, alfalfa and grain for hay products, Grant said he aims to grow enough to feed his small herd of around 20 cows and then tries to sell whatever he has in excess.
"There's a lot more effort, energy and money going into each acre than on a normal year," Grant said. "And we're producing less of a crop with I'd say less than average quality."
Across the Basin, the lack of irrigated lake water is bound to wreak havoc on a regional economy based in agriculture, experts say. It will take at least months for researchers and public officials to tally and analyze the data required to measure the economic damage of having little water to aid the increasingly dry acreage that Grant and others currently farm on.
Comparing 2001 and 2021
Understanding what economic damage the Klamath Basin may be in for this year begins with understanding the 2001 water crisis — the first total, though temporary reduction in the allocation of irrigated lake water to farmers in the Project's century-long history.
The economic and political fallout of the 2001 crisis — which spawned the oft-remembered Bucket Brigade protest in downtown Klamath Falls — invited years of academic study. Researchers from Oregon State University and UC Davis created a nearly 400-page report that analyzed the crisis from multiple angles, including the projected and realized damage to the local economy.
Although nearly 20 years old, that wide-ranging report still has some sway today. In a mid-June hearing of the U.S. House's Committee on Natural Resources, the congressional representative for southern and eastern Oregon, Rep. Cliff Bentz, told Department of the Interior Secretary Debra Haaland that the "the losses in the Basin are calculated to be about $400 million."
When asked, Bentz's office said they'd received the figure from the Klamath Water Users Association. The KWUA cited the 2001 report.
A number in the magnitude of $400 million is used to estimate "the impact throughout the whole economy, including all those ripple effects, affecting fertilizer suppliers and tractor repair, and everything as far as barber shops and restaurants," said William Jaeger, an Oregon State University professor of applied economics, who was one of the several researchers who wrote articles within the 400-page report analyzing 2001.
The direct impact to Klamath Project farmers is likely a much smaller, but still significant number, explained Jaeger.
In the 2001 report, an article authored by Jaeger estimated the direct loss to farmers to be between $27 and $46 million — before emergency government aid payments. In a later 2004 paper, he built a computer model that sought to replicate the 2001 lower water allocation's effect on Project farmers. That paper estimated the cost to farmers to be just over $35 million.
Compared to 2001, this year's crisis obviously involves some key differences. And Jaeger emphasized that though he has kept up with the latest developments, he has not studied the current crisis.
"In 2001, there was some water available," Jaeger said. "The entire project was not completely shut off."
This year there's likely more idled farmland. Additionally, USDA data shows that the expected profits from an acre of farmland "is different now than it was 20 years ago. It's higher. In fact, it's nearly double," Jaeger said.
Without detailed analysis or computation, Jaeger said his "ballpark, rough estimate" would be that direct losses to farmers would be "at least double what they were in 2001."
As he found in 2001, Jaeger said calculating these kinds of estimates quickly can be challenging, because the actual amount acreage that is receiving water in any year can vary drastically from individual-to-individual, farm-to-farm.
"People are resourceful and given a situation that they're not expecting, they're going to quickly start thinking about what they can do to get by, make do, overcome the obstacle," Jaeger said.
'We're behind all the time'
The 32-year-old Grant wasn't managing his own farm 20 years ago. But farming this year has certainly forced him to be resourceful.
Not all the acres he's working near Midland are next to the well he's having to use to water them. To reach a farther-flung alfalfa field and adjacent pasture, Grant estimated he had to transport the water nearly two miles over the course of several hours.
That forced him to buy thousands of dollars worth of pipe to move the water from his well to a ditch. Those additional costs are compounded by losses Grant incurs due to the additional time it takes to actually keep the fields watered.
"Because of the hydrology, we're behind all the time," Grant said. "There's no possible way to get caught up with one small source of water. It takes so many days over here, and so many days over here, and so many days on this field. By the time a guy gets all the way back around to the first field, it's super, super dry and hard to catch up."
Relief funding
Some drought-related relief funding is already available to Basin landowners and producers via the USDA's National Resources Conservation Service and the Klamath Project Drought Response Agency. To learn more about eligibility for the KPDRA's 2021 assistance program, the agency has provided more detailed information on its website.
Aside from that, congressional efforts to get more relief aid is underway. Bentz and Rep. Doug LaMalfa (R-Calif.) are drafting a bill seeking millions in relief aid for the Basin. When initially announced, the proposed bill would ask for $57 million in disaster relief for the Klamath Basin, $40 million of which would go to assist farmers.
That $57 million ask is growing "to a much larger number," Bentz told the Herald and News. The original number did not include requests from stakeholders like the Yurok Tribe and other downriver groups, as well as others in the Upper Basin.
"We turned to the various groups and asked them to give us the numbers they thought reflected the damage they were going to suffer as a result of not having water this year," Bentz said. "I told everybody to please be as realistic as they possibly could be."
In 2001, government payments helped lessen the sting of economic loss for farmers. According to Jaeger's article, the direct economic impact to farmers went from an estimated loss of $27-$46 million, to an estimate ranging between a $10 million gain and a $11 million loss.
But those payments didn't necessarily benefit everyone equally, Jaeger said. Land owners were more likely to benefit over those who were only renting or working the land. Aside from government payments, the true effect of economic loss varied from person-to-person.
"The distribution of those impacts is very uneven," Jaeger said. "From what we saw in 2001 and I'm assuming to a significant degree, the same will be true this time. Individuals who own farmland will be affected differently than those who rent farmland. And then differently than those who are just farm workers who are there expecting to be able to work on farms. And if no one's hiring, then they don't have a job."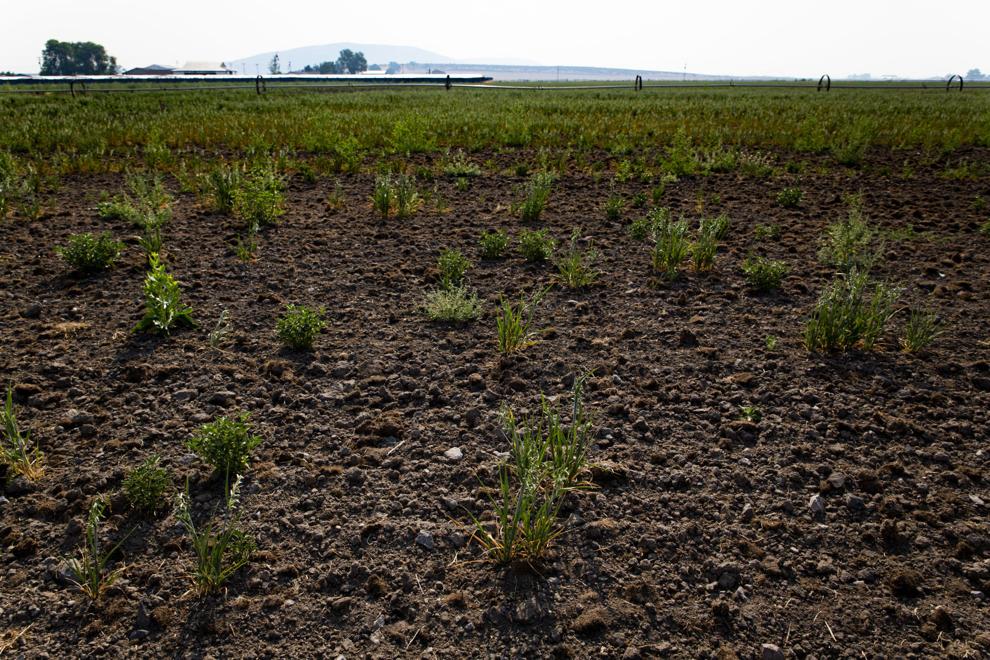 Everyone from farm implement and feed stores to little boutiques on Main Street are going to feel the economic ramifications, said Heather Tramp, the executive director of the Klamath County Chamber of Commerce.
"If ag businesses have to lay off folks, they're going to leave," Tramp said, adding that once they are gone, their workers may not return in a better water year.
Additionally, the local agriculture industry is a strong supporter of several nonprofits, contributing heavily to food banks and youth projects, Tramp said.
More study is underway. Nathan Bigby, the Klamath County tax assessor, said his office is working on an economic impact study pertaining to farm values, which will be completed in the next few months.
Additionally, "highly respected" agricultural economists are expected to begin work on an economic analysis of agriculture's contribution to the Basin economy, the Klamath Water Users Association June newsletter stated.
Like the report on 2001, KWUA hopes the new paper will be a collaborative effort between Oregon State and UC Davis in the peer-review process.
'A real hard dance'
Planning for the next farming season happens at the end of the current one. That includes ordering feed, fertilizer, fuel and other necessary expenses for upcoming year.
Hundreds of dollars can be sunk into a field before a farmer even knows the amount of water they're going to get, Grant said. He said he if Project farmers could know their water allocation much earlier in the year, they could spend their time and money more wisely.
"A guy gets to the fall, wintertime, trying to plan for the next year and you have all these great ideas about what crops to make to make a good living for the family and that type of thing," Grant said. "And we just don't know if we're ever going to have water going into the next year."
The well Grant uses to provide running water in his home — separate from his irrigation well — went dry last week. That has forced him to spend a few thousand more dollars to get a bulk storage tank that he "hardwired" into his existing water supply.
A friendly neighbor got him through the dry times by providing enough water "to be able to take a shower and brush teeth and put a little water in the dog bowl," Grant said.
Still though, he counts himself lucky. Not everyone has the ability to find and buy a storage tank.
With his current yield of hay "a lot less than it usually is," Grant said he has been "gun shy" on selling anything yet this year, wanting to be sure he has enough to feed his 20 cows.
"It's a real hard dance, if I could describe it that way," he said. "It's just hard to figure out what move to make, you know?"