The Klamath Basin's snowpack forecast isn't looking so hot this month, but it's still too early to tell whether water year 2021's luck will change.
The Natural Resources Conservation Service released its February outlook report last week, reporting below average precipitation and snowpack in river basins across Oregon. Though January did bring several winter storms to the region, warmer-than-normal temperatures caused them to dump more rain than snow on mountains, melting some of the powder that had already accumulated in some areas of the state.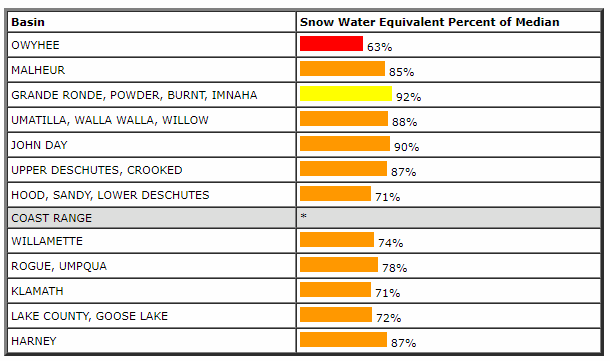 "Despite these high precipitation events, overall deficits in long-term precipitation continue to moderate the ability to improve the water outlook for the summer," the report read.
As of February 1, snowpack in the Klamath Basin was at around 70% of normal levels, compared to last month's NRCS report that showed it at 87% of normal. This time last year, snowpack was at 85% of normal. January precipitation was just 68% of average, compared to 152% of average last year.
Crater Lake National Park Headquarters snow course, which has the highest median of any snowpack measurement site in the basin, gained 9 inches of snow depth since the beginning of January, when it was at 119% of the median. But its snow-water equivalent (the amount of water contained in the snowpack) of 30.2 inches was lower than this time last year, when it was 32.2 inches. That's 82% of normal.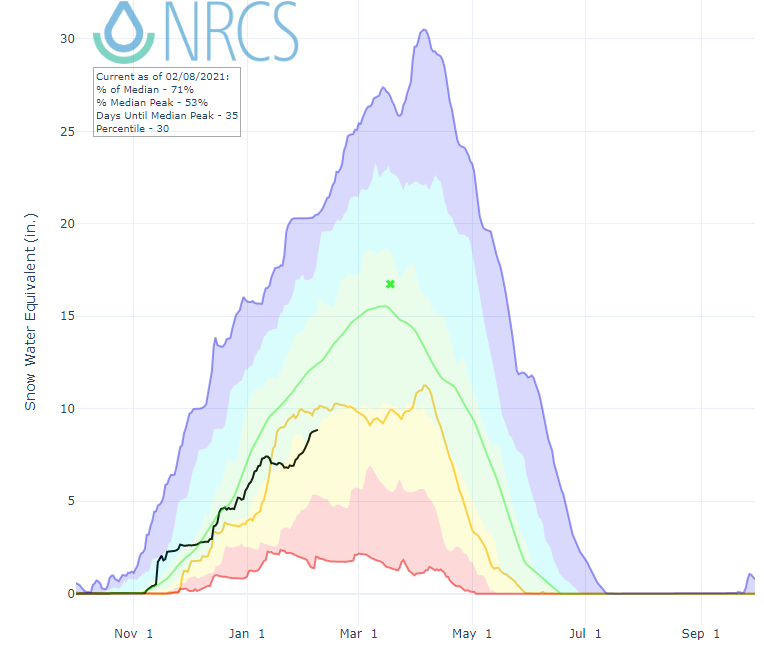 NRCS's snowpack curve, which plots each year's snow-water equivalent as it accumulates, showed a dip toward the end of January. That means the basin is lagging behind in building up its snowpack.
"Though February 1 is early in the winter, the historic snowpack accumulation period is nearly halfway completed with peak snowpack generally occurring between mid-March and early April," the report read.
Streamflow forecasts are also looking below average for the Klamath Basin. This time last year, there was a 50% chance that inflows to Upper Klamath Lake between February and September would be 600,000 acre-feet, or 75% of average.
This year, the 50th percentile inflow is 510,000 acre-feet — or 64% of average. The report noted that those projections "decreased significantly" from January's report.
"Water managers in the basin should prepare for significantly reduced water supplies in the coming summer if conditions do not improve," the report read.
While the news isn't encouraging, it's not grounds for panic—yet. There's still time for the snowpack to catch up, and predictions about the summer's water availability this early in the water year are shaky. Take this time last year, when a steep jump in precipitation to 58% of average in January 2020's report to 152% of average in February 2020's report. Wet storms provided a shot in the arm to that year's snowpack, which increased from 53% of normal in January 2020 to 85% of normal a month later. The U.S. Drought Monitor displayed the lowest drought level for Klamath County on Feb. 4 of that year.

Yet, four months later, a quick May melt dealt irrigators in the Klamath Project one of the most potentially-catastrophic water allocations in history.
While things aren't looking great for the basin's snowpack right now, snow surveyors say it's still a little too early to know how things will shake out for the rest of the winter and spring. February and March could bring moist storms to replenish snowpack (potentially starting with a system arriving later this week, according to the National Weather Service's Medford office). And even an unexpected spring snowstorm isn't entirely out of the cards.
"We get more confidence as the year goes on," Scott Oviatt, snow supervisory hydrologist for NRCS Oregon, said last month.
As of Feb. 1, the U.S. Drought Monitor has placed the overwhelming majority of the state into some category of drought, with most of Klamath County in the "extreme drought" category — though most of the Cascades that feed the Klamath Basin are in the slightly less concerning "severe drought" category.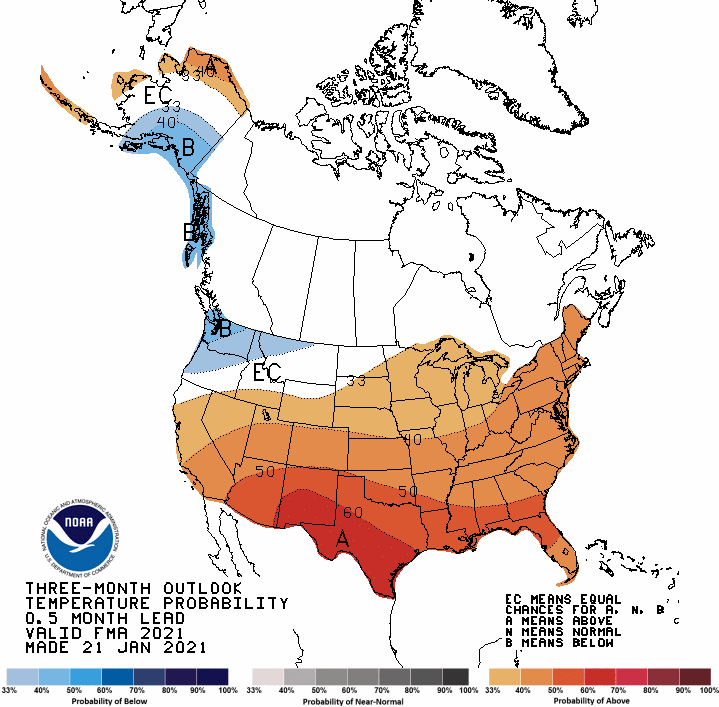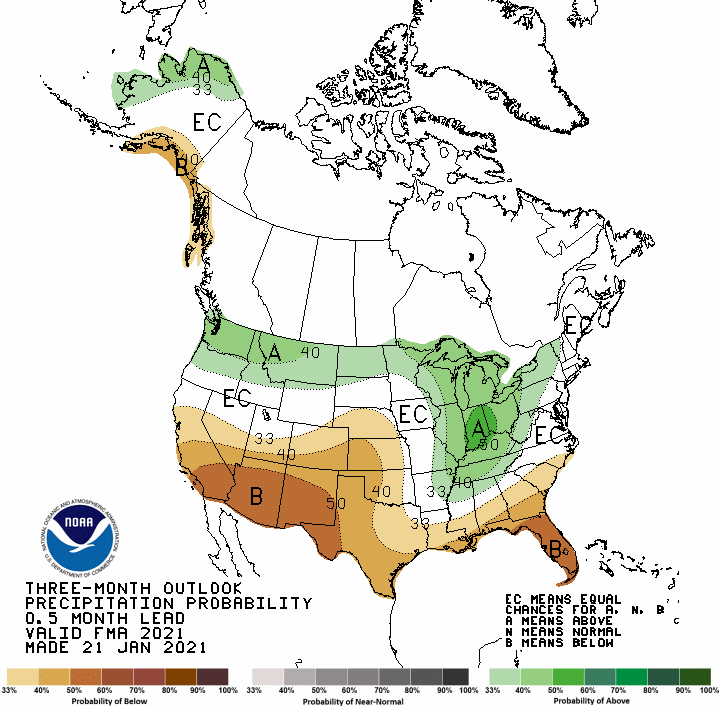 The National Oceanic and Atmospheric Administration is forecasting an equal chance of above normal, normal, and below normal temperature and precipitation in southern Oregon and northern California for the next three months. That means the Klamath Basin's fortunes could really go in any direction from here this water year — though a snow dance can't hurt.