On Tuesday, tenants at the RV park adjacent to the Oregon Motel 8 in Klamath Falls were given 60 days to leave the premises.
Shared restrooms, laundry, wifi and mail services were discontinued by the county, which purchased the property and plans to turn it into a housing project for the homeless and those recently released from prison.
Randy Lueker, a retired Navy veteran who has lived at the RV park for nearly a decade, said he was completely blindsided when the sheriff's deputies brought the notice to the park. He was even more surprised when the laundry room he used was locked soon after.
"They lied to us, no doubt in my mind," Lueker said of the county. "I just feel stabbed in the back."
The notice was issued by Klamath County tax collector and property manager Rick Vaughn, who said residents had been told that certain amenities would be shut off as the county begins to convert the area to transitional housing.
The Klamath County Board of Commissioners approved the 60-day termination notice by a 2-1 vote by the board with board chair Kelley Minty Morris voting against.
The project, known statewide as Project Homefront, is being led by Klamath County Community Corrections. The RV park and motel was purchased with a $1.8 million state grant awarded to the county in April.
County commissioner Derrick DeGroot said the county hopes to clear the RV park soon so it can start working on the transitional housing project.
"The hope is that this is a reminder that this cannot be your long term option," DeGroot said of the 60-day notice.
Minty Morris said the notice is the latest step for the county, as it works to motivate people on the property to relocate. Once the 60-day time period expires, Minty Morris said the county will revisit its options for clearing the area.
Approximately 13 trailers are still on site. Lueker said he estimates there are about 26 individuals that still need to find a new place to live.
Cassandra West and her mother, Brenda Brown, live across from Lueker. They said they were not explicitly told services would be discontinued.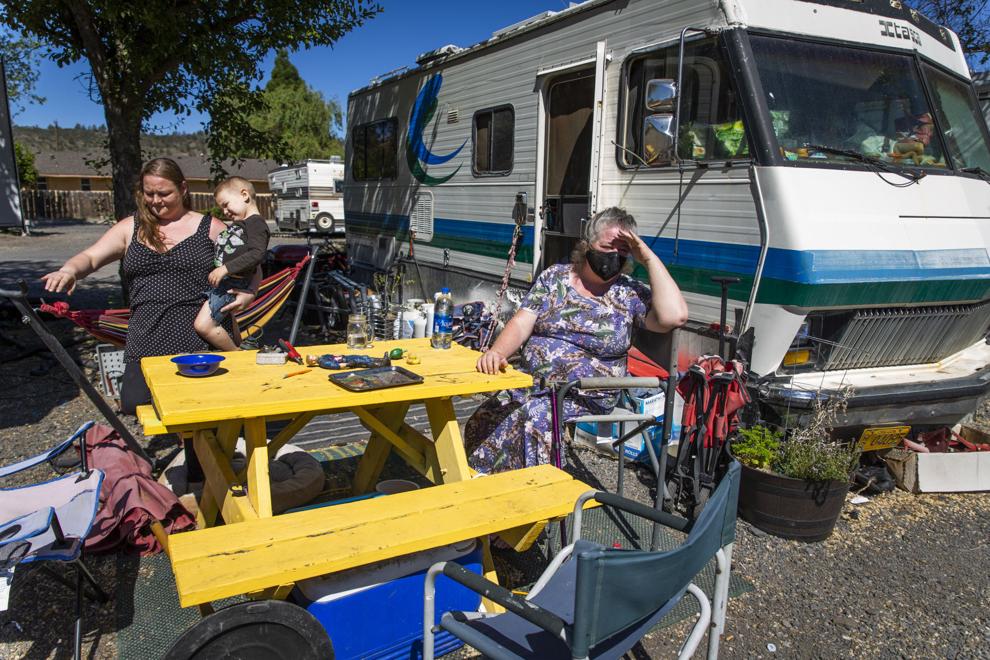 The sudden lack of a place to shower and an internet connection added an extra layer of stress to an already difficult situation for West and Brown. West said she had to bathe her 4-year-old child outside in a kiddie pool, injuring herself in the process.
At one point, the county performed a child welfare check at the RV park, and the social worker who came to check on things was "appalled" to find out there was no place to shower, West said.
The lack of internet also makes it more difficult for people to search for a new place to live, Brown said.
And tenants still have to pay the county rent, despite the lack of services. They were given a $10 discount off the $600 monthly rent that many pay.
"(Those services are) worth more than $10 for us, Brown said. "They are making this a hardship. It's slumlord stuff."
"I don't know how to defend ourselves against bullies of this magnitude," West said. It would have been kinder, "and no skin off their backs," if the county waved rent altogether so they could save money to help with the transition.
"You'd think they'd take more care to be more ethical," she said.
"We are trying to be compliant, but they are just stomping on us," Brown said.
Brown and West are fortunate to have secured land in Bonanza where they plan on building a rammed earth home with solar panels and rainwater collectors.
County Commissioner Derrick DeGroot said there were between 24 and 29 trailers on the property when the county purchased the land. He said the county purchased the property with the understanding that people living at the RV park were in the process of transitioning to more permanent arrangements.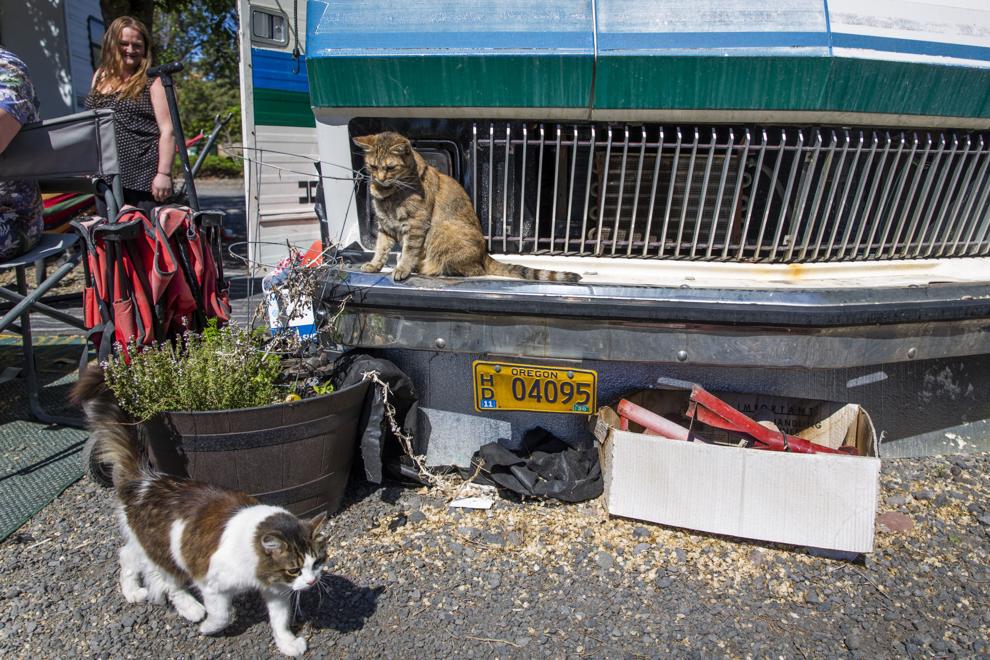 For some, that was the case.
"Most of the residents that have been there have found somewhere else that was a better fit," Minty Morris said. "The vast majority of the people there initially are no longer there."
But Lueker said he has been a longterm resident of the park and many others — like West and Brown — have been, too.
Tracey Jaye, another RV park resident, said she has been at the site for nearly seven years. Trying to get a new place isn't so easy for her and her husband, who are both disabled.
"Every day we are looking," Jaye said.
Jaye said she's been trying to work with the county on getting settled in a new location, but the county isn't "really helping at all."
The county is now faced with the challenge of continuing to work with and provide assistance to the those who remain.
"The housing market is tight, but the only way to get something is to get on a waiting list, so we are trying to encourage people to do that," Minty Morris said. "But there are a few folks who are reported to not be very motivated."
The county has provided residents with resources and technical assistance, Minty Morris said, but she added that at the end of the day, it will take individuals working with the county to find a successful resolution.
Lueker said there are quite a few residents at the RV park who are on disability, others who are in high school and some who work at local gas stations. He believes the county should consider their individual situations before forcing them to leave. He said it will be difficult finding a landlord that will allow him to bring his four dogs.
Residents were given a list of names and numbers for RV parks, apartment rental management offices, extended stay hotels, and resources on how to get on rental assistance and waitlists for public housing.
Currently, commissioners have not formulated a removal plan for the final tenants, Minty Morris said, but added she is still optimistic that people will take advantage of the resources extended by the county.
"We are here to provide them assistance," Minty Morris said. "At the end of the day people can be evicted, landlords have that ability, but we hope it won't lead to that."
Lueker said that he will most likely look for a house once he leaves, but leaving the place he has called home for almost a decade will be tough. Lueker, who spends a lot of time maintaining his lawn and garden, said that he never missed a month's rent and takes good care of the property.
"I guess I'll go when they tell me to go, but I'll say what I feel," Lueker said. "They had no idea people lived here, nobody came over to check it out, they just bought it."