The fringe group of irrigators and People's Rights Oregon volunteers who plan to forcibly open the Klamath Project's A Canal say the law is on their side when it comes to who's entitled to the water in Upper Klamath Lake.
As it turns out, the law may be on many people's sides.
Led in part by irrigators Dan Nielsen and Grant Knoll, the group is operating a "water crisis info center" on a plot of land adjacent to the canal headworks. The red-and-white tent, along with signs criticizing federal water management, are visible from Nevada Street.
The encampment has hosted several speakers, including participants in the 2001 Bucket Brigade and BJ Soper, state assistant for the People's Rights Network who was with Ammon Bundy during his takeover of the Malheur National Wildlife Refuge in 2016. Last Thursday, Soper provided a crash course on the Constitution to about 100 people gathered under the tent.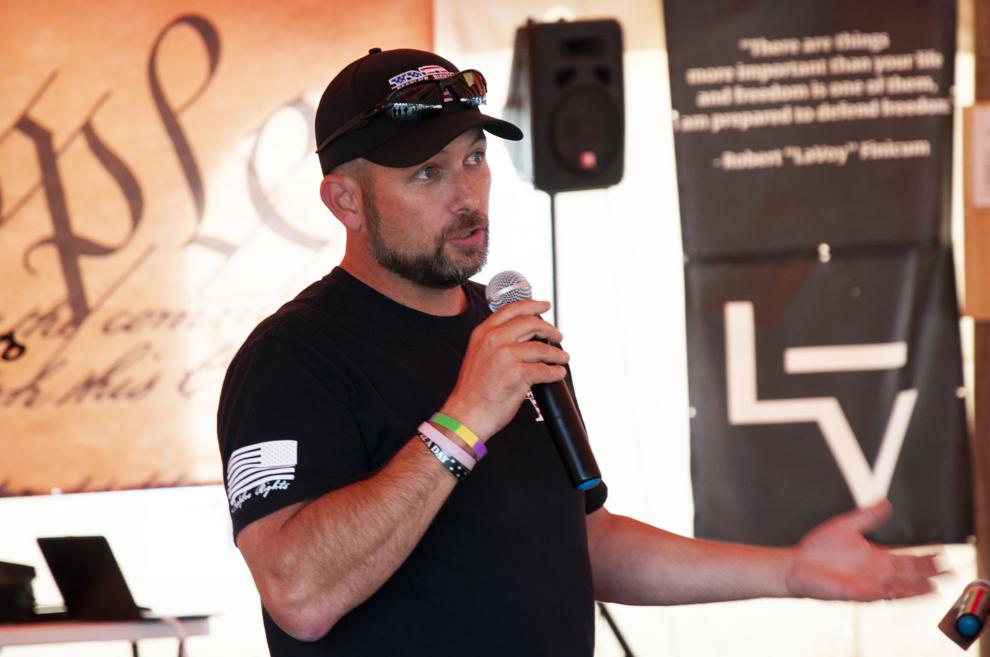 Soper focused on the Fourth and Fifth Amendments to the Constitution, which (among other things) enumerate individuals' protections from unreasonable searches and seizures by the government and from being deprived of property without due process of law or just compensation. He argued that the Bureau of Reclamation, which has allocated no water to farmers in the Klamath Project this year due to unprecedented drought conditions and obligations under the Endangered Species Act, is violating those rights.
"Due process has not happened for you guys here in this valley," Soper said.
The Klamath irrigation project has a right to stored water in Upper Klamath Lake dating back to the early 1900s, though some individuals and irrigation districts within the project have rights that go back even farther.
Oregon water law centers around the "first in time, first in right" doctrine, which indicates that the first user to take water from a stream has priority over those who make later diversions. When there's not enough water available to meet all needs, senior water users can make calls on water to prevent junior users from taking theirs first.
Klamath Irrigation District has successfully litigated in state courts that water stored in Upper Klamath Lake is for the exclusive use of Project irrigators. Irrigators take the position that water currently being released from Link River Dam is not live flow in the Klamath River — according to flow gauges, about 159 more cubic feet per second of water are flowing out of the dam than are entering the lake. Knoll said that means stored water is leaving the lake.
But irrigators have had trouble translating state court rulings into a federal context. Reclamation's lawyer has communicated to KID's lawyer that the water is satisfying minimum flow requirements at Iron Gate Dam on the Klamath River, based on a naturalized flow study irrigators believe is flawed.
"A judge needs to decide where this water goes, not two lawyers," Knoll said. "And I believe that the water should flow to the farms until the judge says no."
Soper told the crowd that, based on the state court cases, the water currently held in Upper Klamath Lake is unequivocally the property of project farmers and that the federal government has unlawfully taken their property from them. He encouraged them to engage in "peaceful noncompliance" to take what court decisions and contracts say belongs to them.
"It's really cut-and-dried," he said. "It really is quite that simple. They're stealing your water. They're stealing your property. So what do you do? You stand up and you take your property back."
But as anyone who has skin in the game in the Klamath Basin can attest, the water issue here is anything but cut-and-dried. There are many varied interests that depend on the watershed, many of whom have their own legal claims to the water.
"There are a lot of moving parts in the basin," said Jay Weiner, ESA lawyer for the Klamath Tribes. "If these things were easy the basin would've solved them by now."
Don't forget the treaties
The most senior water rights in the Klamath Basin don't belong to farmers: They belong to the federally recognized tribes that have lived here for countless generations, their priority dates simply reading "time immemorial." The rights of the Klamath Tribes have been affirmed by the Klamath Basin Adjudication in Oregon, which over the course of nearly 40 years sorted out the various water right claims in the basin. The Yurok and Hoopa Valley Tribes downriver also possess time immemorial rights, but they were not quantified in the Oregon adjudication because their points of use lie in California.
The tribes reserved these rights through treaties with the U.S. government, the legal legitimacy for which is also enumerated in the Constitution (Article VI, Clause 2): "This Constitution, and the Laws of the United States which shall be made in Pursuance thereof; and all Treaties made, or which shall be made, under the Authority of the United States, shall be the supreme Law of the Land."
Rarely has a tribe failed to successfully litigate its treaty rights in court, and that's largely due to this Supremacy Clause. Take, for example, the 1974 Boldt Decision, which affirmed treaty rights for Native American tribes in Washington to fish in usual and accustomed streams throughout the state. The judge in that case looked closely at the wording of the treaties and found that the state of Washington was in the wrong for extending its regulations to tribal members — and that it was actually the tribes who granted settlers the right to fish when they signed their land over to the United States.
When asked about the fact that tribes in the Klamath Basin also have claims to water in Upper Klamath Lake that are legally enshrined in the Constitution, Soper seemed to suddenly adopt the language of negotiation.
"We need to put our differences aside and we need to sit down and talk and understand," Soper said. "Obviously there's differences in opinions in the ownership. How do we rectify that?"
In addition to instream rights in tributaries to Upper Klamath Lake, for which they've made calls on junior users regularly since 2013, the Klamath Tribes possess a right to water levels in the lake itself. The right was reserved for maintaining a "healthy and productive habitat to preserve and protect the Tribes' hunting, fishing, trapping and gathering rights on former reservation land," according to the Oregon Water Resources Department. The requirements are seasonal, varying from a peak of 4,143 feet above sea level in the spring to a minimum of 4,139.5 in the late summer and early fall.
However, the Tribes can't enforce that water right on Project irrigators until the official end of the adjudication, which has moved from its administrative phase (using evidence to determine a list of ordered claims) to its judicial phase (where parties are allowed to contest each other's claims). That could go on for years, due to a stipulation between the Tribes and Klamath Project irrigators that the Tribes would not make calls on Upper Klamath Lake if irrigators did not challenge the claim during the administrative phase.
Still, the right exists and will eventually come into play once the adjudication is complete, giving the Klamath Tribes legal leverage against irrigators.
"There will be a water right enforceable with a time immemorial priority in Upper Klamath Lake," said Paul Simmons, executive director and counsel for Klamath Water Users Association.
The Yurok Tribe also reserved in their treaty the right to fish on their reservation, along with whatever water in the river would have been necessary to support life on the reservation.
"We reserved enough water to support our fishery, domestic use, municipal use, farming, et cetera. Those rights extend to any water source that is available to satisfy that right. It necessarily includes water from Upper Klamath Lake," said Amy Cordalis, Yurok citizen and counsel to the Yurok Tribe. "These are powerful rights and they're not going away."
Following the 2001 irrigation shutoff, irrigators sued the United States alleging a physical taking under the Fifth Amendment. They argued that the federal government had taken stored water reserved for irrigators and used it to provide habitat for endangered fish, and that irrigators were not provided just compensation in place of their water. The litigation lasted nearly 20 years before a federal court ruled against irrigators and the Supreme Court denied to hear the case last year, allowing the lower court ruling to stand.
Lawyers in the basin largely agree that a big part of what sunk the "takings" case was the existence of more senior, tribal water rights.
"The court said that 'Irrigators, your property wasn't taken, because your right is junior to water rights of the tribes, and those tribal water rights must be at least as much water as the ESA, so really you didn't even have a right to that water,'" Simmons said.
Simmons doesn't believe that's the final word on the matter, though, because irrigators hope to challenge the tribes' assertions that they need as much water as is reserved in their rights to protect their fisheries. That centers on the concept of beneficial use: You may have an instream water right, but you have to prove it's satisfying a specific need in order to exercise it. For tribes in the basin, that means proving in court that lake levels and river flows do contribute to the survival of their fisheries.
"It would be what's called an expert case with expert opinions," Simmons said.
Tribal lawyers still believe the takings case was a pretty definitive affirmation of the existence of tribal water rights. Noe doesn't think dragging up the same legal argument again will work in irrigators' favor.
"The irrigators had the same idea in 2001, that it was their water. Throughout most of the [takings] litigation, they maintained that same view. I don't think they could conceptualize that it wasn't theirs," she said. "They had their chance to litigate the issue, and the courts ruled on it. They couldn't prevail because of the senior tribal rights."
Cordalis said the Yurok water right also played a role in the outcome of the takings case, despite the fact that it hasn't been quantified. She sees that case as an affirmation of her tribe's water right.
"We have to look comprehensively at all of the water rights and be able to basically live within that system," she said. "All of the people who rely on water in the Klamath Basin are connected and related and somewhat dependent upon one another."
Endangered Species Act questions remain
Currently, Reclamation maintains lake levels and flows to keep endangered C'waam and Koptu (Lost River and shortnose suckers) in Upper Klamath Lake and threatened Coho salmon in the Klamath River from going extinct, not to produce healthy and productive fisheries as outlined in the Tribes' water rights. Sue Noe, a lawyer with the Native American Rights Fund who represents the Klamath Tribes in the KBA, said ESA protections were thought of as a "backstop" in place of the Tribes' Oregon water rights.
"They knew the ESA would still be there, and there would be some minimum protections for the species. Even with the stipulation existing, that's still there," Noe said.
By-and-large, irrigators believe the federal government is overstepping its bounds when it comes to implementing the ESA, and that Reclamation doesn't have the right to use water stored for irrigation to satisfy lake level requirements or downriver flows. They petitioned the Trump Administration's Department of Interior to conduct a legal review of Project contracts and ESA language, and Interior released memos in January largely supporting their viewpoints.
However, Interior Secretary Deb Haaland withdrew those memos shortly after assuming her position.
At a meeting with farmers and ranchers Thursday, U.S. Representative Cliff Bentz (R-Ontario) said he's not sure whether still having the memos in place would have resulted in a different outcome for Project irrigators this year. But after reviewing the legal opinion and speaking to Secretary Haaland about it "at length," he said he believed she wasn't breaking any rules by pulling those memos out of play.
"When the new administration took over, there were certainly grounds in the law to reverse the position," Bentz said.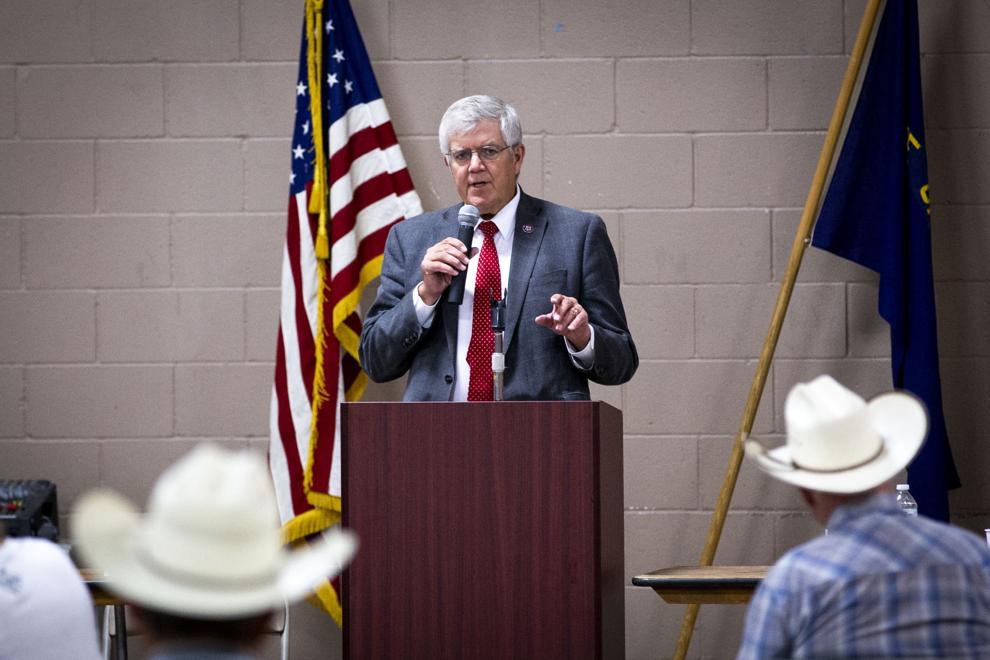 Instead, Reclamation's authority under the ESA will likely have to be litigated through a lawsuit brought by the Yurok Tribe in the U.S. District Court of Northern California against the agency several years ago, currently stayed in court, which Klamath Water Users Association is filing to reopen. Irrigators hope it will provide more clarity on how Reclamation can operate under the ESA.
"There's good arguments going both ways," Bentz said.
While Bentz agreed that Oregon courts have found that irrigators have a right to use stored water in Upper Klamath Lake, he said the ESA "primes" that right. That's based again on the Supremacy Clause, which says that the Constitution, treaties and federal law trump state laws in most cases.
OWRD, which is charged with managing Upper Klamath Lake, has also issued directives prohibiting Reclamation from releasing stored water for purposes other than irrigation. But it has said that its orders don't preclude the agency from fulfilling obligations of federal law.
"The federal government is within its scope of authority to enforce its assertion that federal law primes state law," Bentz said. "This is not as clear as I'm sure the Bureau would like, but surely there's precedent for them taking this position."
Bentz said he has asked Secretary Haaland and Interior's general counsel several times if the lack of clarity in the ESA situation meant that Reclamation could provide at least some water to irrigators this year.
"The answer was, 'We're going to get sued,'" he said.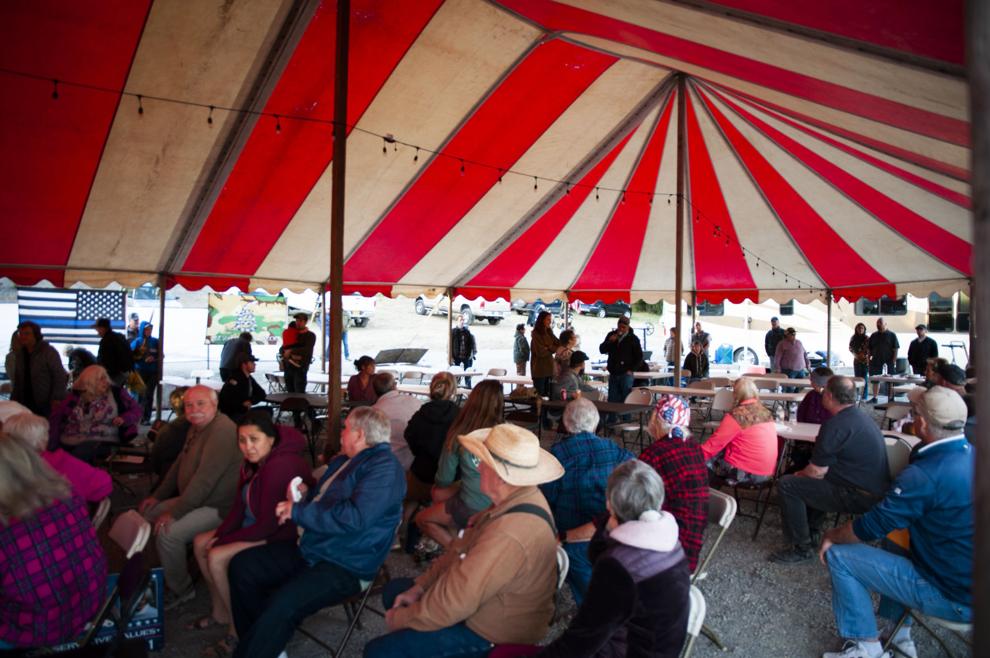 Bentz acknowledged the people at the headgates who intend to take matters into their own hands and take water they believe is rightfully theirs. He said that complicates things and that illegal activity won't bode well for his efforts to acquire more disaster relief from Congress for communities throughout the basin — roughly $40 million of which would go to irrigators.
"I would counsel against that for two reasons: One, I think you'll end up in jail. And two, It's going to hurt my ability to get money for this basin," Bentz said.
Bentz said the efforts of Senators Jeff Merkley (D-Ore.) and Ron Wyden (D-Ore.) to acquire $10 million for drought relief in the basin several years ago required approval from all 100 senators. If there's violence at the A Canal headgates, the Congressman said federal representatives would be hard-pressed to get every senator's name on the dotted line again.
"In politics, you never really know what's going to affect people, but the general thought was that (direct action) would not help," Bentz said. "I think the patience for anybody right now stepping over the line in a protest situation, given what happened at the Capitol on January 6, is probably pretty limited."
Bentz emphasized that he's all for peaceful protest, but he does not support trespassing on government property or engaging in violent behavior.
"I want them to understand that there'll be consequences and they're far beyond just themselves going to jail. I don't want the bigger community hurt," he said.
Despite the fact that the two irrigators at the headgates don't support a settlement similar to the KBRA, Bentz said negotiations are the best way forward. Legal issues can be cleared up in court, but communities have to compromise if they want to live with each other and share water long into the future.
"This situation has reached a point where we need a long-term solution, and everything we do now is going to be brought to bear in trying to get to a long-term solution," Bentz said. "I think everybody's worn-out from paying lawyers."
'Writing us out of the whole story'
In an interview with Talking Points Memo, Ammon Bundy dismissed the legitimacy of other claims to water in the Klamath Basin, referring to them as "liberal talking points that are there, designed to literally strip the people of their rights and to put the power in the government's hands."
For Cordalis, the erasure of tribal rights to water in the Klamath Basin is not only short-sighted — it's a remnant of colonialism and leads people to believe that the basin's original inhabitants no longer live here.
"You're writing us out of the whole story, and that is unacceptable," Cordalis said. "I should not have to say that I am still here and I have water rights."
Weiner, the Klamath Tribes' ESA lawyer, said the federal government has promised too much water to too many people, and that tribes know all too well what it's like for the United States to walk back its promises.
"The promises that the federal government made to the Klamath Tribes were made first and disregarded for longer," Weiner said. "At this point the balance seems to be changing."
Some tribal members feel there's a double standard associated with some groups that assert the Constitution as the arbiter of what's moral and legal in the United States, while conveniently leaving out the fact that the same document also obligates the U.S. to uphold its treaty obligations to sovereign tribes.
"Treaties are the supreme law of the land, and our rights flow from that. They are property rights," said Klamath Tribal Chairman Don Gentry. "They are what we reserved. We were never given those rights — we reserved those rights through treaty. Just to dismiss those as liberal talking points that just kind of stand in the way...is really puzzling to me when I think about these folks that want to stick up for the rights of individuals."
Frankie Myers, vice chairman of the Yurok Tribe, said he's all for upholding the Constitution — but that the folks at the A Canal headgates would be in for a rude awakening if the United States actually upheld the part of the document that concerns tribes.
"First in time, first in right is a sound principle. I think the federal government should uphold senior water rights," he said. "So besides their racist twist to it, I would say I support the basic logic of what they're saying."
Despite Soper's truncated lesson on the Constitution, the situation for anyone in the Klamath Basin is not quite as simple as "we own the water, so we can take it."
There may be arguments about how much water the tribes actually need to support their fisheries, and that's an ongoing debate in both the river and the lake. But Cordalis said while one side can win in a courtroom, all sides have to come together outside that room to share water in the Klamath in the long-term.
"There's not a future where it's all one or the other," she said. "It's a future where we reconcile our racist history and bring balance and equity to this basin."
Myers said he thinks those on all sides who have been involved in civil negotiations over water in the Klamath Basin know where each other is coming from, and that they're not interested in disregarding anyone's rights or histories.
"No one is fighting in the basin for the complete destruction of each other's communities. And I think people like Ammon Bundy don't understand that concept and they are choosing which pieces of history to acknowledge and what truths to really uphold," he said. "That type of rhetoric really leads to atrocities."