Nestled below rocky outcroppings dotted with junipers on the eastern shore of old Tule Lake, John Prosser's 97-acre homestead at Bloody Point is a haven amidst the chaos of the Klamath Basin water crisis.
Prosser, a history buff, purchased the property last fall, its fields having sat largely fallow for years despite the presence of a private irrigation well. By August, the field's newly planted stand of alfalfa was busy rebounding after its first cutting — a rare sight of green in the Klamath Project this year.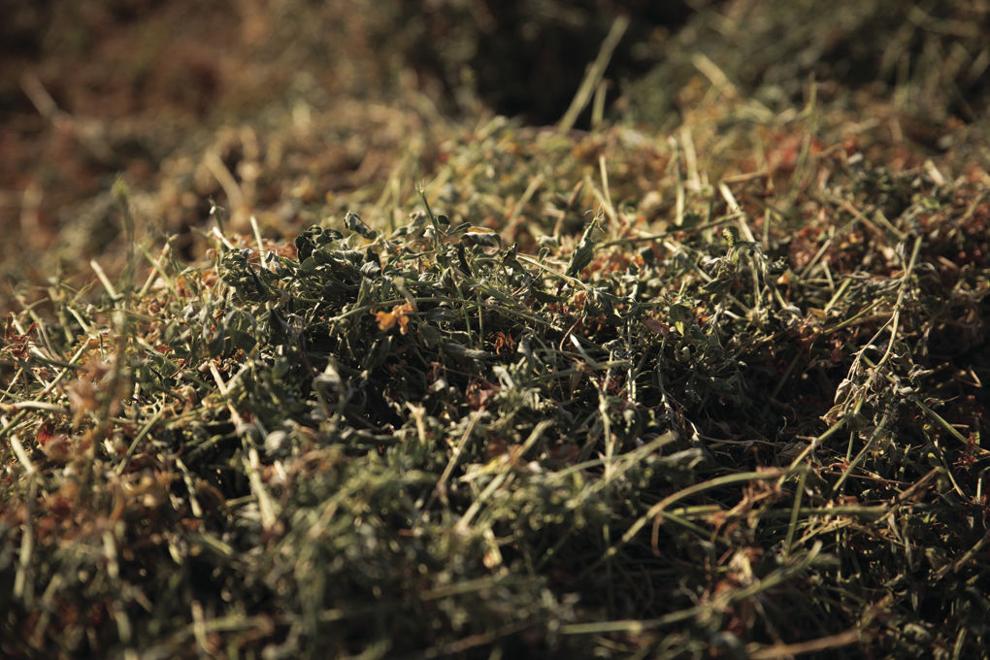 The property is steeped in history, named for the site of deadly fighting between Modoc people and settlers passing through the Klamath Basin on the Applegate Trail in the mid-19th Century. Rock piles still present near an old barn kept Modoc canoes sunken near the shore of the massive lake during winter.
For Cody Dodson, Prosser's nephew, the Old West intrigue is only part of the appeal. Relying on a well instead of surface water gives him a taste of the flexibility Klamath Project farmers felt before irrigation curtailments began in 2001.
"This is what's been keeping me sane over here," Dodson said. "It's the only time I get to irrigate whenever I want."
Because it lies on the shore of the old lake, the Bloody Point property's sandy soils don't hold moisture as well as Dodson's lakebed fields to the southwest. But he's been able to nurture the new alfalfa stand he planted in May with as much water as it needs, whenever it needs it.
The situation has been much different this summer for Dodson's fields that rely on surface water from Upper Klamath Lake. With that allocation reduced to zero for the first time in the project's 110-plus-year history, Tulelake Irrigation District has been able to provide roughly 30,000 acre-feet of well water to its patrons. The district expects to turn off the wells in mid-September.
Each user in the district received an allocation of half a foot of water per acre for the entire summer — about a sixth of what the federal government promised most homesteaders in their deeds.
While that forced Dodson to slash irrigations on his grain, consolidating what little water he had to squeeze out three cuttings from his alfalfa fields, he knows he's one of the lucky farmers in the project this year — he hasn't had to idle any land as part of the Klamath Project Drought Response Agency, as producers in other irrigation districts without access to groundwater have had to do. And he and his neighbors' domestic wells are still holding, when as many as 200 residents in the project footprint have endured a summer without running water in their homes.
"We feel very grateful to be able to have what we have, because I know 100% there's other people who have not had that much," Dodson said.
Still, an already tough job turned tougher this summer. Heat waves in June and July toasted Dodson's grain hay (he'd irrigated early and made a gamble on spring rain, which never arrived), and he was just barely able to harvest and sell it at half its typical yield. But at least it kept the soil together and prevented dust devils, he said.
"[The heat] was just microwaving it," Dodson said. "It's not supposed to be like that here."
The alfalfa fared better, but Dodson said the watering schedule was more chaotic than normal. Once he makes a cutting on an alfalfa stand, he typically puts an order in with TID for a water delivery and starts running the field's wheel lines the next day. In addition to aiding plant growth and moistening the soil, the water helps the hay recover from the stress of cutting.
This year, because of bottlenecks in water demand, orders to TID backed up to the point where Dodson had to wait nearly two weeks for some water deliveries. That meant two of his fields went almost 90 days without water during the hottest part of the summer, when the cutting schedule typically calls for water every month. Still, Dodson was impressed at the district's ability to move water in creative ways to minimize harm on all fronts.
"TID did a great job getting water to their patrons in a year where it was dire need," he said. "If we had to do this ourselves, this would turn into the Wild West in a second."
Though the dryness and irregularity may have actually increased the quality of the alfalfa, Dodson said it significantly reduced the yield — by roughly half on the properties with the largest gaps in irrigations.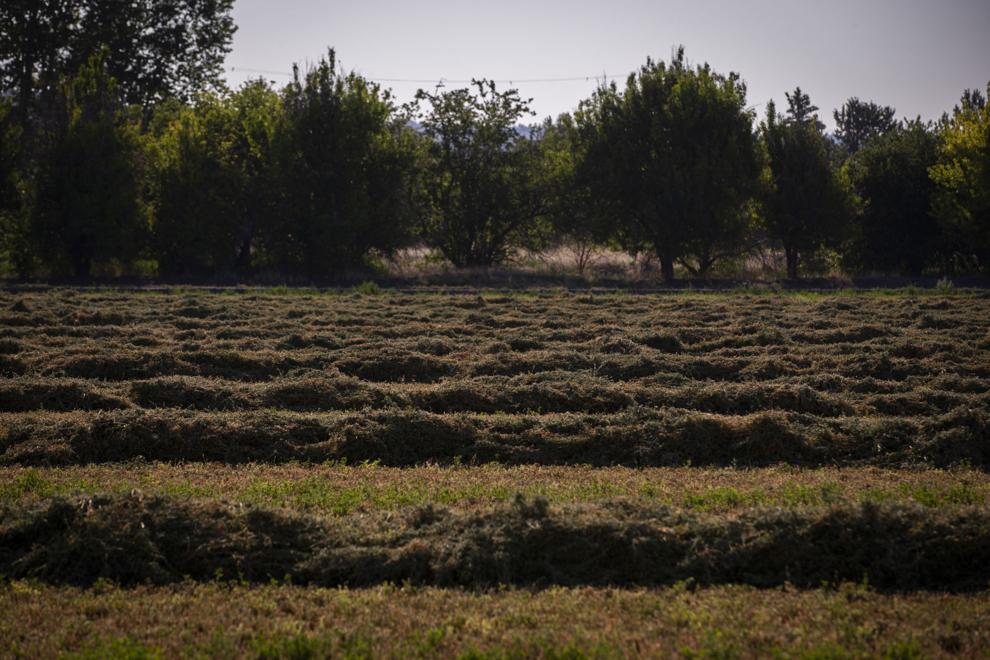 Dodson is used to 20-hour work days during cutting weeks, returning home from the fields only for dinner and a quick nap before heading back out after midnight to rake. His first cutting in June overlapped with Father's Day, causing him to celebrate it a week late with his wife and two young sons. But they understood — that's part of the job.
What the water situation did was add another layer of chaos onto an already demanding job, Dodson said.
"Normally, it's just like clockwork. Not anymore. We're just winging it now," he said.
One of the summer's silver linings came from the skyrocketing price of hay. With drought impacting almost the entire region, pasture irrigation was hard to come by, and demand for feed jumped a season before normal. Some California dairies, which Dodson supplies hay to, even replaced their alfalfa stands with less water-intensive orchards to diversify.
Though a thorn in the side of Western ranchers, Dodson thinks the hay market may seriously improve his financial outlook from the spring. He's also looking forward to drought relief payments from the U.S. Department of Agriculture, which should help recoup some of his costs for operation and maintenance of the Klamath Project that irrigators are required to pay regardless of whether they receive surface water from the Bureau of Reclamation.
"Now we'll break even, which is cool, but why can't we get ahead?" he said. "I'm a young guy — I want to gain. This would be my year where I could stuff my retirement or put my kids' college funds away, but now I just have to hold on and try to hit it next year."
Dodson is done irrigating now — but not on the Bloody Point property, where he still gets a taste of how his dad and uncle have taught him farming in the Klamath Basin should be. Some fall rain might give him a fourth alfalfa cutting on a few of his home parcels, but Dodson knows better than to hedge any bets on the weather.
"I banked on rain in April — remember that?" he laughed. "It never came."