As Valentine's Day approaches this weekend, not all lovebirds in the Klamath Basin are human.
Each winter, bald eagles — in pursuit of good meals and life partners — gather in the hundreds on the Klamath Basin National Wildlife Refuges. And mid-February is the best time to observe them.
East Cascades Audubon Society has been conducting raptor surveys once a month every winter for more than 15 years throughout Oregon, Washington, Idaho and Northern California.
According to the program's data from all survey locations in the region, the share of bald eagles as compared to other birds more than doubles between December and February, from 6.2% to 13.1%.
In the Klamath Basin specifically, ECAS's monthly surveys have counted as many as 248 eagles in one day near Tulelake — more than any other survey area.
Eagles nest throughout the Basin, particularly along the western shore of Upper Klamath Lake, said local birder and Klamath Basin Audubon Society member Kevin Spencer. But they descend onto the refuges when migrating waterfowl return around the end of January.
"The waterfowl come back the third week of January, and then the bald eagle numbers really mushroom," he said.
While eagles mostly fish throughout the warmer months, waterways can freeze over during the winter and fish become less active, holding toward the bottom of lakes and rivers. So the birds of prey become scavengers for a few months, preying on weak, injured or dead birds wintering on small patches of shallow, open water.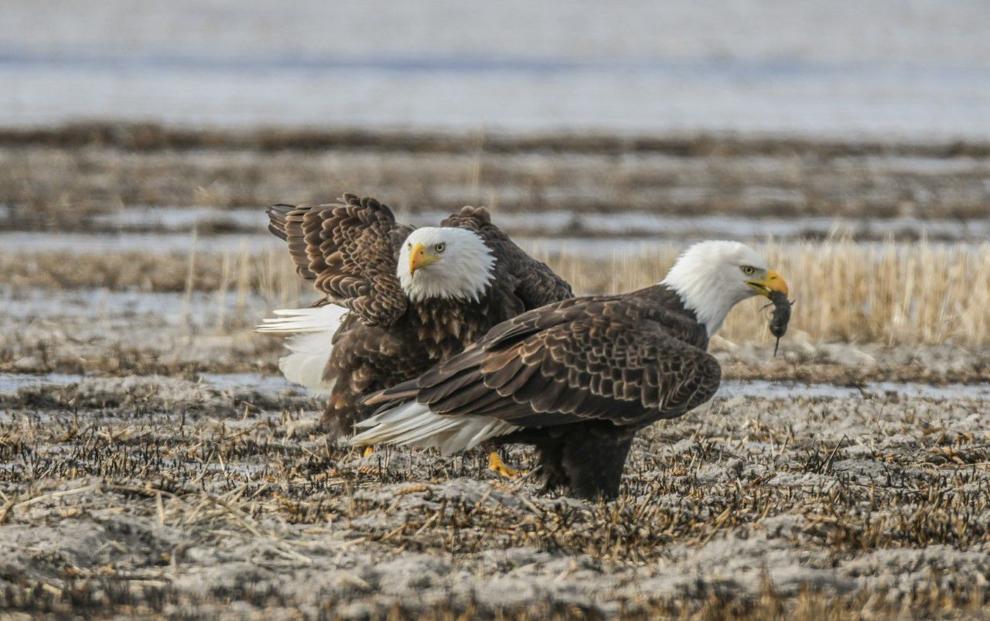 Spencer said those birds would be tougher to catch in the summer months, but the partial freezing of wetlands and open water on the refuges forces them closer together, creating an eagle buffet.
Younger eagles that reach adulthood are on the lookout for more than their next meal: a mate. It's a big commitment, as bald eagle pairs mate for life.
The birds' courtship ritual adequately communicates the stakes: A pair will chase each other into the sky, lock talons and freefall, cartwheeling as they hurtle toward the ground until they break apart at the last second. Chocolates and flowers it ain't, but it seems romantic enough for the eagles.
"It looks like they're having a fight," Spencer said.
Once a pair is done dancing, they get to work building a massive nest to raise their young in. Some nests, made of sticks, branches, pine needles and other plant material, can weigh several tons. They then get to work producing eggs (between one and three a year, Spencer said) to lay in the spring.
Spencer said existing pairs of eagles like to rekindle their relationship each winter, performing the courtship dance again and adding more material to their nests, especially when the weather is good.
"On nice days they're like humans," he said. "Spring fever kind of sets in."
Mild February temperatures are making it a little more difficult to encounter large eagle congregations, as less water is frozen and the birds' prey are more spread out, according to U.S. Fish and Wildlife Service Spokesperson Susan Sawyer.
"With so much open water right now, it may be hit or miss to find eagles in the Basin," she said. "However, that could all change as winter storms arrive and open water freezes."
Outside the refuges, Sawyer said some roosting eagles may be found along the Wingwatchers Trail, on the western shore of Lake Ewauna, accessible from Veterans Park in downtown Klamath Falls. The trail has a tall, white, leafless tree installed as an eagle perch. There may also be opportunities to see the birds on a drive through the Wood River Valley, she said.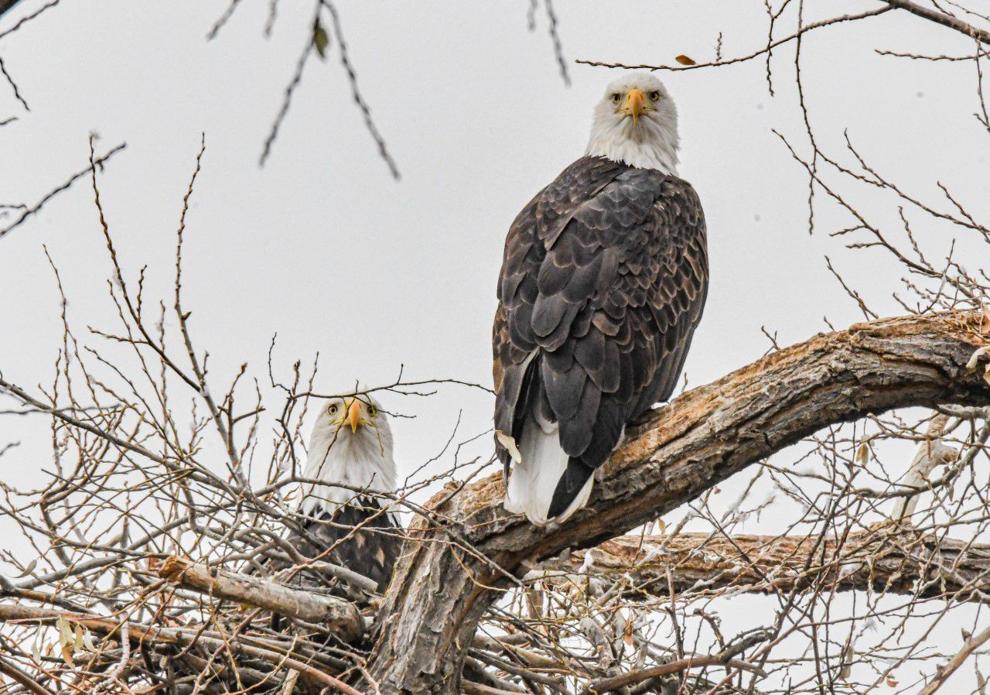 This year, following an exceptionally dry summer that saw sparse water deliveries to Lower Klamath and Tule Lake National Wildlife Refuges, birders are more likely to observe eagles at the latter, which still has enough water to support the eagles' prey. Lower Klamath, which had one of its permanent wetlands drained due to last summer's historic botulism outbreak, isn't hosting raptor numbers as large as it has in previous years.
Field trips to observe the eagles are normally a highlight of KBAS's Winter Wings Festival, which was cancelled this year due to the COVID-19 pandemic. But birder and KBAS member Molly Russell said the eagles haven't gotten the memo: Earlier this month, she counted 150 of them while driving along Tule Lake's auto tour route.
"It was the most I've probably ever seen in one spot," she said.