Every late spring, blue-green algae sprout up throughout Upper Klamath Lake, marking their territory with fluorescent blooms and a pungent smell.
For some, it is a safety hazard for humans and pets that will leave a harmful impact on the natural environment. Others fear the misinformation that spreads as fast as the single-celled plant, keeping the lake from reaching its potential as a destination for water recreation. There are even some who look at the centuries old species and see dollar signs.
Blue-green algae are some of the most primate life forms and have been used for food and medicinal purposes. Although they are found around the world, the available nutrients and high temperature make the largest body of fresh water in Oregon a nexus for algae growth. The Upper Klamath is a eutrophic lake, rich with nutrients that allow organisms to flourish. Over time, though, decaying organic material uses the available oxygen, making these lakes "dead zones."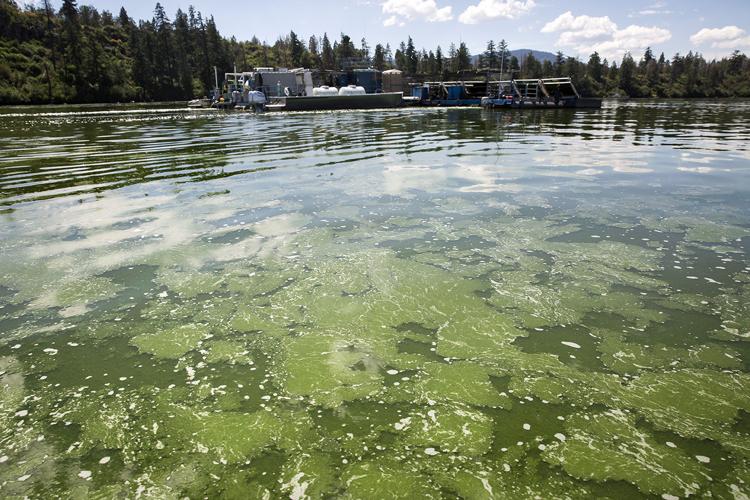 "I've often heard that our system is a reverse system in that it's kind of dirty to start with and it cleans itself as it moves towards the ocean..." said Mike Hiatt, Oregon Department of Environmental Quality natural resource specialist.
"Normally, you see a river bubble out of the mountain. It's clean. It's pristine, and it kind of works its way down, and then you have other influences. But we're at the top of the watershed... and therefore, there's a lot of catching up it has to do before it gets to the ocean."
In fact, "algae" is a misnomer used when referring to the two types of prokaryotic photosynthetic bacteria, known as cyanobacteria, most commonly found in the Klamath Lake: Aphanizomenon flos-aquae (AFA) and Microcystis aeruginosa, often shortened to Microcystis.
AFA is the more prevalent of the two, and the algae look like grass clippings or strands. When it blooms, it can cover a whole surface of water in a slick layer resembling pea soup. While it is not the most aesthetically pleasing, it presents no health risks.
A toxic bloom
Microcystis, on the other hand, has the potential to produce a toxin known as microcystin when it blooms, which is usually later in summer than AFA.
Although these toxins are contained within the cyanobacterial cell, they are often released when these cells begin to die and open.
The health risks of coming in contact with microcystin are serious and include abdominal pain, headaches, vomiting, diarrhea and liver damage.
They are especially damaging to pets, particularly dogs, who have less of a tolerance for the toxin and are more likely to ingest water and algae.
It should be noted that even though algae can become the dominant organic materials in their environment, the size of the bloom doesn't determine the level of toxin. In addition, when humans and animals experience adverse health effects, it can be be difficult to pinpoint the source of the microcystin.
Consequently, the Oregon Health Authority advises not entering or consuming water where a bloom is present. To detect a harmful algae bloom (HAB), look for water that is "foamy, scummy, thick like paint, pea-green, blue-green or brownish red." When fishing, it is important to remove from the catch all fat, organs and skin before cooking, as the microcystin can be stored in fatty tissue.
A coordinated effort
To monitor toxic blooms and the baseline conditions of the water, the Klamath Basin Monitoring Program (KBMP) brings together 25 partner organizations, which together, test almost 1,000 locations in Oregon and California for more than 60 parameters.
"The Klamath is a large and complicated watershed," said Randy Turner, KBMP coordinator. "It crosses state lines. It has multiple regulatory agencies in charge in different sections, and the Klamath is nutrient impaired, so the algae blooms that occur do pose a risk to public and environmental health. With the magnitude of agencies and other organizations involved in monitoring, it makes sense to have a coordinated effort."
The program connects government agencies, Native American tribes and other invested parties to better understand the basin's water quality through developing a monitoring plan, mapping collection sites and sharing data.
Local hotspots
As a natural resource specialist with the Department of Environmental Quality, a KBMP partner, Mike Hiatt samples five public access locations around Klamath County every two weeks.
"So the idea is to keep the public safe and keep the public informed of where they are going into the water," said Hiatt, whose test sites are near Moore Park, the Topsy Reservoir, the Eagle Ridge County Park campground and the boat launches at Keno Park and Howards Bay on Highway 140.
Hiatt's samples, and those of other monitors, are tested to determine algae type, mostly AFA or Microcystis. If it is Microcystis or another toxic algae, the toxin level per microsystem is tested. The Oregon Health Authority releases an advisory for toxins over 10 micrograms per liter. California has a tiered system, with posting levels at above .8, 6 and 20 micrograms per liter.
As of this printing, an advisory is in place for Odell Lake in Klamath County, and there are advisories for Drews Reservoir in Lake County and Lake Billy Chinook in Jefferson County. Algae was also in the news earlier this summer when a toxic bloom in Lake County killed 32 cattle.
This was a private reservoir and therefor not tested, but Turner said that despite the increased monitoring effort, there are still challenges given the size of the watershed and testing costs. Most samples are sent away for testing. While the Environmental Protection Agency covers microcystin, other lab analysis for toxins can cost hundreds of dollars per test, according to Turner.
It can take up to two weeks to yield results, and during that time, it is possible that people and animals unknowingly come in contact with potentially toxic algae. This is why Turner recommended, "If it looks green, if it looks like a scum, it's probably best to avoid water contact."
A larger impact
Turner said that in the past, data collection was less organized and there was a lack of communication between partner organizations. Now, he said, KBMP not only facilitates an open discussion of what data is gathered, but also gets "to the core of the issue rather than implementing what I call Band-Aid programs."
In addition to monitoring the algae, KBMP is interested in the root causes of the organism's dominant presence in the region. The sediment in Upper Klamath Lake is naturally rich with phosphorous, which enters the water column through a yearly cycle. The phosphorous as well as available nitrogen and warmer water temperatures in the spring and summer create the ideal conditions for algae to prosper.
Although the algae have been in the lake for millennia, they do have negative impacts on the environment. Because algae are so dominant, they can drastically shift water quality parameters even in the course of a single day. According to Megan Skinner, an ecosystem restoration scientist with the Klamath Tribes, the photosynthesis that occurs during the day as part of a large bloom can affect pH, making the water more alkaline.
When algae blooms begin to die off, they release the previously mentioned phosphorous and nitrogen back into the water. In addition, during this period, dissolved oxygen concentrations can decrease.
"It [the algae] is consuming oxygen and taking it out of the water, and that leaves oxygen levels at a concentration lower than other aquatic species can handle," said Skinner.
Skinner highlighted the impact of shifting pH and dissolved oxygen and nutrient levels on fish, particularly salmon, Redband trout and Shortnose and Lost River suckers, both of which are considered endangered species by the U.S. Fish & Wildlife Service.
She said that her team has regularly seen dissolved oxygen levels go down to two milligrams per liter, "which means the entire water column in that location is at a minimum stressful for those fish species," said Skinner. "At the most, it could potentially be lethal."
Skinner added that the algae isn't the only factor influencing fish populations, with the loss of habitats also playing a large role.
"What we often say is that it's like death by a thousand cuts because there are many chronic and acute stressors that could potentially be leading to mortality," said Skinner.
A changing landscape
Significantly, she also said "AFA isn't present in the sediment record until about the turn of the century. So prior to European settlement, AFA really wasn't here. So there's certainly a correlation there."
The impact of agriculture on the enviornment is backed by data from the Bureau of Reclamation and the United States Geological Survey.
According to the Bureau of Reclamation's Long-Term Water Quality Monitoring Program in Upper Klamath Lake, Oregon report, "The most significant changes in the basin during the 20th century were the result of agricultural modifications," particularly the draining of marshes, the elimination of riparian vegetation and agricultural runoff of phosphorous and nitrogen. Although, agriculture is not the only factor impacting blue-green algae levels.
"We have a natural volcanic legacy, so naturally within our soils, we have available phosphorous," said Mike Hiatt. "So say we have a huge snow on rain event, we have a lot of settlement that washes down into the lake basin. All of that settlement settles out and then you have available nutrients that are stored in the lake. You have additional input from agriculture and other disturbances that also kick up settlement."
Dr. Wayne Carmichael, an early researcher on toxin producing cyanobacteria, highlighted that the algae also fix atmospheric nitrogen.
"So nitrogen can be limited, and they (algae) can flourish because they fix that nitrogen and make their own nitrogen compounds," he said. "It (the Upper Klamath Lake) has been a nitrogen limiting system, but phosphorous has always been in abundance."
In contrast, he said, he has paid attention to other cyanobacteria, especially Microcystis, because it is not a nitrogen fixer, "so when it dominates in a system — which it does in many lakes and reservoirs in the United States — it's an indication that nitrogen enrichment has taken place."
Various groups, including those connected with the monitoring program, have conducted restoration efforts in the region to improve water quality, although many of these projects take time to show positive impacts.
"What we talk about for targeting solutions is recovery of process and function within the ecosystem, and that just takes time," said Megan Skinner with the Klamath Tribes. "It takes trees growing and grass growing and the river building a new flood plain and things like that."