This summer, anyone driving through Klamath Project land will likely pass by many empty fields, left fallow after farms received only 40 percent of their required water allocation this year.
But one piece of idled land is blooming with 2,000 white crosses.
Just off Highway 97 outside Midland, the field and the 365-acre plot of land it sits in belong to the Scala family, who have been farming here since the early days of the Project. Neatly arranged in rows and peppered with American flags, the wooden crosses resemble a memorial or cemetery.
But for farmers in the Klamath Basin, this field is a reminder that the Project's water allocation system needs to change.
Scala's great grandparents came from Italy in 1910 and homesteaded the property to raise dairy cattle. After his great grandfather passed away, his grandmother kept the ranch going while finishing school and looking after her brothers and sisters. She took it over when she got married, making it through the Great Depression without owing a penny on the land. Scala's father and now, Nick Scala himself are seeing the ranch through another challenging time.
Scala said the field brimmed with hay last year, which fed his more than 110 cows. He planned to plant hay again this spring, but when the Bureau of Reclamation amended the year's already low 140,000 acre feet allocation to 55,000 acres in early May, he held off. The original water allocation figures were later restored by the Department of the Interior, but not before some difficult decisions had to be made.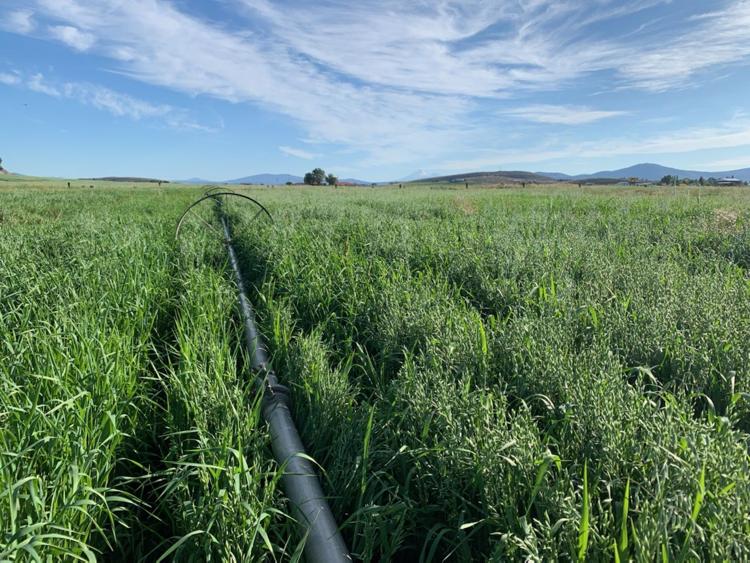 "They came out and said, 'No water,' so we had no choice but to let it sit idle," Scala said. Now, he'll have to buy hay and downsize the herd while still having to pay the Klamath Irrigation District for water he won't use for irrigation.
Though the land would remain fallow through the summer, it soon became the site of a renewed effort by irrigators to call attention to their water issues.
The field of crosses was the destination for the "Shut Down and Fed Up Rally" on May 29, which protested the Bureau of Reclamation amending this year's water distribution after crops were already in the ground and farmworkers were already hired.
The rally was intended to catch the attention of President Donald Trump's administration, and it worked. Less than two months later, Interior Secretary David Bernhardt and Bureau of Reclamation Commissioner Brenda Burman stood across from those very same crosses, ensuring ag leaders that they were listening.
Bob Gasser, owner of Basin Fertilizer & Chemical Company and one of the rally's organizers, said the display represents farmers in the Basin who stopped farming because of the 2001 water shutoff — and the farms that would have gone under this year if 2020's 140,000 acre feet allocation had not been restored.
He and Lexi Crawford, a junior vice president at Gold Dust & Walker Farms in Malin, wanted to set up something that brought attention to irrigation issues in a dry field that could be seen from the highway.
"We wanted it to be something significant like the Bucket Brigade," Crawford said. The Scalas' field, right off Highway 97 and left idle because of this year's particularly low water allocation, did the trick.
"When people see something like that," Gasser said, "they look."
Scala said his family was all for hosting the crosses as a way to contribute support. In the fall, Gasser and Crawford will remove the crosses so Scala can try growing oats or alfalfa there. Next spring and summer, he hopes he'll be able to irrigate it.
"We can't just let the ground blow away," Scala said.
Though ag community leaders say the crosses are not intended to represent death, Gasser pointed out that, in a way, they could also be seen as a memorial for the endangered suckers whose populations in Upper Klamath Lake and its headwaters continue to struggle.
Crawford said there's been an evolution in the irrigators' messaging about the fish: While the 2001 Bucket Brigade pushed for a reform of the Endangered Species Act that protects the fish, negotiations throughout the past two decades like the Klamath Basin Restoration Agreement have focused on benefitting all stakeholders in the basin.
"There's enough momentum and enough people trying to solve the problem that we could get a permanent solution that could help everyone," Crawford said. She and Gasser plan on setting up signs along the highway near the field that says "Bad science kills fish and farms."
For Crawford, the Interior Secretary and Reclamation Commissioner visiting the cross-dotted land was a huge show of support.
"Their feeling the importance of coming out to visit us and set foot on an idled field in our basin is everything," she said.
Scala is also the head of the Diesel Program at Klamath Community College, teaching students about farm equipment so they can get jobs that depend on an agriculturally-productive basin. He said he's in this fight for the next generation.
"The community is looking out for our future farmers, the people that we're handing this down to," he said. "We're doing the fighting and the rallies for them."