Twenty-three-year-old Hayden Palm describes her battle with Merkel cell carcinoma as knowing you are going to die in a car crash months before it happens.
In the two years since she was diagnosed with the aggressive cancer, she met the love of her life and got married, started a blog that reaches hundreds of thousands of people around the world and planned her death with her family.
"Not many people get to talk about and see their family go through grieving your death, because for most people, it's immediate," said Hayden. "So it's actually been really healing for everybody to be able to talk about it and grieve together. We've come to the other end, and for us, I'm going to heaven.
"For me, I don't know how people do it and just think they are going to turn to ash because this life isn't that great. I look at my life and I look at the last two years and think, 'This was it?' If this was as good as it gets, I would be really disappointed because it's been a pretty crappy two years.
"But having the hope of heaven and having the hope of no more suffering and also knowing that I'll see my family again has been life-changing in facing death and facing my own death."
A rare disease for young people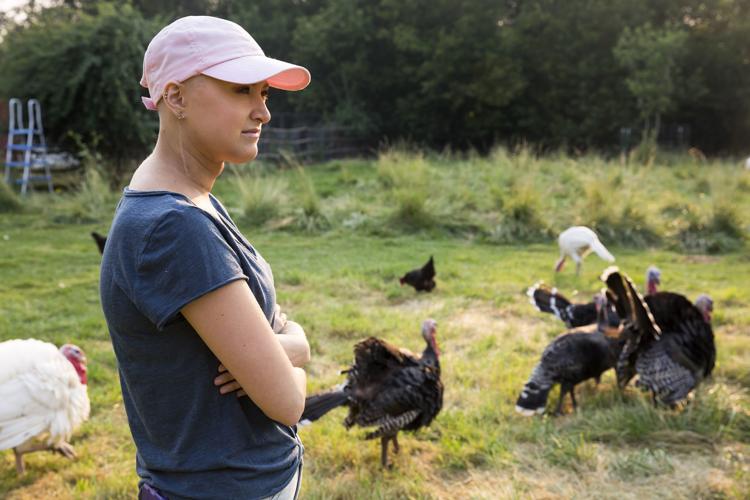 As Hayden and her family joke, the Klamath Falls native always took her own path in life, a one percenter with dreams of exploring the globe. She became "one in a million" when she was diagnosed with Merkel, a cancer most likely caused by ultraviolet light that damages DNA in skin cells. It usually affects people over the age of 60.
Before her diagnosis, though, Hayden Palm was Hayden Crebbin: a high school graduate trying to find her place in the world.
Hayden and her sister Chandler "Sis" Bobbit, who is a year younger, were always artistic, according to parents Rob and Alisha Crebbin. Hayden was drawn to calligraphy and photography and Sis to videography.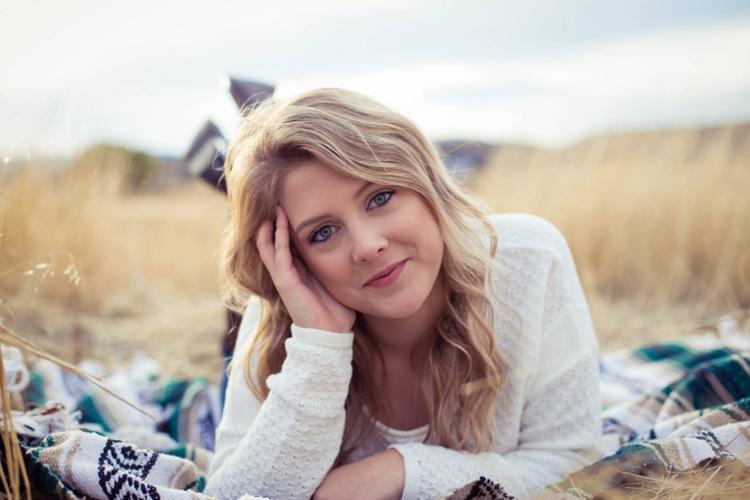 After graduating from Henley High School, Hayden knew that college wasn't the right path for her at that moment, so she decided to be an au pair in Europe because she loved kids.
After a job in England fell through, she didn't know what she was going to do. At the last minute, she connected with a German couple online, rushed her travel documents and found herself in Stuttgart, Germany — only her second time outside of the United States and her first time alone.
"You get off the airplane and you look at these people and think, 'I'm going to live with you for the next year,'" said Hayden. "It was an amazing experience, but it was also really difficult because you don't think about all the cultural differences."
Hayden said she loved living abroad, learning a new language and exploring other cultures. After finishing her year-long contract, her sister and mother flew to Europe, and they backpacked together for three months. They all said the highlight of their trip was accidentally finding themselves in Marrakesh, Morocco, after buying cheap tickets online.
Back in the U.S., Hayden moved to Spokane, Washington, where she became involved with the student body at Moody Bible Institute. Inspired by the Humans of New York Facebook page, she started her own social media account: Humans of Moody.
"I really loved the community there, and when I started Humans of Moody, I really got to know it," she said. "There is only like 700 students, and I interviewed about 300. So I got to know a ton of people. You're just in your element, and you just feel really comfortable."
My grace is sufficient for you, for my power is made perfect in weakness.
— 2 Corinthians 12:9
After that, she decided to spend her summer working as a photographer at Camp Redwood Glen in in Scotts Valley, Calif. with her sister and cousin. Right before she left, she found a bump on her cheek, but thought nothing of it.
Two weeks later, she was concerned that it hadn't gone away and in fact had gotten bigger.
"So I did a bunch of Google research to try to diagnose myself because I was a college kid," she said. "I thought, 'I'm not going to go to the doctor for a bump that doesn't hurt. It just looks kind of weird.'"
She assumed it was a cyst, but home remedies didn't help. While visiting Klamath Falls, she showed her mom, but because it was Memorial Day weekend, they doubted they could see a doctor.
Much to Hayden's frustration, her mom showed the bump to a doctor at their church, who suggested she go to a dermatologist or plastic surgeon.
Looking back at that moment, the Crebbins recognized the significance of this recommendation in Hayden's diagnostic process, one of a series of coincidences that have defined her experience with cancer.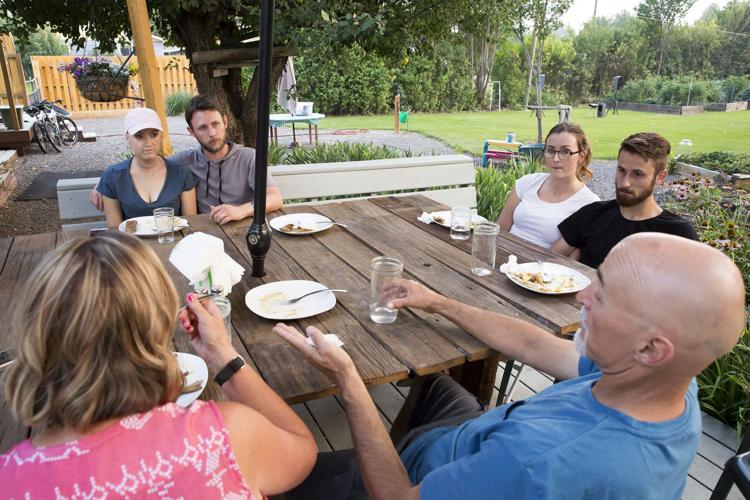 Dealing with insecurities
Mom Alisha said, "I really felt like that was one of the first blessings that the Lord did for us because had we not sent her to a specialist, things would have progressed a lot differently."
In Calif., Hayden learned that the facial irregularity was the beginning of her journey towards self-confidence.
"It was annoying because kids would always ask about it and stuff, and for me, I used to deal with tons of insecurities," she said. "So I was leading it as a challenge for myself: You know it's okay. It doesn't define who you are. Don't focus everything on that one little bump and try to give the kids grace."
She became concerned as the bump began to change colors to a reddish purple, so she visited a local plastic surgeon. The doctor told her the removal would take 20 minutes with local anesthesia. It took an hour and a half.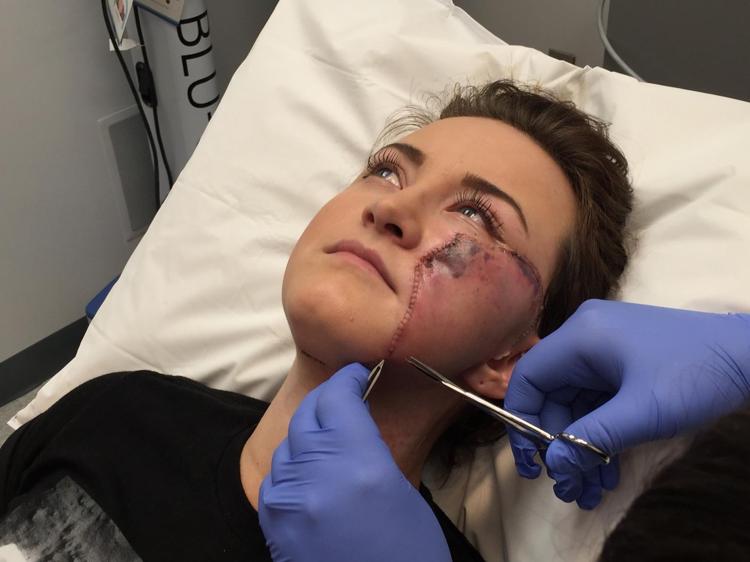 "I passed out twice, not because of the pain or anything, but because of sensory overload," she said. "You can smell everything. You can see everything."
Hayden said that the doctor told her that in her 40 years of practice, she had never seen anything like that bump, but could not tell her what it was and sent it off to be tested.
"I just left the office first of all traumatized from that mini surgery that just happened. And second of all, thinking, 'What? What could this be? It could be anything from my twin to cancer,'" Hayden said.
Difficult diagnosis
"But oddly enough, she never mentioned cancer at all, but I just had this feeling that it could be, which actually was a huge blessing because it only actually took about a week. But for that week, I was kind of able to process the idea that it might be cancer."
But the plastic surgeon's pathologist couldn't determine what it was, so she shipped it to Stanford University. The next day, June 26, 2015, the doctor told her to come in to the office immediately, and Hayden brought along Sis.
Hayden recalled that the doctor bluntly told them that she had Merkel cell carcinoma.
"The first thought that I had was, 'Seriously? Merkel? That's what it's called? That's the ugliest name I've ever ever heard…'" said Hayden. "After that, I remember thinking, 'Let's keep it together for my sister.' But then that very sterile lady, she tears up and says, 'You can cry.'"
The rest was a blur until Hayden received a PET scan. Although she saw it as "another blessing" because she was able to get it done the same day, she also said the isolation was "the worst thing."
"Here you have a brand new diagnosed patient, and then you stick them in a tube for two hours," she said. "This one had no music, no nothing, no frills. And I'm just sitting there thinking, 'Is this my life? Is this real? This is the worst thing you could do.'"
Another blessing was that the camp nurse, Traci Clark, had a background in oncology and working with newly diagnosed cancer patients.
"Here I was, thinking I would be treating bee stings and ended up being able to continue to work in my passion, in the woods, at summer camp," said Clark. "When I first met Hade, I never in my wildest dreams would have imagined that she had cancer. Her diagnosis and treatment were fast and furious. In a matter of two to three weeks, she went from painting spaceships and worrying about what to do on break day to fighting for her life."
11-hour surgery
Because of the seriousness of the disease, Hayden met with Dr. John Sunwoo, a specialist in head and neck cancer at Stanford University. Dr. Sunwoo told her the radical neck dissection would take six hours. The lymph node count was higher then they expected — in the 100s — and it took 11 hours. Hayden described herself as "Frankenstein," with a cut running across her check and down her neck.
Hayden's family came to Calif. for the surgery, and Sis remembered seeing her for the first time.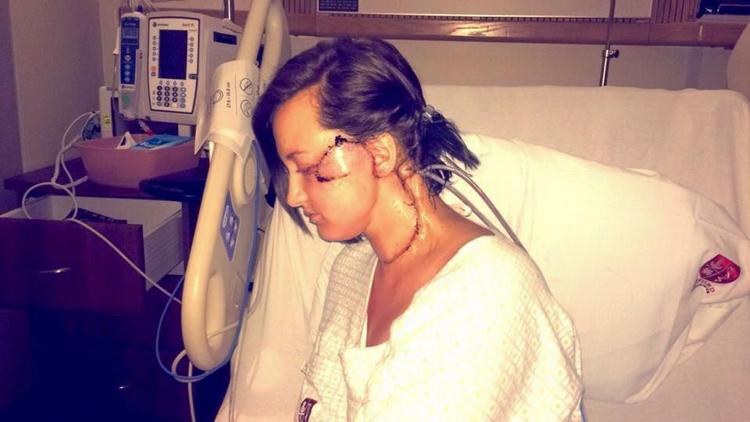 "There was a football team or something that was walking down the hall, and they saw Hayden, and all of these huge dudes were like, 'Oh my god,'" said Sis. 'If they thought it was bad, you know that it was very brutal."
The surgery was followed by about a month of recovery, in which Hayden not only healed her body, but also adjusted to the changes to her appearance.
"Once I got the confidence to go be with people, it was a really cool environment to heal in because these kids are at camp: It's one of the most joyful times in their lives."
In the midst of her sister's recovery, Sis Crebbin met her future husband, Alec Bobbitt, who was also a counselor. Although the couple admitted the timing couldn't have been worse — Sis was helping her sister and Alec was about to embark on a mission trip to Chile — they stayed connected while he was abroad. By the time he got back, they knew they wanted to get married.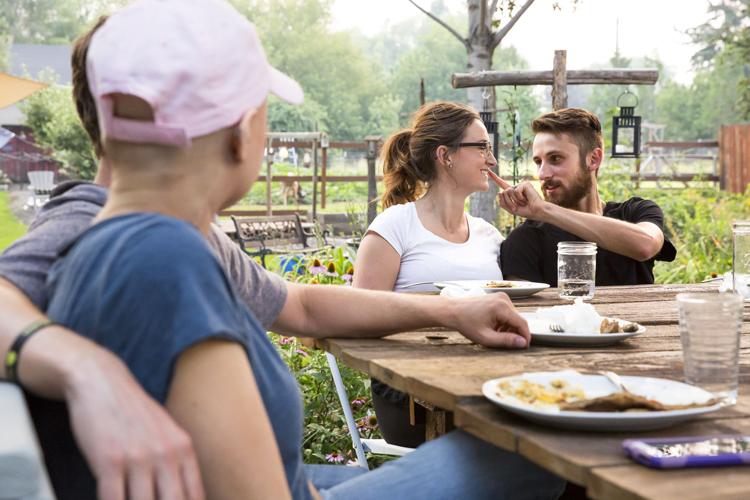 And we know that in all things God works for the good of those who love him, who have been called according to his purpose.
 — Romans 8:28
Cancer blog gains a following
During this summer, largely stuck in bed, Hayden started developing her first blog, The Art of Celebrating Cancer.
"I remember my mom telling me, 'You need to journal this,'" said Hayden. "But I hate journaling because what's the point? For me, I don't have the motivation to do something just for me…I remember feeling like all I ever saw with the cancer patients that I knew was just the happy side. So here I am about to go through it, and I felt like I knew nothing about it. So I wanted to share my story openly from the beginning, so that other people would know what it's actually like."
Hayden changed the name to The Merkel Miracle because she wanted to find a more positive way to think about cancer and realized it sounded like "miracle."
On the blog, she wanted to break the stigma around cancer, sharing the highs and lows: Posts about illness, faith and relationships are accompanied with poised, professional photos of her family and smartphone shots of Hayden post surgery, lying in hospital beds.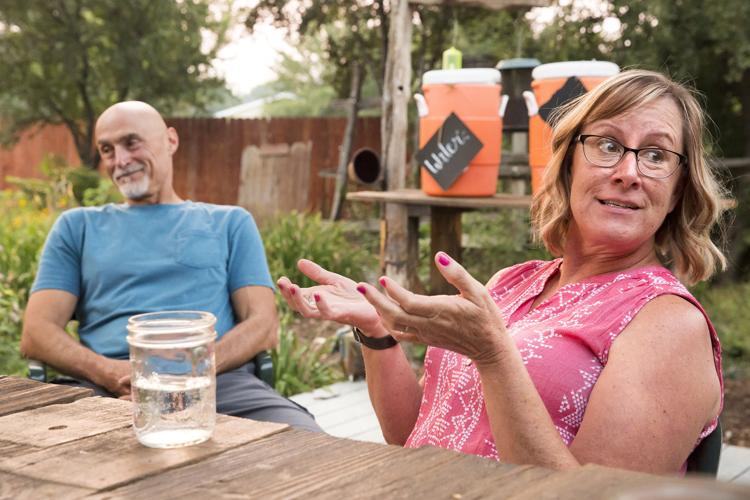 "I'm the first person who reads it usually," Alisha said. "I just known how powerful it is and how gifted she is, and I always encourage her. There was a point when I tried to pressure her into blogging because it is so powerful, and then I had to say, 'No. This has to be real.' because that's the kind of blog that it is, but I'm always amazed. I think, 'Who is this girl sharing all of these funny things and being so real and raw?'"
The reach of the blog grew rapidly, with hundreds of thousands of views from around the world. Hayden soon began receiving messages from people who were dealing with their own struggles: divorce, illness and even those contemplating suicide. Many told her they found hope in her blog.
One of those readers was Adam Palm, the son of missionaries who had grown up on the Amazon River in Brazil, swimming and playing soccer with local children. Palm was a bookish student at Moody in Spokane who only knew Hayden from a distance as outgoing compared to his more reserved demeanor.
A mutual friend told him that Hayden had gotten cancer and left Spokane, which led him to her blog. When Palm was in high school, his father had cancer, and he connected to Hayden's story. He wrote her an email about C. S. Lewis's The Great Divorce, in which a woman, having loved many people in life, finds herself in heaven, bathed in light and beauty.
"I wrote her about that because that was something that I saw that God was doing. God was doing it in her life," Adam said.
The message ended up in her spam folder, and Hayden never saw it. When she went to Spokane to pack up her apartment, she ran into Adam at church.
She said that Adam assumed she thought he was "a creeper" and "he wanted to come and clear the air."
Adam, on the other hand, remembered her blue eyes: "So then when I saw her, I loved her eyes. That was the first thing that stood out to me."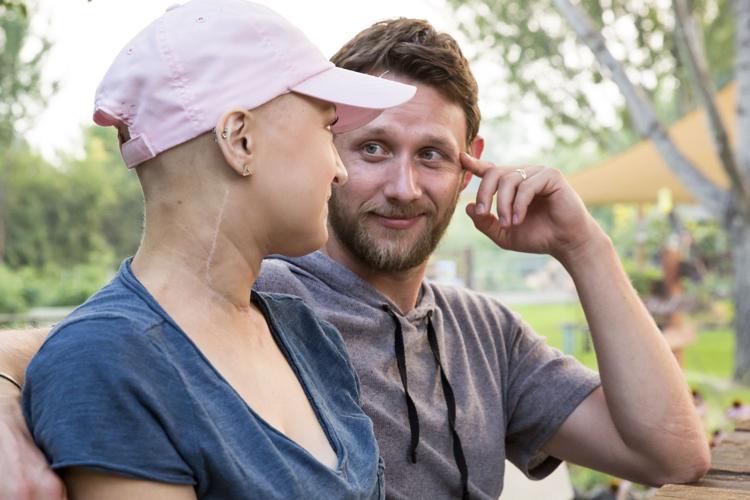 Hayden went home and found the message, which starting a conversation that grew from emails to texts. Their first phone call was five hours long.
"One of our mutual friends said, 'Alright. If Adam stays up late, then something's up because he is not a night person,'" said Hayden. "But he was staying up until like three in the morning when he had a 7 a.m. class."
After a round of radiation, Hayden was cancer-free and moved back to Spokane to date Adam. Two days later, she found another tumor.
"The first thing (I thought) was, 'Are you crazy? You know that I have cancer, right? Why are you even interested?'" Hayden said. "Because to me, I was not bachelorette material."
You will call and I will answer you; you will long for the creature your hands have made.
 — Job 14:15
For Hayden and Adam, one of the biggest tests of their relationship was when she learned she would need another surgery. At this time in spring 2016, she was traveling to Seattle for treatment under Dr. Paul Nghiem, an expert in Merkel cell carcinoma.
Adam had the opportunity to go on a spring break surfing trip with friends, but decided to spend the time with Hayden. On the way to see her the day after surgery, he questioned his decision, but realized he was where he needed to be.
"I thought, 'Man you know what? I'm exactly right where God wants me to be in my life. I could be off trying to surf or rock climb, but I'm going to see a girl,'" Adam said. "Right then, I said, 'Man I could marry her,' and I went into her room and told her I loved her, which I had never done before."
"It's a lot of emotions when your face changes, so I remember thinking, 'I don't even love myself right now,'" Hayden said.
"And he didn't look at me and say, 'Oh crap. I'm dating this Frankenstein chick now' or 'Oh man now her face looks weird or something.' But he just said, 'I love you. Good job for making it through.' He was there, and I remember thinking, "Okay. You're it. This is it.'"
Although they shared the same feelings for each other, Adam's marriage proposal didn't come easily. Adam said that when he asked Hayden's parents for her hand in marriage, he fully realized their relationship might be cut short.
"They both asked me, 'You still want to marry her even though there's the risk of her dying?'" Adam said. "I said, 'Absolutely.' But I think then and there, it just hit me, and I thought, "I love her, and I think this is what God would have me do.'"
The ring proved to be another challenge. He had previously brought an engagement ring for a relationship that hadn't worked out. While, economically, Hayden knew it was more practical to use that ring, Adam knew she wanted a unique style. Having the band refitted to feature diamonds from her grandmother's ring took longer than expected.
"So I'm sitting around thinking, 'We're planning a wedding, but we're not technically engaged. This is such a weird thing,'" said Hayden. "We even took fake engagement photos where I covered my hand."
When he finally got the ring back, Adam proposed to Hayden in Ashland's Lithia Park. From the time of their engagement to their backyard wedding and through their honeymoon in Costa Rica, Hayden was tumor-free.
In Costa Rica, Adam finally got his surfing trip, and he was able to share one of his passions with Hayden. She described this time as a blessing, because a week after she returned to the U.S., she found another tumor.
Sorrowful, yet always rejoicing; poor, yet making many rich; having nothing, and yet possessing everything.
— 2 Corinthians 6:10
Hayden said that the rollercoaster of Merkel has been one of the most difficult parts of the disease. Unlike other cancers where there is a singular diagnosis, Hayden would go months cancer-free, almost adjusting back to her life before she was diagnosed again. She said that she contemplated ending her life.
"I thought, 'I'm tired, and I'm feeling very defeated,'" she said. "This cancer, it's so unknown that you have to learn how to live day-by-day or it's absolutely crushing because the moment you feel comfortable, you think in the back of your mind, 'Well tomorrow I could find another tumor.'"
She said she found strength realizing how her experiences were affecting other people: both her family and friends and those around the world reading her blog.
"I have constantly been able to say, 'this is not for nothing,' and 'this is not going to be wasted,' and 'it's not an accident, and it's not a cruelty,'" she said.
Her parents said that over the past two years, they have seen their daughter mature in her faith and as a person.
"The coolest thing for me of all of that was Hayden would get re-diagnosed, and she would have a down time and then she would be up in a few days,' said her father Rob. "Not joyous, but fighting her way back to 'Okay. Now what's next? How are we going to go do this thing?'"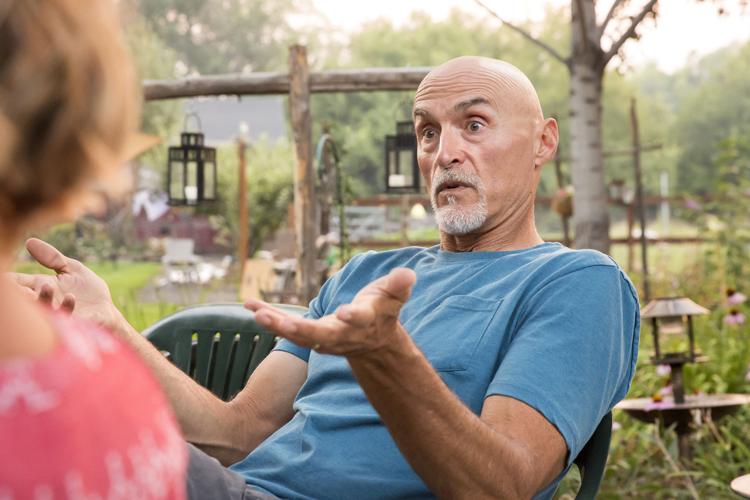 Faith put to the test
The Crebbins also found support in Christian counselor Rick Thomas. Although they have never met in person, Thomas said he has seen the family grow in accepting Hayden's fate. He also has a son named Haydn, and the family reads her blog together.
"When you're faced with something that you cannot explain or you cannot overcome, then your Christianity is really put to a test and that's what Hayden, her parents, her sister and other folks have had to come to terms with: Is our Christianity real or not?" Rick said. "The reality of it is there is an eternal perspective, so there's really no end to it. It's just a transition from earth to heaven."
Hayden went through rounds of radiation and immunotherapy, which is currently in clinical trials and has shown success in Merkel patients, many of whom Hayden has become friends with.
She remembers one "uncle" " who had it in his bones and his liver, and doctors gave him four months to live.
"They did this immunotherapy, and he's been tumor-free for a year and a half, which is amazing," said Hayden. "So they've had a lot of success with it and not a lot of failures with it. So they said, 'Let's do this. It's time to try it.'"
The immunotherapy did not work for Hayden, and her tumors continued to grow. But she still had faith in her T cells. In this immunotherapy, T cells are removed from the blood and exposed to the Merkel cell polyomavirus. The hope is that the T cells, infused back into the body, will find and attack Merkel cell carcinoma cells.
But like the other therapies, the T cells did not help. Around this time, in April 2017, Hayden's cousin committed suicide, and she was forced to reckon with death for the first time.
"When he died, the Lord just kind of opened my eyes to (the idea) that death is real, and we're not immortal beings," she said. "It's actually good to think and process through it."
God is our refuge and strength, a very present help in trouble.
— Psalm 46:1
While Hayden and her family have begun to accept her future, the choices they have to make around sustaining life haven't become easier. Earlier this summer, Hayden went through chemotherapy to slow tumor growth.
Doctors are most concerned about one on her windpipe that as it grows, will increasingly affect her breathing. She knew that chemo would buy her some time, but it would also have health impacts, and she would most likely lose her hair.
She hadn't gotten chemo previously because Merkel cells can become immune to it and knew that if it came to that point, "we're at our last reserves."
"So when they told me about chemo and you're going to have weeks left, I had already processed it," she said. "But it was hard to hear because when it comes out of the doctor's lips, it's a lot more finalized."
She already had facial scarring and can barely move her neck because of surgeries and radiation. Her mouth no longer produces saliva because she had her parotid gland removed.
"The side effects of being sick, I can handle, but losing your hair is so odd and so emotional…" she said. "One: As a woman, your hair is your safety blanket. Two: I hate feeling like I'm different, and this is a very big statement: I am different, not the normal. Three: It's like the universal symbol for cancer. So it's putting you in a box of being a weak, dying cancer patient."
Adam remembered the first time he saw her without hair.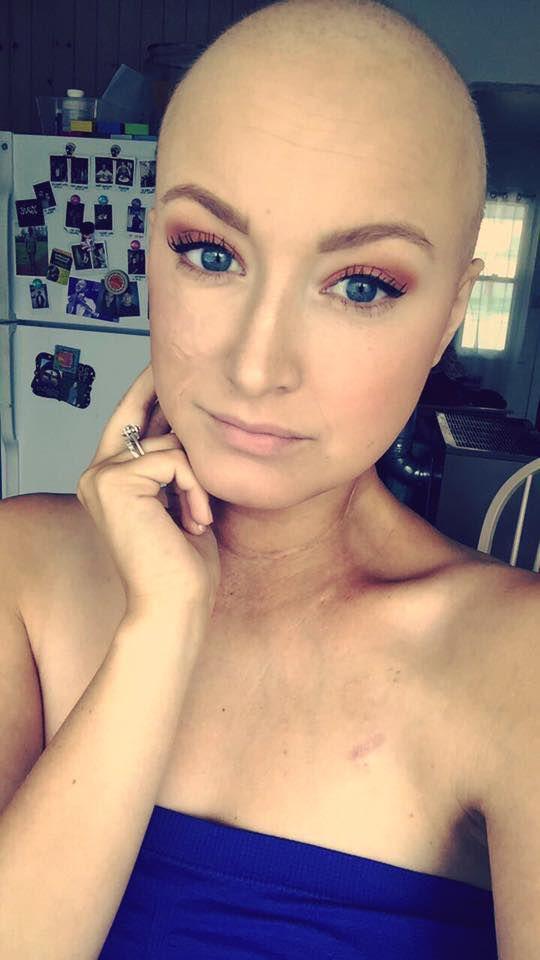 "So she took off her wig, and she just lost it. She was just bawling her eyes out, and I just had the deepest longing that I wanted her to know that I treasured her and that she was beautiful… She told me later, she sat me down and said, 'I've been really confident to go out bald because of the love that you have shown to me.' That is so unbelievable to me, that I could actually do that to someone."
A one-year milestone
On Saturday, Adam and Hayden celebrated their one-year wedding anniversary in her parents' backyard, the same place where they were married. Surrounded by their "urban farm" of turkeys, two cows and vegetable patches, the couple gathered with friends and family.
"There are days when I'm really sad," said Adam. "I just long for my wife to be healed. I think we would make great parents. (I think), 'God I don't understand your plan in all of this. I don't get it.' It's been a lot of time praying and crying about all of this because it is a sorrowful thing, but at the same time, I rejoice all the time in the hope that we do have in Jesus because of his resurrection... Isn't it wonderful, and I think anyone would agree with this, that something exists rather than nothing? Because if nothing existed, we wouldn't exist. And life is wonderful"
Hayden's parents said that her journey started long before she had cancer, highlighting the support they have received from the local community. Dutch Bros. Coffee, Everclean Car Wash, Umpqua Bank, Tashi Soap Company and groups at Klamath Union High School and Henley High School have all been part of fundraising efforts for Hayden. The family also brought up the daily kindnesses they experience in Klamath Falls.
"You can look at Rob being a teacher here in our town for 32 years and the love and the kindness that he's poured into students," said Alisha. "Now, they're reaching out wherever they live: 'How can we help her? Heard about your daughter coach.' It's a legacy of love."
If you cling to your life, you will lose it; but if you give up your life for me, you will find it.
— Mathew 10:39
Looking forward, Hayden knows it is not the end yet: As she has always believed, miracles happen. She recently completed her final drug trial. Although she said the odds are less than 50 percent that it will help, "that doesn't really mean anything to me because they give you odds and percentages, but at the end of the day, with my case, it usually doesn't matter."
She and her family are getting ready for death, completing an advance directive and preparing for hospice.
"I always thought it has been so kind of God to give us these years, but as the end gets closer, I don't feel that way anymore," said Alisha. "I feel this is so painful. How do you help your kid die?' But then you have to say, 'Okay so God only gets questioned or put on trial with the bad things. So what about our breath?' You know that God gives us our breath, our sight, the world, animals, the beauty of things, relationships…There is so much good in the world and so much beauty and so much kindness and so much fulfillment."
Finding strength in others
They continue to seek counseling from Rick Thomas, who said that the Crebbins have affected him as much as he's helped them.
"Suffering is not tearing them apart," Rick said. "It's binding them together. It's actually a message that our country needs to learn…The long-term affect of that with those who are left behind. There won't be any regret. There will be sadness and there will be a lot of tears, but there won't be regret."
In what might be her last weeks or months, Hayden finds the most comfort in her faith and sharing it with the world. She continues to publish honest thoughts on her blog, including a recent post about becoming comfortable with no hair.
Her writing is humorous, resilient and thoughtful, but most of all, hopeful. It's easy to forget that it's the words of a dying girl, but that is what makes Hayden her own miracle.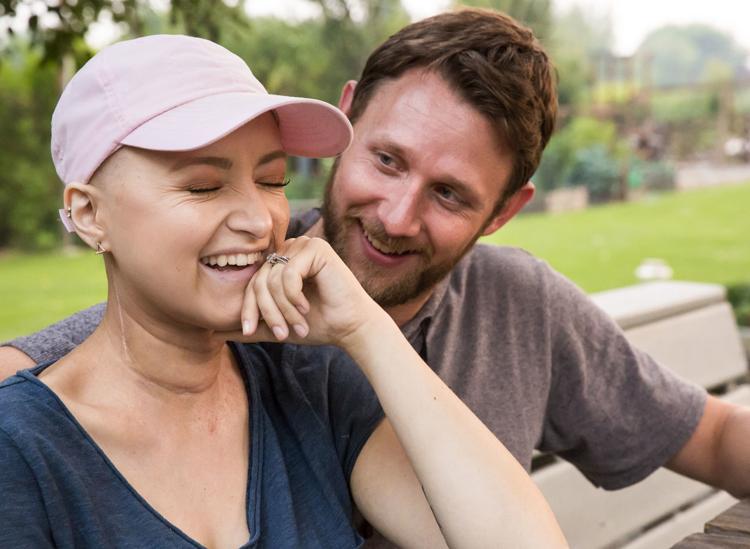 "I am loved, and I am loved despite my ugliest parts," Hayden wrote. "I AM LOVED PEOPLE! I am loved by the creator of the flipping universe! So I will flaunt this bald head of mine and will walk in my true identity, as a daughter of the King! Heck yeah! Take that!"