Principal Mike Schaefer opened the front door for Mazama High School students on Monday, joking lightheartedly with them about being the doorman as they returned from lunch on what the first day back for hybrid learning.
For many students in Klamath County School District and Klamath Falls City Schools District, it was their first day transitioning back to in-person classes in 2021. Students in both districts resumed classes via distance learning on Jan. 4. Districts held a joint school board meeting last week to determine whether the schools would return to in-person learning due to liability concerns.
Both school districts followed Klamath County Public Health's recommendation to transition to hybrid learning, voting unanimously in a joint school board meeting on Thursday that drew hundreds of comments. Prior to the emergency meeting, Oregon School Boards Association had notified districts that liability protection granted by the state legislators applied only to districts that follow the state metrics, according to a previous H&N story.
"There are a lot of reasons why it's important to have the kids back on campus … public health overall, one of the biggest considerations for us, or what we call the social determinants of health, education is important," said Valeree Lane, spokesperson for Klamath County Public Health, on Monday.
"We've found that children don't really seem to be spreaders of (COVID-19)," Lane added. "That's not to say that they won't get COVID. Having them back in school, we can see if there are some cases that arise, we can work with classrooms, we can work with schools, but we need to be thinking about getting them to a more normal situation."
Schaefer walked the hallways at the school on Monday, pointing out the modifications implemented by the school to mitigate the spread of COVID-19: separated walk ways lined by lockers, white arrows taped off as well as new dividers erected for tables in the cafeteria to keep students and their friends socially-distanced.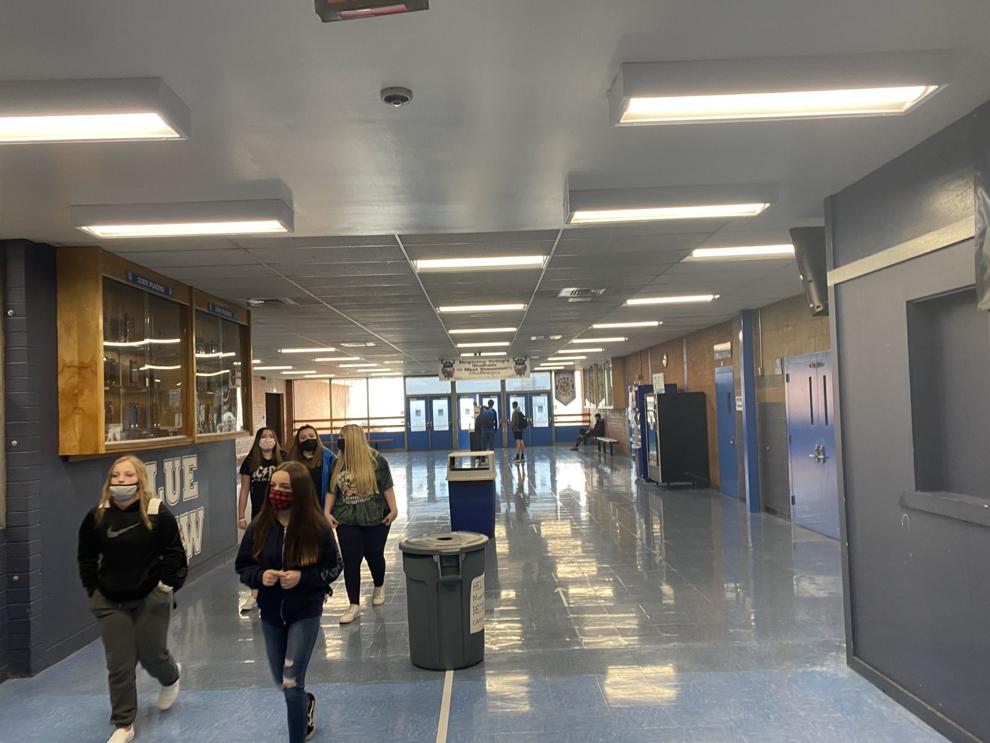 For Mazama High School, Thursday was the start of a two-day, in-person week for freshmen and sophomores. Juniors and seniors at Mazama started their week through distance learning and come to school later in the week.
Mazama Freshmen Gracie Pitt, 15, and Jesse Baker, 14, sat adjacent from each other at one of the blue cafeteria tables, with dividers crafted from white pipes with screens between them and their lunches.
"I really don't care if it's on Zoom … but I think here is better," Baker said. "I can get a teacher's help immediately if I need it."
Both teens talked about what it's like to be back in the school during the COVID-19 pandemic, navigating wearing masks, especially with easily fogged-up glasses, the obstacles they faced while distance learning, and even the reality of school lunches.
"It's not normal," Pitt said of lunch with dividers, "but I like it. At least you get to sit next to your friends."
Both students enjoy choir and say it's easier for both to participate in the elective in person.
"I used to not want to go to school," Pitt said. "Since the whole Covid thing happened, I miss school. I want to be back."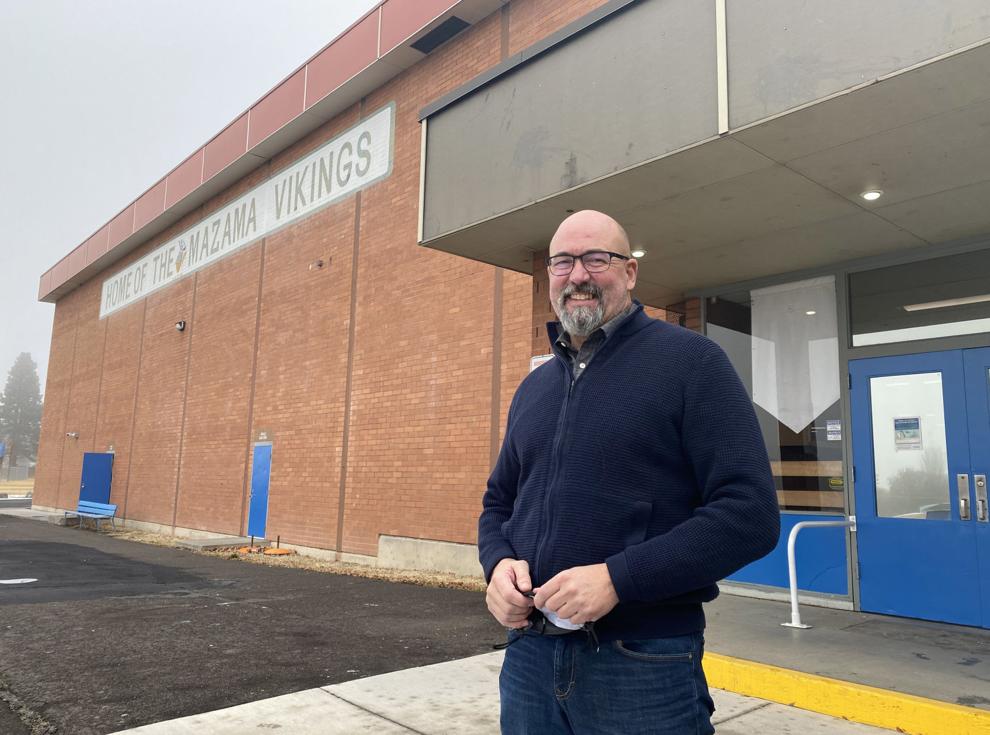 The bell sounded off loudly, causing both to wince for a moment.
"That's the con about being back in school," Pitt said lightheartedly.
Science teacher Steve Woodwick, also in the cafeteria during lunch, stood nearby, chatting with Schaefer. Woodwick is excited to have students back as well.
"It gave me a new sense of energy," Woodwick said.
"I felt like I had more purpose in what I was doing, in interacting with people who were actually present."
Woodwick and Schaefer discussed how at times, it has been difficult to keep students actively engaged over a virtual platform.
"We need this back," Woodwick said.
Schaefer emphasizes the need to be back in person especially for seniors poised to graduate in the coming months.
Walking towards an exit nearest to the football stadium, Schaefer pointed out the senior crest the upperclassmen designed themselves on the outside blacktop. He emphasized the hardship on upperclassmen whose high school days are moving by faster than underclassmen.
"Minus those six days in November, they would've been here four times at the beginning of each quarter's introduction and that would've been their senior year (in-person)," Schaefer said.
They'll be getting the chance for more face time this week.
Across town, Randy Rose, principal at Shasta Elementary, echoed the excitement of administrators on Thursday.
"Twenty-four different classrooms I walked through this morning … Kids were just ecstatic," Rose said.
Rose acknowledged it wasn't the first, first day back for them.
"We've had a lot of first days around here," Rose said.
"Since March of 2020, it's been kind of a blur."
Rose said he was among many who were "pleasantly surprised" by the joint-school board decision to return his more than 300 Kindergarten through sixth-graders to hybrid learning on Monday.
While surprised initially for the early return, he and his staff were ready.
"When we're out of school, all the kids are on comprehensive distance learning," Rose said. "We as an administration, as a school district, and as a staff – we prepare every day for them coming back the next day.
When asked how the school is keeping students, teachers and staff safe, Rose said Shasta Elementary has marked off hallways and has continued to follow social distancing and mask policies.
"In the past, we used to have Kinder and first grade eat lunch together and I'd have 150 people in the cafeteria," Rose said. "We do not do that any longer. We do not mix cohorts at all. So that helps with the safety for not only students but for staff.
"No offense to online instruction, but there's no way you replace that quality teacher that's standing in front of the kid," he added.
At this time, staff and teachers are still awaiting the ability to take the vaccine. Rose said staff is being surveyed for their interest in taking the vaccine so the school can prepared when they become available.
"Our district is not mandating the vaccine at this time," Rose said. "It's totally volunteer and after people who need it more than me get theirs, I'm going to get the vaccine shot. I want normalcy."
Lane said it is not yet clear when schools could anticipate vaccine availability for educators and school staff.
"The landscape changes every day," Lane said. "Everybody wants to make sure that when they have the opportunity to get vaccinated, they are right there in line.
"At this time, we have only three people that have gotten their second dose as of this morning, so we have some catch up to play to make sure everybody gets a double dose," she added.
On Jan. 19, more information related to school metrics is anticipated to be released from Oregon Gov. Kate Brown, Oregon Department of Education, and Oregon Health Authority.
Klamath Falls City Schools also transitioned to hybrid learning on Monday. For coverage on the transition for city schools, look for a story in Herald and News soon.