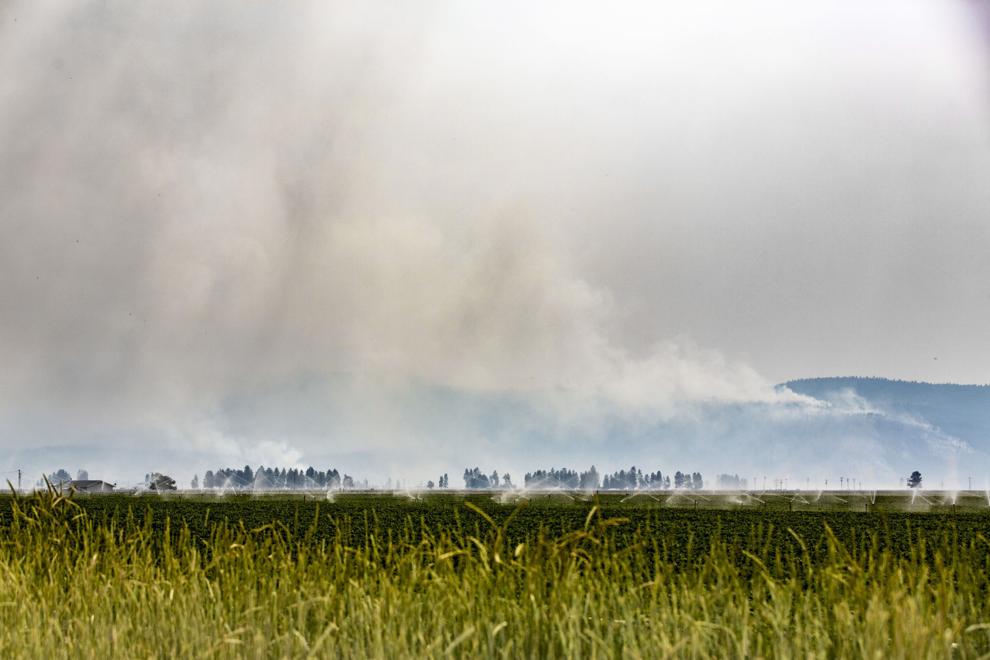 Three active wildfires have broken out in Siskiyou County, fueled by exceptionally dry vegetation and the current intense heat wave. Evacuation orders and warnings are in place, and much of Highway 97 is closed through the northern portion of the county.
The Lava and Tennant Fires, which are burning erratically with little containment, were the two largest in California as of press time Thursday.
Current evacuation information is available via an interactive map here. Highway 97 is closed in both directions between Dorris and Weed.
Lava Fire: 19,680 acres, 25% contained as of 3 p.m. Thursday.
The Lava Fire is the largest active wildfire currently burning in California. Lightning from thunderstorms late last week sparked the fire northeast of Weed, on the northwest slope of Mount Shasta. The fire grew to 10 acres by Saturday afternoon, but increasing west winds increased its size to 220 acres by that evening.
The fire doubled in size again by Sunday evening, and firefighting activities were halted by multiple people attempting to fly drones in the area (when drones are present, aircraft must be grounded). By Monday morning, the fire had grown to more than 1,400 acres and started producing pyrocumulus clouds.
Erratic growth led the Siskiyou County Sheriff's Office to issue evacuation warnings for communities near Lake Shastina, Juniper Valley and along Highway 97 north of Weed on Monday. That afternoon, the warnings were upgraded to orders.
Approximately 30 miles of Highway 97 were closed Monday afternoon between Weed and the Juniper Lodge. The highway has not reopened as of Wednesday afternoon, and the closure has since extended to Dorris.
The Lava Fire grew by nearly 12,000 acres since Monday afternoon, mostly to the north, jumping Highway 97.
In an update Tuesday morning, CA Team 14 Operations Section Chief Alec Lane said "a lot of resources" were concentrated on that end of the fire, which threatens the communities of Lake Shastina and Juniper Valley. Crews are also reinforcing lines on the fire's southwest flank (near the city of Weed) and forging new lines on the east side of the fire to encourage it back into the wilderness area surrounding Mount Shasta.
Wednesday morning, Night Operations Section Chief Pat Bell said evening winds on Tuesday pushed the fire south across Diller Canyon, but crews were able to hold lines on the southwest to prevent the blaze from spreading closer to Weed. A line was also put in on the fire's northwest flank to protect the Lake Shastina community. The erratic weather conditions added about 4,000 more acres to the fire's size.
Here's a list of evacuation orders for the Lava Fire from the Siskiyou County Sherriff's Office. A map is available online here:
■ All homes north side of Hoy Road
■ North along Highway 97 to County Road A-12
■ Communities of Lake Shastina and Juniper Valley off Big Springs Road from Highway 97 to McDonald Lane
■ Big Springs Road on both east and west sides
■ Mount Shasta Vista Subdivision
■ County Road A-12 north and south
A-12, Hart Road, Big Springs Road, and Highway 97 are all closed in both directions in the evacuation area.
The Shasta-Trinity National Forest is also closing several campgrounds due to the Lava Fire: Bunny Flat, Sand Flat, Red Fir Flat and McBride Springs. Everitt Memorial Highway is also closed at the Gateway Trail Trailhead.
Tennant Fire: 9,439 acres, 6% contained as of 3 p.m. Thursday.
Further northeast, the Tennant Fire began on the Klamath National Forest near the junction of Highway 97 and Tennant Road Monday afternoon. It grew to between 200 and 300 acres that evening, and evacuation warnings were issued for the communities of Tennant, Bray, Mt. Hebron and Mt. Shasta Woods.
Monday's winds and hot temperatures fanned the flames to approximately 1,700 acres of mostly brush and young timber, according to the Klamath National Forest. Crews and dozers constructed lines around 95% of the fire Monday night, but it was 5% contained.
By Tuesday evening, Klamath National Forest posted on Facebook that "very hot temperatures coupled with critically low relative humidity" caused the fire to spread rapidly to 6,000 acres. The Forest Service reported Wednesday morning that an infrared flight Tuesday night showed the fire to be 8,159 acres.
The fire appears to be moving in different directions depending on where the wind is blowing, said Kimberly DeVall, public affairs officer for the Klamath National Forest.
DeVall said there are various crews currently on the ground, along with engines, dozers, helicopters and aircrafts that have been assigned to the fire as well.
The Siskiyou County Sherriff's Office has issued an evacuation order for the following areas:
■ South of Macdoel, including East and West Ball Mountain Road
Macdoel proper is under an evacuation warning, north to Sheep Mountain Road, east to Red Rock Road and homes one mile west of Macdoel. Warnings have also been issued for residents on West Ball Mountain-Little Shasta Road, up to Cook Campbell Road, all of Meiss Lake Road and over to Forest Service Road 3.
Evacuation orders and warnings can also be found on the interactive map. Shelter is available to the north at Dorris City Hall, according to the Siskiyou County Office of Emergency Services.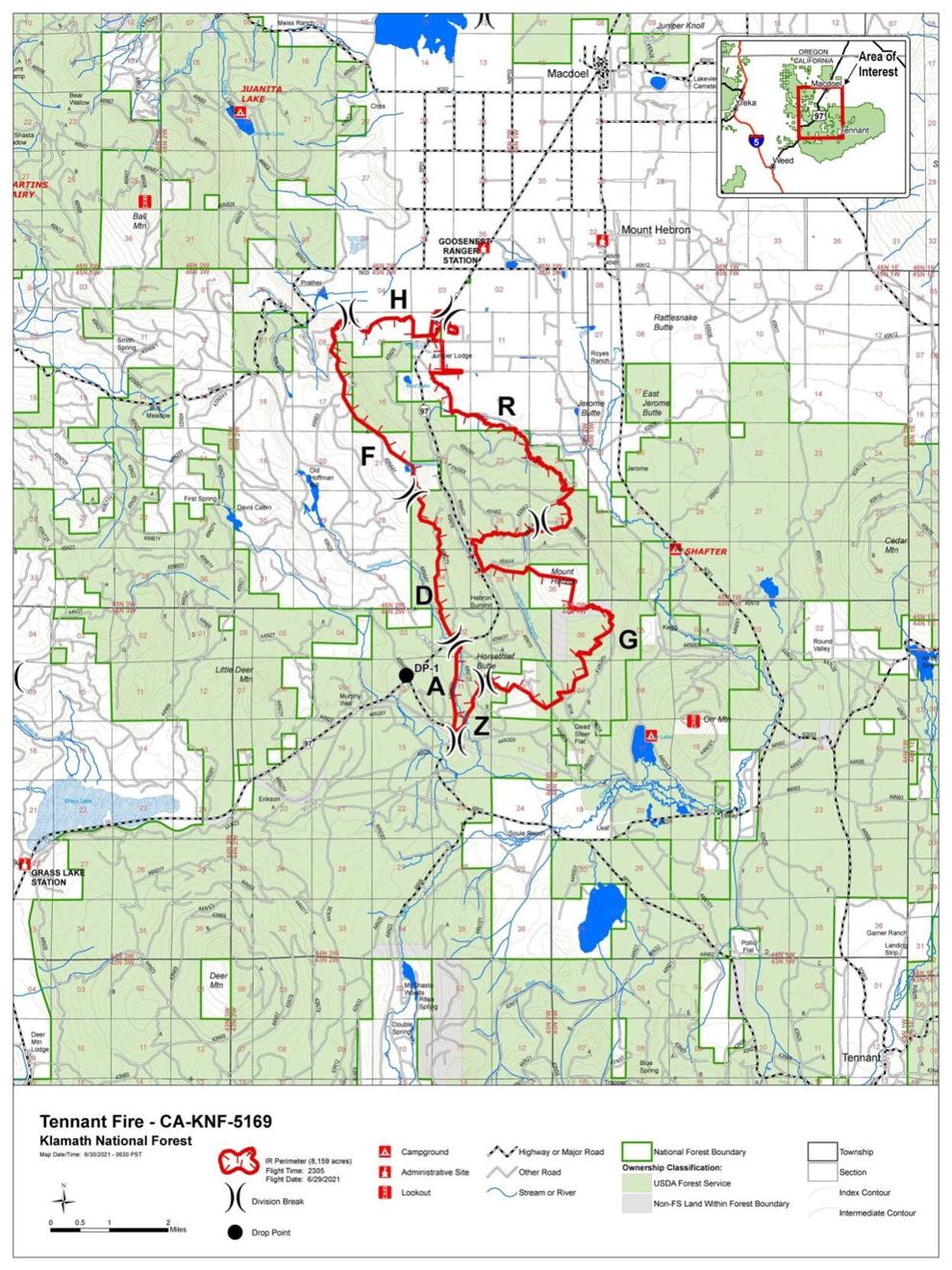 Beswick Fire: 118 acres, 70% contained as of 8 a.m. Wed.
The Beswick Fire began Monday off of Ager-Beswick and Desavado Road, north of Montague. It has grown to 118 acres and is 70% contained as of midday Tuesday, according to CalFire. The agency also said the fire's forward spread has been stopped. No evacuation orders or warnings have been issued as of Tuesday afternoon.
Smoke descends on Klamath Falls
Smoke produced by the Tennant and Lava Fires, which are about 20 miles apart, has drifted into the Upper Klamath Basin, causing a hazy horizon and obstructing the view of Mount Shasta to the south.
"The smoke has tended to cross into Oregon," DeVall said. "At this point I don't think Oregonians need to worry too much, but they should just be aware especially as they are doing their celebrations over the weekend."
Marc Spilde, a meteorologist from the National Weather Service in Medford, said Klamath Falls can except smoke from the Lava and Tennent fires to cycle in and out of the area. The smoke will most likely get blown out of town by a northwest wind forecasted for later Wednesday evening, Spilde said.
However, Thursday morning, a south to southwest wind is expected to blow until mid-day to early afternoon, carrying the smoke again up north into Klamath Falls, Spilde said.
"We are forecasting the wind to shift somewhere around five this evening," Spilde added about the smoke. "It should become more northwesterly and that should push the smoke back towards the east, and southeast."
"Air quality will improve this evening with the northwest wind," he said.