County commissioners and medical professionals met Tuesday at the Sky Lakes Community Health Education Center to discuss rising COVID-19 cases and hospitalizations in Klamath County, while cars lined up at the virus testing site just outside the building.
Providers and nurses said they hoped the work session would inform commissioners about the pandemic's impact on hospital patients and staff, as increased hospitalizations begin to stress the local healthcare system. They hoped to improve cooperation between county leadership and the medical community in combating the virus's spread.
The meeting followed statements issued by Klamath County Commissioners two weeks ago arguing that Governor Kate Brown's mandatory 2-week "freeze" would further harm struggling businesses in Klamath County. Though the commissioners said they did not intend to diminish the seriousness of the pandemic, many healthcare professionals interpreted their statements rejecting statewide public health measures as dangerous.
Matt Peters, a primary care physician at Sky Lakes, helped organize the meeting along with Commissioner Kelley Minty Morris. In introducing the work session, he said he wanted to find ways to depoliticize the virus in Klamath County.
"At the end of the day, this is about the health of our community," Peters said.
The meeting began with a breakdown of case, hospitalization and death numbers in the U.S., Oregon and the three counties that send patients to Sky Lakes: Klamath, Siskiyou and Modoc. Grant Niskanen, vice president of medical affairs for the hospital, said while individuals without preexisting conditions have a much lower chance of being admitted to the hospital, Klamath County has a large percentage of people who have preexisting conditions like cancer, heart disease, diabetes and obesity.
Niskanen used data from the last two weeks in those counties to estimate that approximately 26 COVID-19 cases will require hospitalization — and that five of those patients could die. Based on the current trend in cases, those numbers are likely to increase over the coming weeks.
On Monday, 16 patients were hospitalized at Sky Lakes for COVID-19 and one person, a 68-year-old woman who had underlying conditions, died.
Niskanen also compared Klamath County's case metrics to Multnomah County, pointing out that over the last three weeks Klamath County's test positivity has actually exceeded Multnomah County's — despite having a much lower population density. Multnomah County has a much higher number of staffed hospital beds than Klamath County, and therefore has the ability to handle a steeper spike in cases.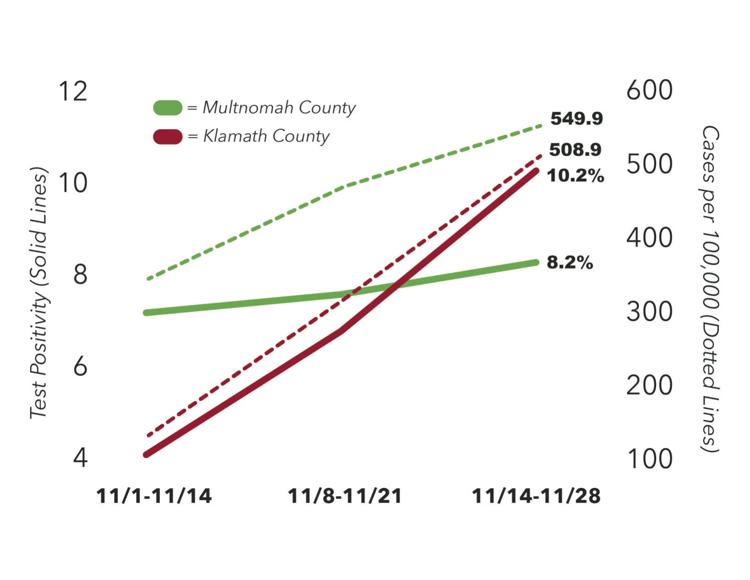 Additionally, Niskanen said, COVID-related hospital stays tend to be longer than other known diseases. Due to the lack of effective treatments, nurses and doctors can only support patients with oxygen and steroids as their immune systems fight the virus. For people with preexisting conditions, that can take as long as three weeks. When people don't leave the hospital within a few days and positive cases continue to rise, patients pile up and can quickly overwhelm the hospital.
"It just keeps building and building and building," Niskanen said.
David Panossian, the only full-time pulmonary critical care doctor in Klamath Falls and an independent physician at Sky Lakes, said there will be a point where the quantity of COVID-19 patients diminishes the quality of care all patients receive. Even non-COVID patients, who would normally have to transfer to another hospital for services Sky Lakes can't provide — like inpatient dialysis — are finding that there's no room for them elsewhere as Oregon hospitals become filled with COVID-19 patients.
"It's just going to overwhelm the system and people are not going to be able to get the care that they're used to getting," Panossian said. "We may have people that actually die here in front of our eyes, when normally they could get care otherwise."
Panossian also thanked the commissioners for their characterization of Klamath County's local healthcare system as "robust," but he warned that it can't handle the influx of hospitalizations that could accompany the spike.
"Even though there's a robust system, it's extremely fragile," he said.
More healthcare workers followed, sharing their own experiences and observations treating COVID-19 in the community. Emergency room physician Brendan Fowler said he saw only one or two COVID-19 patients a shift over the past couple months, but he saw 21 during his last two shifts alone. Part of an ER physician's job is directing patients to the proper area of care as quickly as possible, but Fowler said having an ER full of COVID-19 patients slows things down and makes it harder to care for patients with other emergency needs.
ER physicians are also sending people with acute hypoxemic respiratory failure (low oxygen, a common COVID-19 symptom in hospitalized patients) home with an oxygen tank, steroids and a home oxygen monitor, when they would have normally administered that treatment in the hospital. Many hospitals across the U.S. have adopted this practice to lighten the load of COVID-19 patients in emergency rooms.
"This is truly uncharted territory," Fowler said. "We're starting protocols now which three months ago would've been unthinkable."
Nurses, who often spend the most amount of time with COVID-19 patients, are among the most at-risk of contracting the disease themselves. When they do, there aren't any traveling nurses in the region to replace them.
Christie Wiles, a lifelong resident of Klamath Falls, is a registered nurse who manages the hospital's third floor, which includes its intensive care unit and COVID-19 units. She said even she struggled to take the pandemic seriously in Klamath County back in March, but she and other hospital staff made plans to address a surge in the county's cases anyway. Now, she said, it looks like that surge has arrived.
"A catastrophe for Sky Lakes Medical Center wasn't going to be hundreds or thousands of patients that get hospitalized," Wiles said. "It was going to be 10 or 20."
One of the first 10 COVID-19 patients at Sky Lakes was Wiles's father, and another was a close family friend.
"I, like everyone, am tired of COVID," Wiles said. "But what I'll be more tired of is saying goodbye to friends and family and nurses and colleagues that may succumb to this."
Julie Bowen, another nurse who has worked at Sky Lakes for 17 years, teared up as she shared her experience treating the latest surge in patients. She has worked eight out of her last 10 shifts in the COVID-19 unit, and she said the conditions of its patients have been difficult to witness. Particularly frustrating is the fact that there's no effective treatment for the virus — staff can only support patients as best they can and hope they make it through alive.
"We don't know what we're doing. We have some things that we're using, but they don't always work. We used to know that we could help these people," Bowen said. "If you've never seen anybody gasp for air, it's horrific."
Sky Lakes is well-stocked with personal protective equipment that keeps nurses and providers safe as they treat COVID-19 patients. But the ritual of donning gowns, face shields and gloves every time they enter the COVID unit slows their work and makes it harder to care for people who need immediate attention. Bowen demonstrated that by putting on her typical PPE outfit at the meeting.
"The days of being able to run in and start doing compressions or whatever, that's over," she said.
Hospitals have found that moving people who are experiencing acute respiratory distress onto their back or stomach helps alleviate the symptoms, but it can take four to six staff members to do that safely. Bowen said that's an example of the amount of energy and manpower needed to run the COVID-19 unit, which takes resources away from other areas of treatment in the hospital.
"There's a fear that we're going to have to start picking and choosing who we're really going to care for," Bowen said. "What do you do when every single patient in the room is circling the drain?"
Holly Montjoy, physician and chair of Sky Lakes' inpatient COVID-19 response committee, urged the commissioners to be more intentional and specific in their messaging surrounding pandemic-related public health measures, particularly about wearing masks. Though early studies suggested that someone wearing a mask only protected others from catching the virus from them, Montjoy said the science is starting to suggest that it could also protect the wearer.
"Regardless, it helps someone," she said.
Montjoy also addressed misinformation about the virus floating around in the community, namely that COVID-19 tests can't distinguish between the new coronavirus and the flu (they can — the test checks for more than 20 different viruses and clearly identifies which one, if any, is present). She also mentioned that gatherings in general — not just the number of people at each gathering — should be limited in accordance with global public health messaging.
"We really are not talking politics," Montjoy said. "We're not here to ask you to take a stand for the governor or for any other politician. We really just want you to take a stand for us."
Montjoy also said there's currently a Sky Lakes staff member fighting for their life in the ICU, and that many of the other healthcare workers at the hospital will likely have to fight the virus alongside their patients over the coming weeks — if they haven't already.
"If we seem emotional or fired up, it's because we're experiencing a truth that we've never seen before," Montjoy said.
Representatives from Klamath Tribal Health and Family Services also chimed in and echoed a statement made by the tribal council, which called the commissioners' response to statewide orders "disheartening."
A tribal health clinic has opened a separate outpatient clinic for COVID-19 patients, and so far about 6% of the clinic's tests have been positive. Misty Wadzeck, nurse supervisor for KTHFS, said she's concerned that the disease is impacting high-risk individuals who are tribal members. Just like at Sky Lakes, the rural clinic is working with an already sparse staff — if their nurses or providers contract COVID-19, it will be nearly impossible to keep up with demand.
"We're scared of the fact that we're not going to be able to take care of our community members," she said, reiterating the need for unified messaging from county leadership and medical professionals.
Lindsey Burwell, one of the providers at Sky Lakes treating COVID-19 patients day-in and day-out, said she thinks the system will be overwhelmed very soon. She admitted more COVID-19 patients to the hospital last week than she had in the past six months.
"These are the sickest patients I've ever seen, and we just have nothing to treat them," she said.
Burwell also said she didn't feel like the commissioners are listening to the medical community's advice as well as state officials.
"At this point, I don't think we're asking you to help us," she said. "I think we're asking you to not make our jobs harder. We are saying that we need your support, and we don't feel like we're getting that."
After hearing the testimony from providers and nurses, Commissioner Kelley Minty Morris thanked them for sharing their stories and acknowledged that the hospital needs support. She spoke about suffering in the community, both by people harmed or killed by COVID-19 and the businesses feeling losses or closing on account of the accompanying economic shutdown. She said commissioners and medical professionals are on the same team in that they want to minimize harm in the community.
"We are all united in not wanting to see people suffer," Minty Morris said. "The suffering that we see is different. It doesn't make it any less impactful."
Panossian replied that economic woes can be improved by a variety of future efforts, but that once someone dies from COVID-19 there's no way to bring them back.
"What we're trying to tell you is that we can't fix dead," he said.
Commissioner Derrick DeGroot said his statement was meant to argue that the governor's approach wouldn't work for Klamath County because it was based on state metrics. He pointed to Klamath County Public Health suggesting that businesses here have not been the primary vectors of disease spread locally and advocated for local control of COVID-related restrictions.
"People are getting sick from social gatherings," DeGroot said. "What we are not seeing is restaurants and gyms being the culprit, but that's the first thing we close."
DeGroot said the board of commissioners has been consistent in directing the public to follow guidelines from the Centers for Disease Control, which recommend wearing a mask, social distancing in excess of six feet, thorough handwashing and avoiding large public gatherings.
Peters pointed out that it's hard for the public to follow those guidelines when the commissioners have each attended large, maskless gatherings. Commissioner Donnie Boyd spoke at a protest of the governor's freeze Nov. 21 outside the Klamath County Courthouse, and both DeGroot and Minty Morris appeared at a similar gathering October 5 inside the Klamath County Fairgrounds event center.
"That's not fair, when people on your board are going to maskless rallies," he said. "That is disrespectful and unsupportive of us."
Boyd said prolonged shutdowns would damage Klamath County's economy and that fact should be weighed alongside medical advice.
"We need to balance the medical profession along with everything else," Boyd said. "If everything gets tipped too far one way, it's going to tip over."
Fowler acknowledged that the commissioners are in a tough spot having to think about what's best for the county's economy as well as its physical health, but he pointed out that mask-wearing is an easy and effective way to limit the spread of COVID-19 while not hurting the economy.
Montjoy said regardless of the commissioners' approach, she appreciated them taking the time to listen and hoped they could work together on pandemic-related initiatives in the future, especially as the first COVID-19 vaccines begin distribution later this month.
"I don't think we're necessarily always going to agree on things, but if we can align for Klamath Falls, that's what we need to do," Montjoy said. "We need to come together, and I think we're there."
Alex Schwartz is an environmental reporter for the Herald and News and a member of Report for America, a national service journalism corps. He can be contacted at aschwartz@heraldandnews.com or at 541-885-4477.