Lena Schonchin, a medical administrative assistant at Klamath Tribal Health and Family Services, had one word to describe receiving the second shot of vaccine that would make her immune to COVID-19:
"Relief."
Schonchin and her cousin Kimmie McNair, both Klamath Tribal members, were the first in the tribal community to receive their COVID-19 vaccinations at the end of December. On Friday, they became some of the first to be completely immunized, along with nine other KTHFS employees who also received their booster shots at the Klamath Tribes' Wellness Center in Chiloquin.
Schonchin said she felt fatigued and slightly nauseous for the rest of the day after receiving her first shot, though despite having a history of allergies she had no reaction to the vaccine. After waiting about half an hour following her second shot, she reported no reactions then, either.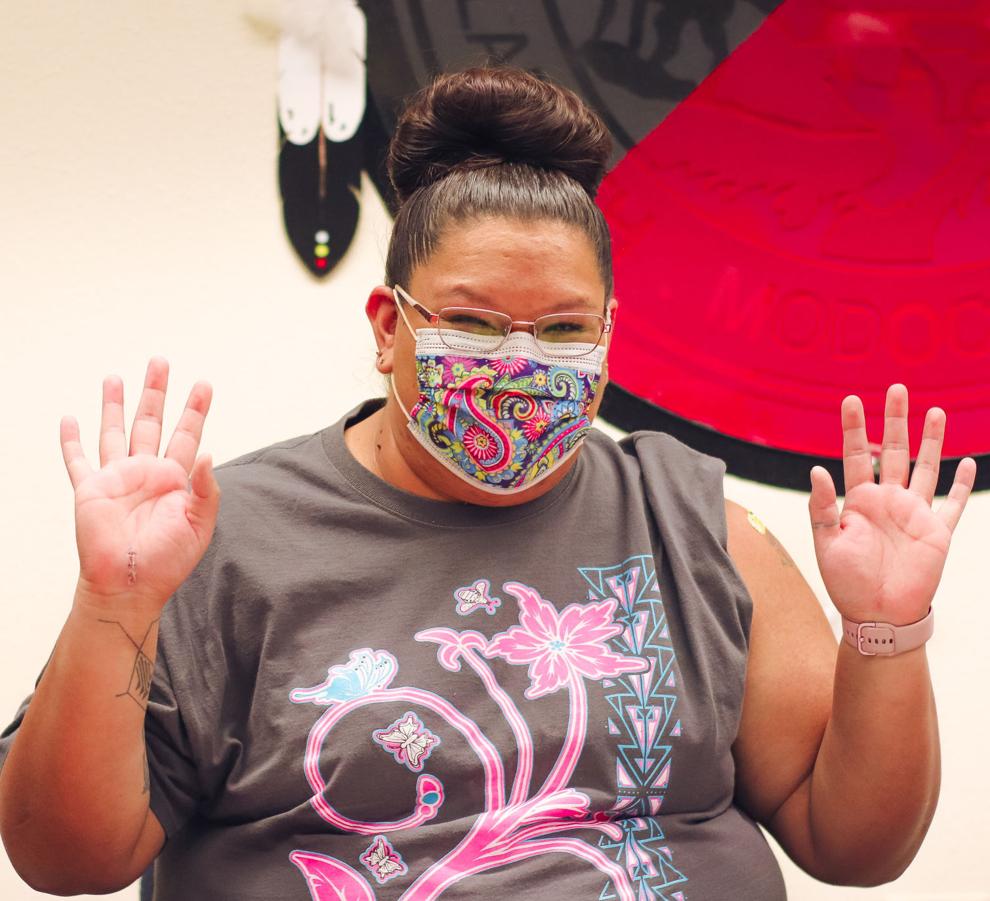 That's not to say Schonchin didn't have concerns going in. Not being familiar with what was in the vaccine, she consulted with her KTHFS coworkers, who provided accurate medical advice that made her feel much more confident.
"They eased my mind," she said. "If you've got questions, please ask medical professionals. Have good conversations with them about the vaccine."
Receiving her final shot, Schonchin couldn't help but think of her family, which hasn't been spared from the virus. Her oldest brother was hospitalized with COVID-19 at the end of last year. He came home on Christmas, but still relying on supplemental oxygen and with with labored breathing.
"More or less, it's for him," Schonchin said.
After vaccinating approximately 200 people since the end of December, 11 of whom are fully immunized, KTHFS is planning a blitz of shots for the coming weeks. They've scheduled two mass vaccination clinics: One on February 2 at the Tribes' community center in Chiloquin, and one on February 9 in Klamath Falls. Two-hundred doses have been set aside for the first event, and 1,000 have been requested for the second event. All tribal members over the age of 18 and their non-tribal spouses are allowed to schedule appointments.
"We've been trying to protect the tribal community by reaching as many people as we can," said Misty Wadzeck, nurse supervisor and employee health nurse for KTHFS.
As a sovereign nation, the Klamath Tribes don't have to follow Oregon's specific vaccine rollout phases, though tribal communities are considered to be in Phase 1 nationally. Wadzeck said that's because of the increased risk Native people have of contracting COVID-19 and experiencing more severe cases of it.
Of the 200 people vaccinated so far, about 30 are healthcare workers at KTHFS. Others are mostly tribal elders over the age of 65 and high-risk patients of the clinic. Wadzeck said KTHFS staff began spreading the word about the vaccine and making calls to high-risk patients once they found out about their first shipment. They assembled a priority list, based on people who reached out to them eager to receive a shot and people with multiple risk factors.
Wadzeck estimated there are more than 2,500 high-risk tribal members, 500 of whom have multiple risk factors, and she hopes to get through that group with February's vaccination events. With about 5,400 tribal members total, Wadzeck hopes to administer 200 shots a week, with a goal of immunizing 5,000 people.
"As long as that supply flow [from the state] continues to come in, then we can put out what's coming in," she said.
Appointments for both events are filling up, but not every tribal member plans to get the vaccine. Throughout history, Indigenous peoples have been repeatedly taken advantage of and experimented on for the purpose of medical research in the United States. Some don't trust a treatment peddled by the federal government.
"There is a lot of historical trauma that the tribes have suffered with," Wadzeck said.
For those who believe myths surrounding the vaccine, most of which bubble up on social media, KTHFS staff are prepared with a litany of facts and cleverly designed flyers, many of which have been posted to Facebook to ensure the Klamath Tribal community of the vaccine's efficacy and safety. Wadzec said she's had conversations with concerned patients that have put them at ease, especially knowing that their community's trusted healthcare professionals were the first to get the shot.
"We believe in this so much that we took this step first," Wadzeck said. "We wouldn't do this if we didn't believe in it."
Over time, Wadzeck said people she has talked to have begun to be more receptive to the science behind the vaccine. Some have come in for their appointments still nervous about it, but have called her afterward feeling as thankful and relieved as Schonchin was.
"It just gives us a hope for life maybe coming back to normal at some point," Wadzeck said. "It's a reason to believe that we can get there, and we just need people to believe that we will get there."