A Sky Lakes employee tested positive for the COVID-19 coronavirus Thursday morning, marking Klamath County's second case of the virus.
The employee did not work at the main medical center or emergency department, according to a Sky Lakes press release, and had recently traveled.
While Sky Lakes said the person did not travel to a CDC-designated "hot spot," the person had a layover at the Los Angeles International Airport, or LAX, before flying into Medford.
In the release, Sky Lakes states, "Preliminary investigation indicates that, even though the employee displayed no symptoms upon returning for a half-day at work, the individual wore a mask while engaged in close contact with a small number of patients and other staff. Testing was initiated after onset of symptoms, and COVID-19 was later confirmed."
The person is self-quarantining at home, and Sky Lakes said the "small number" of people the person was in contact with have been contacted and told to quarantine at home for 14 days in addition to being tested.
"Our providers and staff remain committed to taking care of our friends and neighbors. This situation demonstrates that even when we are well-meaning, we must take the threat of this virus seriously," stated the press release.
Klamath County Public Health Director Jennifer Little stated in a press release, "Our highest priority is the health and safety of our community. We will take all steps necessary to ensure safety while also holding to our core value of integrity. We will not release the name, address or other identifying information about this person. It is a matter of integrity to our team and patient confidentiality."
Klamath County's newest case was not included in the Oregon Health Authority's state-wide update published Thursday morning as public health learned of the results after the 8 a.m. state update.
Still the state authority announced an additional 50 cases Thursday, with new cases in Clatsop and Tillamook counties.
Sky Lakes spokesperson Tom Hottman said the community has been "very generous" in donating masks and making its own fabric masks at home. In addition to about six dozen masks Commissioner Donnie Boyd brought to the hospital on Sunday, Hottman said area dentists and veterinarians have also donated supplies.
Hottman said the ability for the hospital to utilize commercial labs, in addition to the state public health lab, has increased testing capability and put the hospital in "much better shape" than it was.
OHA began reporting the number of negative test results, and as of 8 a.m. on Thursday, Klamath County had 68 negative test results reported.
OHA also announced a new model for the COVID-19 pandemic in Oregon developed by the Institute for Disease Modeling the state is using to aid in the department's planning. It illustrates three scenarios of the outbreak in the state by the level of response: business as usual, moderate intervention and aggressive intervention.
"If Oregon lifted all of the social distancing measures the state leaders have instituted recently, there would be an estimated 15,000 people who will have been sick with COVID-19 by May 8," Dr. Dean Sidelinger of OHA said in a media call Thursday afternoon, with an estimated 1,100 people needing hospitalization.
"If Oregonians maintain the aggressive interventions that were put into place on March 23, and people heeded the advice and order to stay home to save lives, we would see a much different picture," Sidelinger said. "There'd be an estimated 1,000 people who would have been sick by May 8. Again, a range is important here from 700 to 3,800 people. But there would be minimal people needing care in the hospital, taking up an acute care bed or an ICU bed. So that's why it's important that we all work together to stay home and save lives."
"These projections taught that the sacrifices Oregonians are making right now can help to save lives," he said. "At the same time, they paint a dark picture of what could happen if we don't all work together. We can't afford to drop our guards. And that's why it's important that public health and our healthcare system are working together to plan for increased capacity."
OHA also announced four actions for the state to take on to ensure hospitals are prepared for an "expected surge" of patients.
According to an OHA news release those actions, developed by the "Governor's Joint Task Force for Health Care Systems Response to COVID-19" are:
Procure and distribute critical medical supplies, including personal protective equipment (PPE) for health care workers and ventilators.
Optimize hospital capacity to be able to treat COVID-19 cases.
Mobilize the health care workforce to respond to COVID-19.
Maintain a unified, coordinated and transparent emergency response to COVID-19.
Governor Kate Brown said in the OHA release, "Hospital leaders and health officials are doing their part to find beds, secure supplies and protect health care workers. Oregonians can make a difference too: stay home and save lives. We all have a role to play in an unprecedented, unified effort across Oregon to stop the coronavirus from taking the tragic toll we've seen it claim elsewhere."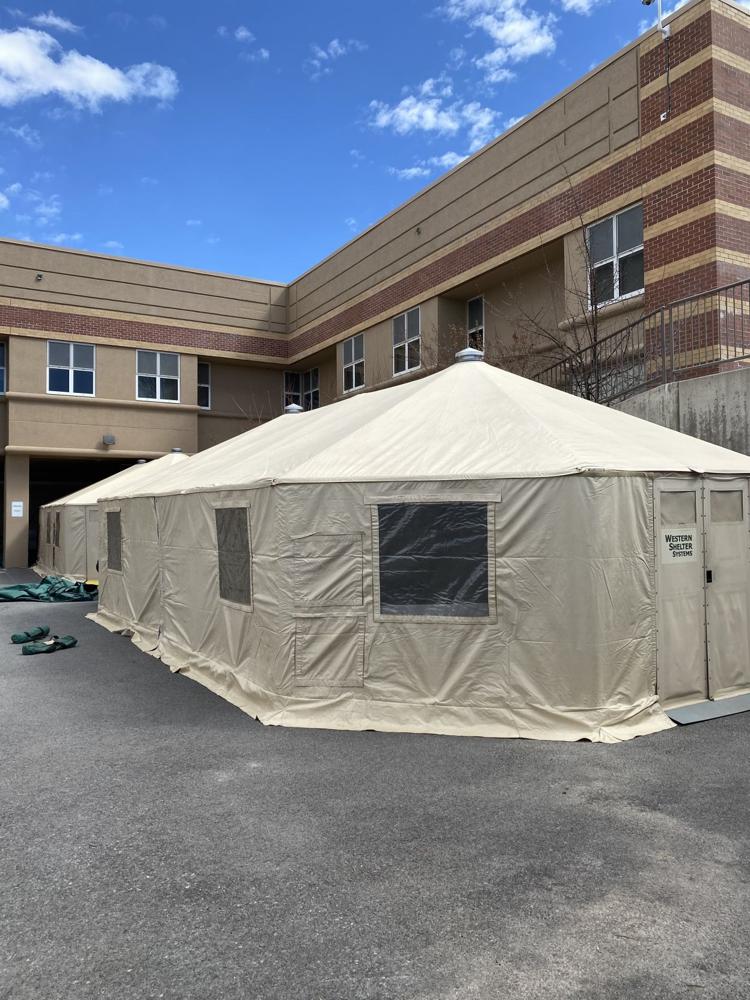 While Sky Lakes set up tents outside of the emergency department to prepare for a potential influx of patients beyond the hospital's capacity, Hottman said they are not at capacity yet and haven't had to utilize the extra space at this time.
Still, he said the hospital has reduced its staff with the cancellation of non-emergency procedures and allowed those who can to work from home. "Fewer bodies in here means less risk to everyone," Hottman said.